Victor Quijada
Artist in Residence
Contemporary, Repertory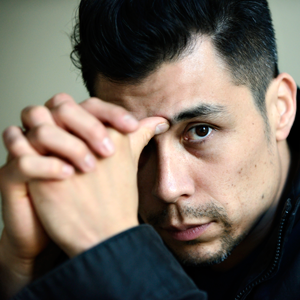 Born and raised in Los Angeles, the child of Mexican parents, Victor Quijada first danced in the b-boying circles and hip-hop clubs of his native city, before cultivating a performance career with the postmodern and ballet companies of Rudy Perez, Twyla Tharp, Eliot Feld, and Les Grands Ballets Canadiens de Montréal. Victor has a rare perspective on a large spectrum of dance, possessing knowledge and experience that spans from the street corner to the concert hall. His work eloquently re-imagines, deconstructs, and applies choreographic principles to hip-hop ideology, examining humanity through a unique fusion of aesthetics. His vision stretches into the arena of theatrical interpretation, improvisational approaches, and the visual imagery of film.
Compelled to explore his own choreographic voice, Victor founded RUBBERBAND in 2002 and has since created close to 30 short and full-length pieces for his company that have toured across North America and Europe. Victor developed the RUBBERBAND Method as a bridge to connect diverse movement styles and teaches this technique internationally. The RUBBERBAND Method promotes the masterful transition between opposing aesthetics: transposing balletic lines and grace, contemporary angles and distortion, capoeira-like fluidity and inversions, with hip hop dynamics and break power-moves.
Victor Quijada is a two-time recipient of the Princess Grace Award (2010 & 2016), and in 2017 he received the cultural diversity prize at the Prix de la Danse de Montreal. In 2019, his work Ever So Slightly was a finalist for the 34th Grand Prix du Counseil des Arts de Montréal. Victor has received international recognition for the music videos he has choreographed and for the dance films he has directed. As guest choreographer, Victor often creates new works for dance and circus companies, notably in return commissions for Hubbard Street Dance Chicago, Pacific Northwest Ballet, and Scottish Dance Theatre. Victor serves on adjudication panels, provides mentoring, and has been an Artist in Residence at the USC Glorya Kaufman School of Dance since its 2015 inauguration.