Student Blog: Fine-tuning with Sonya Tayeh
January 21, 2018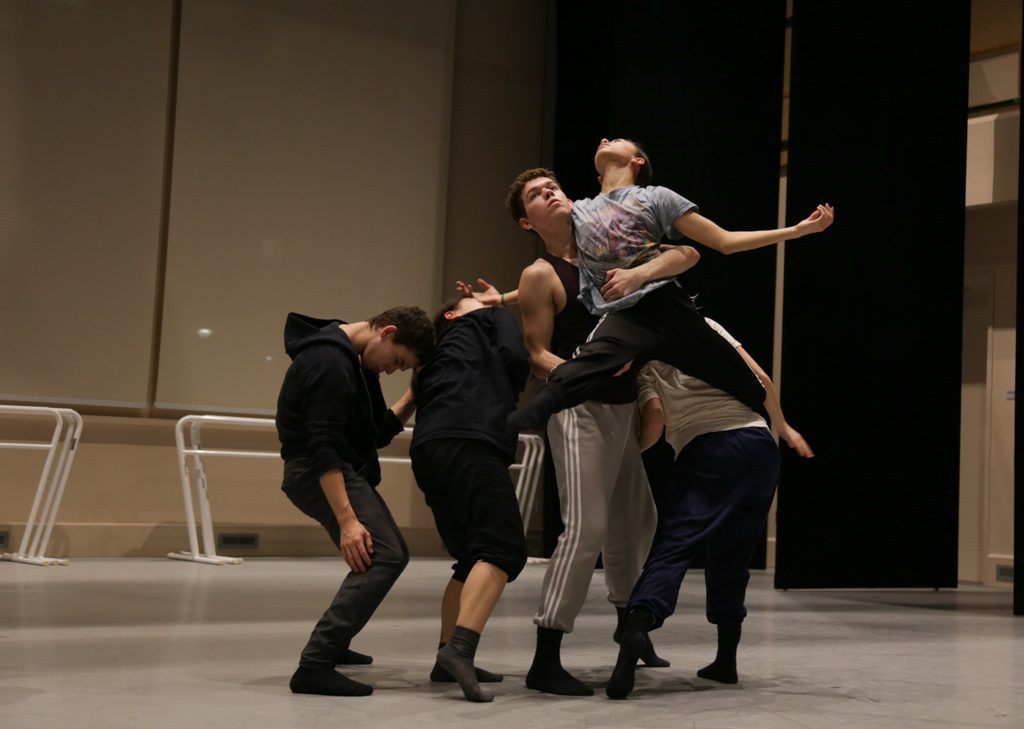 By Jake Tribus
After a long break full of holiday spirit and Christmas cookies, USC Kaufman BFA dancers including myself anticipated the first week back to school, especially because working with Sonya Tayeh was first on the itinerary. Sonya's visit right at the start of the semester was an exciting and rigorous challenge. Back in November,  she held two rounds of auditions in the form of master classes for all three classes of dancers. In a single week in January, Sonya created both a duet and a group piece for the cast of dancers she chose. I was fortunate in being chosen to perform in both the duet and the group piece, and though my body definitely felt the effects of the long hours at the end of the week, it was all worth it to have Sonya in our studios for a week.
Collaborative efforts
I first worked with Sonya when I was in seventh grade, so I can comfortably say that the Tayeh style and process is familiar to me. She is unlike any other choreographer that I have worked with, and coming from a competition studio background, I have had my fair share of choreographers, with varied teaching methods. When in rehearsal with Sonya, I do not simply feel like a blank canvas on which a piece of art is being created. I always feel as though I am standing right next to Sonya, holding my own paintbrush and creating the work with her. She is adamant about the process being collaborative with the dancers, and she in fact encourages creative freedom within her choreography. Typically, when creating a phrase of movement for the group piece, Sonya would guide us both with the physical movements and also feelings or images in her head. She would then look to us in the group to bring these images and movements to life through our own interpretation. Because of this, both the duet and the group piece feel like a creation shared among the cast and Sonya.
It's about the feeling
I am beyond excited to perform the works that Sonya has created for us this semester, and I really hope we can bring her back in the future to do more work. Although she was only here for a week, I felt like she spent an eternity fine-tuning the choreography. She drilled feelings, ideas, and key words into us throughout the week as a constant reminder of the driving story of the piece. She even went so far as to tell us personal anecdotes that related to and inspired the topic of the work. Sonya left us with such a gift; a piece unlike anything performed on the Kaufman stage thus far. I want to thank Sonya for pushing us to our limits physically and creatively. Once the desire and love for dance met our passion and drive, all of our imaginations became reality. We are so honored to have this gem in our repertoire.