Student Blog: In the studio with Balanchine and Gershwin
September 25, 2017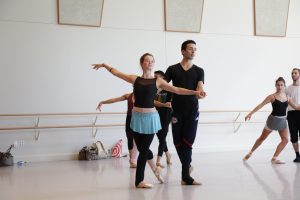 Getting to learn and dance "Who Cares" has been an absolute dream. This is one of my favorite Balanchine works, and the Gershwin score is just the icing on the cake. As unfortunate as it is that the two Georges did not get around to collaboration before Gershwin's untimely death, Mr. B's tribute to Gershwin is beautifully thought-provoking.
Emotional and technical demands
Dancing this classic, heartfelt ballet makes me feel naturally elegant, yet strong. From "The Man I Love," a sincere love story filled with sustained movements reflective of the music; to "Fascinating Rhythm," a fast-paced and dynamic solo; there is a little bit of everything in this ballet. "Who Cares" takes you on an uplifting journey, and highlights the most wonderful aspect of life: love.
Not only is there an enormous emotional aspect of the work, but there's quite the technical demand as well. These variations are long, and they're not your typical one-minute, three-diagonals-only variations. They push your musicality, technique, and overall performance. Imagine dancing a solo for two minutes, full of quick and syncopated footwork, and only then beginning two turning maneges along with an intricate series of pique and pencil turns from the corner. By the end of "Fascinating Rhythm," I cannot see, think, or even stand. It takes quite a toll on the body, but is so rewarding for the mind.
Show your strength
To me, this particular variation is all about the virtuosity of the female ballerina, which is so refreshing in comparison to the classical ballet. Watching New York City Ballet principal dancer Tiler Peck perform this solo is like watching one of the world's most famous athletes win the Olympics. That comparison, however, excludes the emotion that she makes the audience feel. Many greats that came before her danced this solo as well, like Patricia McBride. There is this beautiful artistry in the Balanchine ballerina; one can see their own individuality vocalized in their movement. They do not hold anything back, but rather bring themselves to the story to reach the level of emotion it takes to produce such incredible work. My goal in performing this piece is to dive into this idea of the individual, emotional voice. Although the steps are quite difficult and I have so much to improve on technically, I want to focus more so on the artistry of "Who Cares." I so hope to see many students and faculty witnessing some of the greatest classics this coming October and November! The works are quite spectacular, and it is a crucial moment in our time to be supporting the arts. I encourage everyone to fall in love with this ballet as I have!