Student Blog: Tadej Brdnik teaches Graham technique from the floor up
March 7, 2016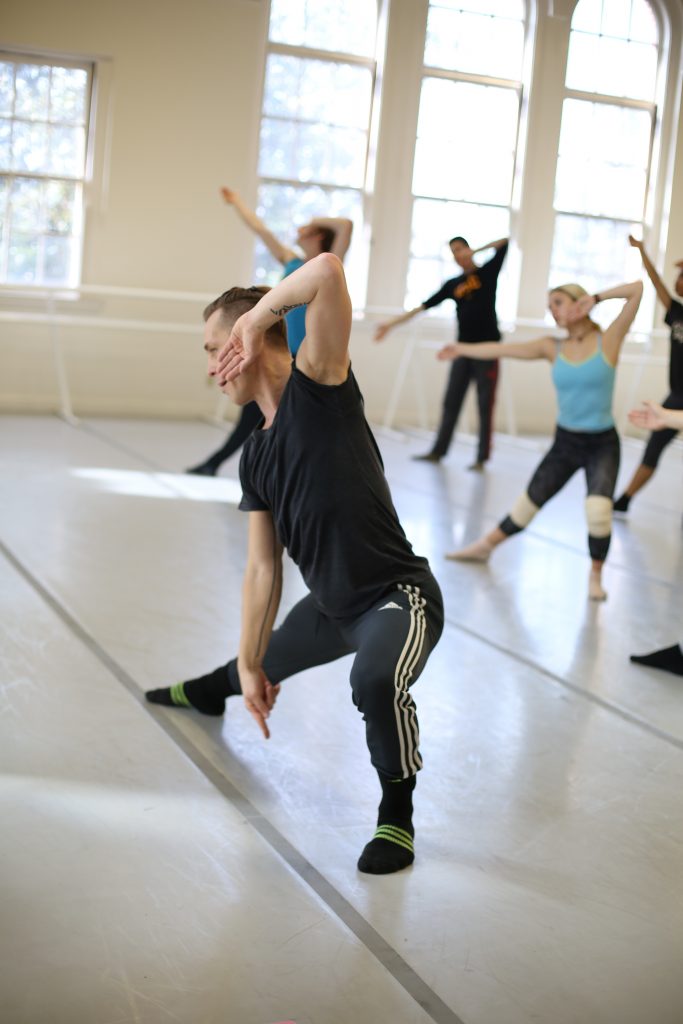 Graham technique is notoriously difficult. Dancers everywhere will tell you that it's just really, really hard. There's no way around it: to achieve the aesthetic that Martha Graham herself wanted, you can't just copy the shapes. The entire technique revolves around intrinsic sensations of the body, around feeling stretch and contraction the way they are supposed to feel, not in relation to the placement of your leg or the angle of your elbow. Floorwork is imperative to the technique—we broke out the knee pads within the first two hours of repertory class.
With former Graham company principal dancer and Graham technique expert Tadej Brdnik here for two weeks, the difficulty of the movement became abundantly clear the first day. Extra rehearsals every day and two hour Graham classes only reinforced the stress, and the first few days rendered us exhausted.
Thank goodness Tadej is here as our repetiteur, though. Somehow he fit in perfectly with our eccentric bunch, and we absolutely adore him. I am first compelled to mention that Tadej knows how to have fun; Sunday's warm-up class consisted of Graham exercises set to Destiny's Child. All games aside, though, he knows exactly what he is doing. His instruction is clear and relatable—he demonstrates every movement completely full out. Having retired from the Graham company just last year, he offers us valuable information as to what a dancer should be capable of in today's business, and how we should practice good habits both in ourselves and in the studio. He communicates steps and intention very concisely, and his criticism is constructive.
The piece we are learning, a piece called Helios from Graham's Acts of Light, begins with a floor section that is over five minutes long. Accompanied by a score composed by Carl Neilsen, it is centered on a daily ritual to thank the sun for its reliable source of light, and features a progression from morning calm to midday rigor, ending the day in a reverent bow.
Of course, we as a whole are not exactly proficient in Graham after just one week, but we as a class have undergone a noticeable change, so much so that when Professor Corbin visited rehearsal after a few days away, the first words out of his mouth were "I'm so impressed." It seems to me that now, as we begin to settle into our independent niches as a class, we have found ways to improve each other, so that no one of us is left behind. As often as I say this, I can't stress enough how proud I am to be part of a group that not only overflows with talent, but remains humble and united in caring for each of its members. As we perform Ritual to the Sun, there's no feeling like taking that bow and realizing that our Kaufman family is closer than ever before.
---
By Celine Kiner