Student Blog: The other side of the audition
February 27, 2018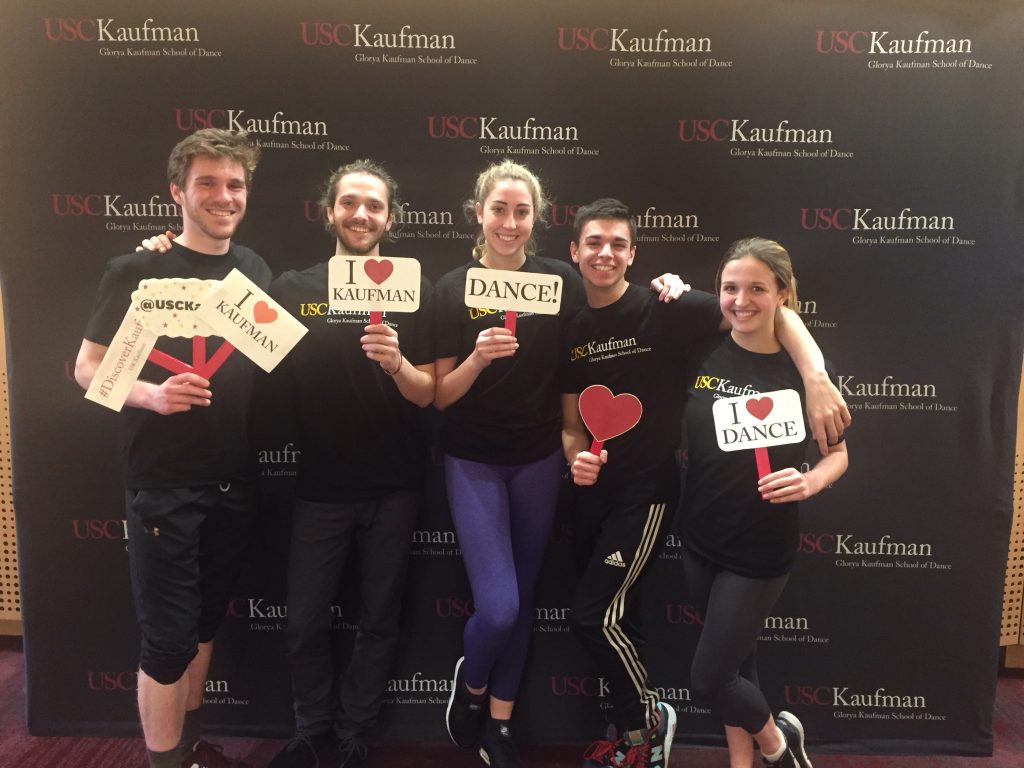 The USC Kaufman audition season is a very exciting time for the current BFA dance majors. Personally, I love getting to know new people, so I jumped at the opportunity to meet potential future classmates. I was even inspired to do things most would never volunteer for on a weekend: waking up at 6 a.m. and spending approximately 10 hours in the Glorya Kaufman International Dance Center, both Saturday and Sunday.
Our main goal as USC Kaufman Student Ambassadors is to make the students' audition experience fun, and especially to welcome them. This gives them an idea of what life is really like here at USC. Throughout the audition day, BFA students filter in and out of the building—we get to know prospective students, give tours of our beautiful building, and answer questions about student life.
Many of us hosted students who were traveling alone and needed a place to stay, and I got to host a student traveling from overseas. We're from different backgrounds and cultures, but I was surprised at how immediately we clicked. It was a learning experience for both of us; while she was able to see the dorm life at USC and ask questions about the program, we both met and developed a relationship with a potential future classmate. I hope to keep in contact with her—it'll be great to see where she ends up next year.
It's always fun to see the types of students who audition; some are incredibly nervous, while others immediately feel at home. But each of them has something special that USC Kaufman faculty wants to see more of—a passion and a talent visible through their video application and even more through their live one. Truly, the students auditioning have inspired the current students in many ways. For example, my first year, I met a sweet girl at auditions… and now she is my amazing mentee! After this season of auditions, current BFA students and I have met beautiful dancers that we hope to connect with again in the dance world (if not at USC Kaufman next year).
As a current student, now on the other side of the audition process, it is clear that the USC Kaufman faculty and staff put in a lot of work to make the audition experience memorable. Anne, Cameo, and Wilson, our incredible academic advisors, make "swag bags" for the students, organize a group lunch, and provide snacks for those auditioning. Likewise, our talented faculty members spend the entire day observing and getting to know the dancers. Instead of labeling each dancer as a number, applicants are given name tags to wear throughout the day. Truly, the USC Kaufman audition process is unique in that each applicant is viewed as an individual with a personal story.
All of us current students are incredibly excited to meet the incoming class of 2023! Like our future classmates, we have to wait until April 1 to find out who they might be, but until then, we wish everyone luck in waiting for their decisions.