Student Blog: West Side Story in tech rehearsals
April 2, 2018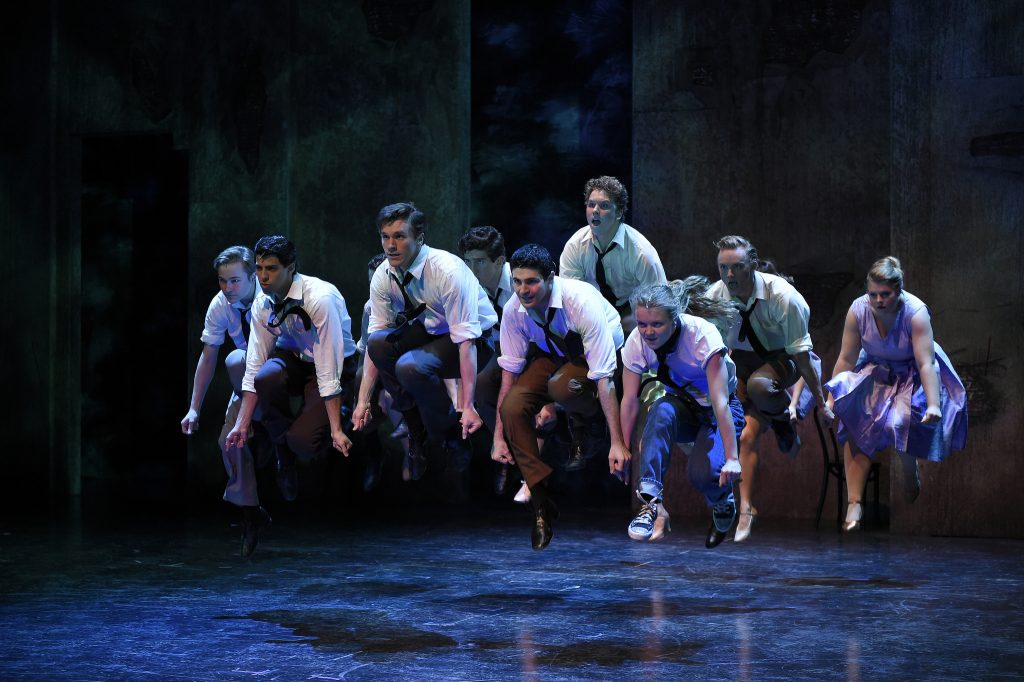 The rehearsal process for West Side Story has been a long one – but something magical happens as tech week begins and all of the theatrical elements of a performance come together. Beginning with our first sitzprobe rehearsal on Sunday, our musical director, Parmer Fuller, led the orchestra in transforming and filling the theater space with sound. No longer was the rehearsal process about the individual cast members, but about creating the world of West Side Story in preparation for opening night in the Bing Theatre.
The scenes come together
The hard work of our scenic designer, Zach Blumner; lighting designer, Nicole Eng; projection designer, Sean Cawelti; and sound designer, Briana Billups; was evident throughout the tech process. Our cast worked cue-to-cue for every scene, setting specific lighting cues and ensuring that each character's line was amplified at the right time. The set was coordinated with the projection work to give the Bing scenery a life of its own, bringing the Upper West Side to USC. Cast and crew meticulously perfected each moment of the musical in preparation for the dress rehearsals.
Becoming our characters
Edina Hiser's detailed costumes gave each cast member a special look – and many of us had more than one costume. On Monday, we began rehearsing hair and makeup as well as many of the show's quick changes. This show was unique from a dance performance in that each cast member became their character rather than themselves. I personally don heavy eyebrow makeup to transform into Graziella, one of the Jet girls who has tattooed eyebrows. The costume and makeup were the final puzzle piece to the process of putting West Side Story together.
Long hours went into the tech rehearsal process; from Saturday, March 24 to Wednesday, March 28, cast and crew essentially lived in the Bing Theater. Truly, it was all worth it to perform on opening night and see the results of so much love and hard work.
For pictures from Wednesday night's dress rehearsal, visit the USC School of Dramatic Arts Flickr page.