Student blog: Moving with Christopher Scott and Jessica Lee Keller
February 6, 2017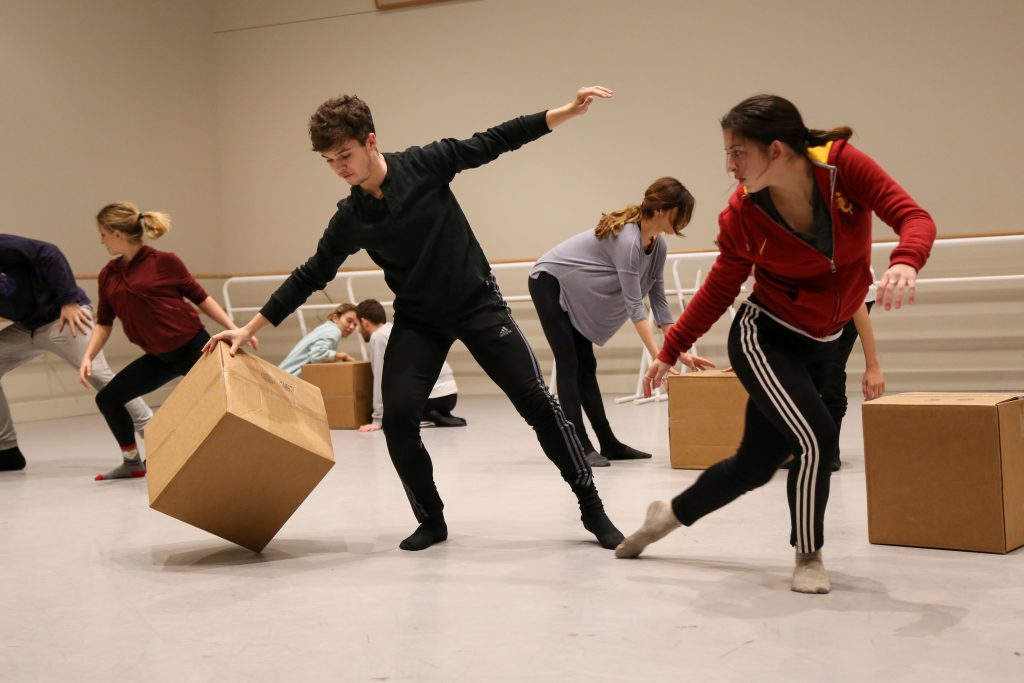 By Jake Tribus
This week, we as BFA Dance majors at USC Kaufman had the privilege of working with two of the commercial dance industry's top choreographers: Christopher Scott and Jessica Lee Keller. Chris Scott–well known for his hip-hop and animation style–often choreographs for the popular television show So You Think You Can Dance on Fox. Jessica Lee Keller is a former member of the Cedar Lake Contemporary Ballet and has an extensive commercial résumé, including movies like Now You See Me 2 and Teen Beach Movie.
In the next few weeks, Scott and Keller are collaborating on a new work for the USC Glorya Kaufman School of Dance. We've really enjoyed our first week with them, especially because it's rare that we get to work on a piece that incorporates both hip-hop and contemporary styles. This concept really allows for a wide range of dancers–it's appropriate that the dance program at Kaufman includes many diffferent artists, some who have studied ballet all their life, some who are animators who can pop and lock, and some who have trained mostly in contemporary and modern styles. Chris and Jessica's piece displays the full abilities and versatility of our dancers, and this took all the dancers by surprise in our first rehearsal.
Partnering with props
This new work that Chris and Jessica are creating involves the use of some very intriguing props. On the first day of rehearsals, we were told to start building and taping together cardboard moving boxes. At first, we weren't sure how the boxes would work within the piece, but once we started the rehearsal process, we knew we were creating something brilliant. Chris is a visual genius; with the added element of the boxes, we have discovered endless possibilities in terms of constructing stimulating patterns and pictures. I never imagined partnering with a cardboard box onstage, but Jessica has been challenging us all week to come up with unique ways of moving with both the boxes and with other dancers in the room. These new challenges are going to help us as artists develop our skill sets. We are all so excited to see how this new piece unfolds!