Students rehearse 'Lickety Split' with its creator
May 2, 2016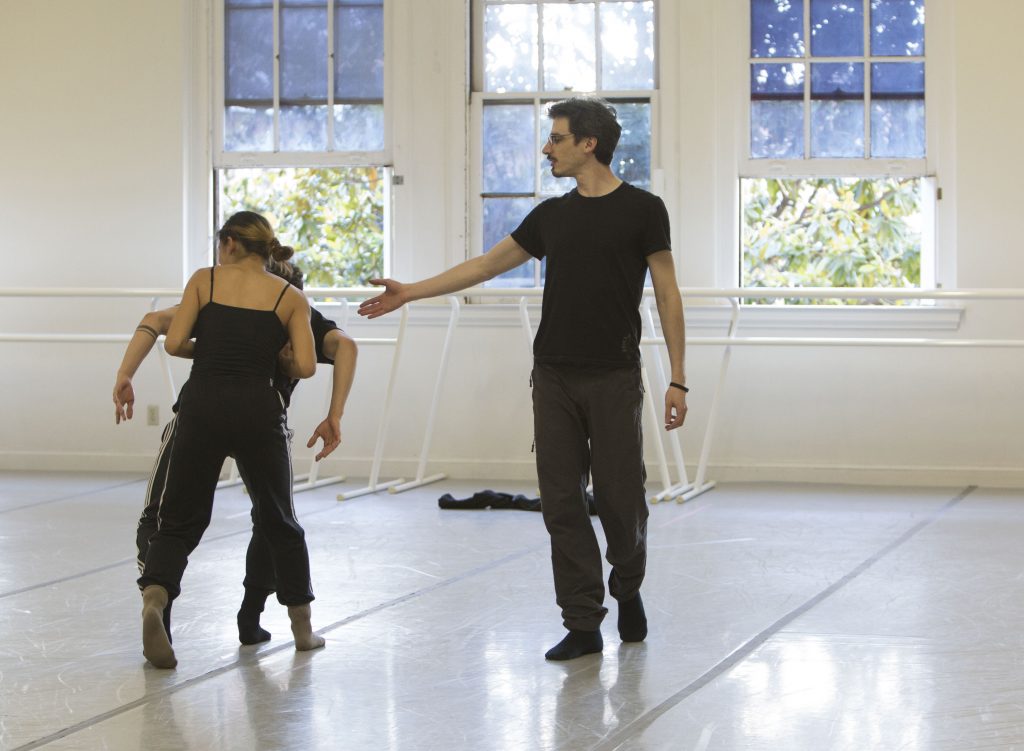 From April 20 to April 22, Hubbard Street Dance Chicago's Alejandro Cerrudo led USC Kaufman BFA freshmen in a rehearsal of his acclaimed work "Lickety Split." The students then performed the work on stage at the Spring Dance Performance on Thursday, April 28 and Friday, April 29.
Cerrudo's creations have been awarded with the Joyce Theater Foundation's second Rudolf Nureyev Prize for New Dance and the Prince Prize for Commissioning Original Work from the Prince Charitable Trusts, among others. Having designed more than 10 pieces of contemporary dance for Hubbard Street Dance Chicago, Cerrudo's dances now belong to the repertory of companies from the U.S., Europe and Australia.
In Rehearsal
Set to the emotional music of Devendra Banhart, Cerrudo's "Lickety Split" is made up of vignettes that examine the interdependence between a female and a male dancer; in the piece, the body of one partner becomes not only a point of equilibrium, but a catalyst for the other partner's motion. In other moments, groups of dancers explore both coordination and the charm of its disruption.

Alejandro Cerrudo in rehearsal with BFA freshmen at USC Kaufman | Photos by Rose Eichenbaum

"I hadn't seen Lickety in years, so thank you," said Cerrudo after paying close attention to the students' rehearsal of his dance. Then he jumped into the space to finesse the details of the piece, highlighting at which points to accentuate and at which points to smoothen movements, perfecting the length of some silhouettes while stressing the inner feeling of certain shapes.

The freshmen first interpreted "Lickety Split" during the Groundwork performance in fall 2015. And after having the enviable advantage of rehearsing the work with the mind that conceived it, they showcased a more rich and nuanced rendition in spring's end-of-year performance.
---