Juliette Ochoa (she/her)
BFA Class of 2021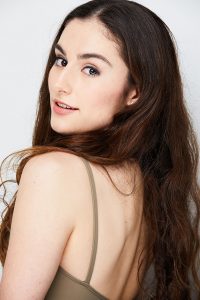 Email: juliette8a1@gmail.com
Instagram: @julietteochoa
View Resume
Watch Performance Reel*
Originally from Phoenix, Arizona, Juliette began her training at the School of Ballet Arizona. While in the School, Juliette had the honor of performing many works alongside Ballet Arizona. Among her most notable performances is Ib Andersen's La Bayadere, in which she led the corps de ballet down the ramp at age 14. Juliette joined Ballet Arizona's Studio Company in 2015, where she had the honor of working closely with Ib Andersen and performing soloist roles in his productions of The Sleeping Beauty (Songbird Fairy, Little Red Riding Hood) and The Nutcracker (Chinese Tea). In 2016, Juliette joined the Professional Division at Pacific Northwest Ballet under the direction of Peter Boal, continuing her training while dancing alongside the company. Juliette began pursuing her BFA in Dance Performance at USC Kaufman in 2017, and has since had the opportunity to study under renowned artists including William Forsythe, Zippora Karz, Thomas McManus, Fiona Lummis, Jodie Gates and Bret Easterling. Juliette recently fulfilled a guest contract with The Aspen Santa Fe Ballet, performing both soloist and corps roles in Tom Mossbrucker's The Nutcracker.
Juliette is devoted to exploring the process by which the physicality of form elicits an energetic and metaphysical experience within the dancer and audience members. She examines these processes within her artistic approach as a dancer and also as a choreographer, drawing from her life experiences for each. After an extensive performing and choreographic career, Juliette hopes to be a Rehearsal Director, Stager of Choreography and Artistic Director.
*This performance reel requires a password. Please contact Elliott Scher at elliotms@usc.edu for access.