Lillie Pincus: Top 10 things to think about when applying to USC Kaufman
October 19, 2018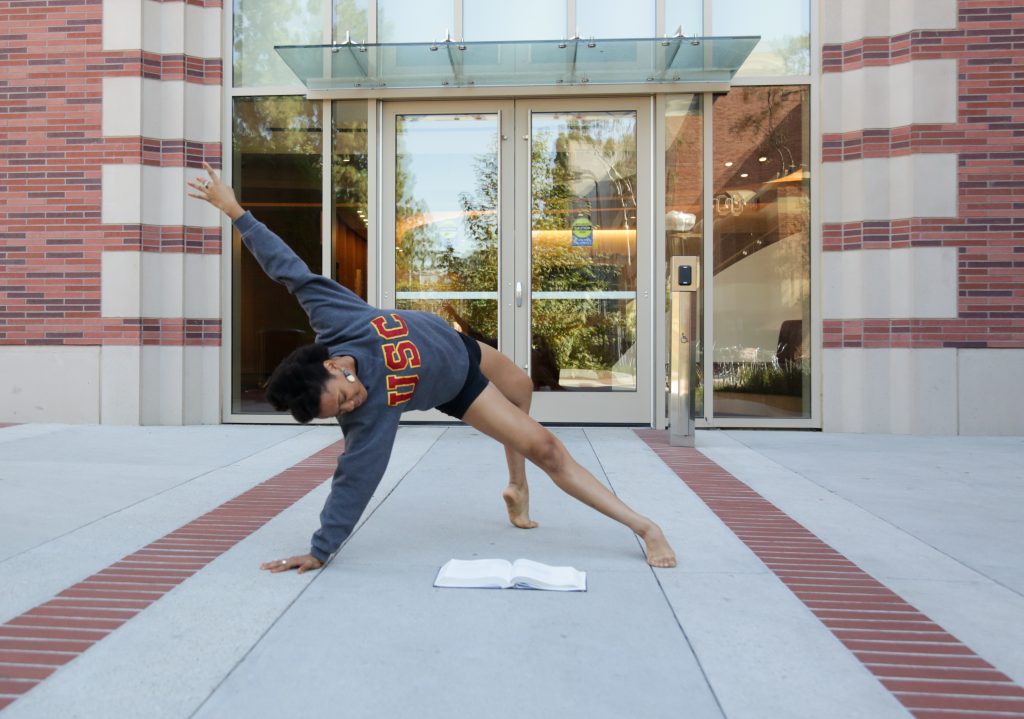 Applying to universities can seem like a daunting task. There's a lot to do: write and submit essays, bring together photo and video materials and prepare for auditions, all on top of getting through and enjoying your senior year! Thinking back on my admissions process, specifically for the USC Glorya Kaufman School of Dance and with the help of some of my fellow BFA students, I've compiled a list of the top 10 things to keep in mind when applying:
1. Do your research
.
There's a ton of information available online about the program, and the more you know, the more comfortable and self-assured you can be throughout the application process. For example, give yourself a good idea of the faculty's backgrounds before applying; you may discover you have something in common. Maybe you grew up in the same town, or they danced for your all-time favorite choreographer. Whatever it is, having some background knowledge will make you all-the-more confident in your application and audition process.
2. Academics at USC
.
You don't need to choose between a high quality education and pursuing dance. Think about how you can take advantage of the broader fields of study within the university. USC has so much to offer academically, culturally and artistically. Consider possible minor or elective classes you're interested in. Mention these interests in your application!
3. Picture yourself here.
Consider how much time you want to spend in classes and rehearsal versus outside of the program. What do you want your weekly schedule to look like? The BFA program here has a demanding schedule that you'll want to fully commit to. Check out our Instagram account to get a sense of what being a student here looks like each day.
4. Show us who you are.
Your application is where our faculty gets their first impression of you. They want you get to know who you are, not who you think they want you to be. When working on your application, ask for feedback from friends, family members and teachers; they might know great things about you that you wouldn't even think to mention.
5. Speak your mind
.
The written portion of the application is a great space to show your personality and clearly describe yourself. Put in some time and make sure you answer all the questions thoroughly. For the video response, be genuine, personal and professional. Practice speaking to a friend or yourself in the mirror. Record multiple takes and rewatch them to find your favorite (and try to avoid submitting any bloopers!).
6. Contrasting solos
.
You don't necessarily need a hip-hop solo and a classical ballet variation. Feel free to interpret 'contrasting' as you wish and use this opportunity to show off your artistic range. You don't need a professional video, but make sure you're clearly seen and the solos present dancing that you're proud of!
7. Don't procrastinate
.
There are lots of deadlines and important dates you don't want to miss. Use a planner or calendar to stay on track and plan to finish assignments before the due date so you aren't rushing at the last minute. The sooner you finish your application, the sooner you can relax and wait to hear back!
8. Ask for help
.
Student ambassadors and admission staff are here to help you through the application and audition process. Take advantage of any opportunity to ask questions! For example, during auditions, students are eager to get to know all of you and make sure you are comfortable and ready to perform your best. We know exactly what it's like to be in your shoes because we were there once too.
9. Take care of yourself
.
The college admissions process can be stressful so be sure to make time to take care of yourself! Make sure to get enough sleep and eat healthy to stay focused and injury free. (This is great practice for college too!)
10. Relax
.
Consider the application and audition process as your chance to let all the years of work you've already put into dance and school shine. You've completed the hardest part. Once your application is in, and after your live audition is over, try to relax. Have faith that your training will lead you to the right place!
Overall, try to make the best out of the admissions process! Take advantage of this moment of self reflection and don't forget to enjoy your last year at home and in high school. Time flies and, before you know it, you'll be moving into your freshman dorm room (hopefully at USC!).
---