Toyin Sogunro creates a new work with the Class of 2025
April 13, 2022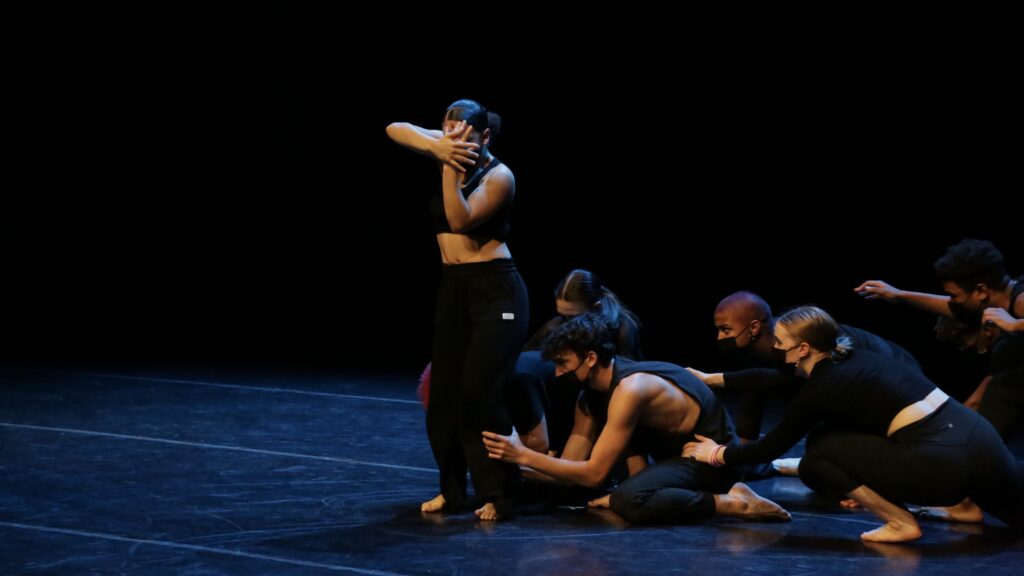 This semester, Artist in Residence Toyin Sogunro created a new work with BFA students at the USC Glorya Kaufman School of Dance. Her piece, titled The Artist's Struggle for Integrity, will premiere at the USC Kaufman debut at the Wallis Annenberg Center for the Performing Arts on April 21-23, 2022.
An organic process
Sogunro worked with members of the Class of 2025 to set her new work. According to Sogunro, she came in with the intention of setting a structured house dance piece. However, she decided to follow a nontraditional process after meeting the students.
"The process of creating this piece came about organically," Sogunro said. "Once I got in and introduced myself and allowed the students to introduce themselves, I realized I wanted to build a relationship with the students so that there's a comfortability between us and we can organically build a piece together. I wanted them to feel like it was their piece as well."
According to Sogunro, she would sit down with the students before starting each rehearsal. She explained that they connected and talked about how they were doing and how they were feeling about being first-year students. During these conversations, the students had their notebooks and could jot down whatever feelings, thoughts and ideas came up.
"Every day was like a gathering of new information that we could pour into the piece," Sogunro said. "After a while, I realized that a lot of the conversations consisted of them saying, 'I want to be an artist that has meaningful work.'"
Sogunro pulled from the connections she made with the students to create the movement in her new work.
The Artist's Struggle for Integrity
The song used in the piece came to Sogunro serendipitously. She described how she just happened to hear what was a house track with James Baldwin's speech, The Artist's Struggle for Integrity, overlaid on top of it.
"It was magic. I heard it and was like, 'I have to use this track,'" Sogunro said. "It's already a house track, so it goes with the idea of what I wanted to do before. Also, the things James Baldwin is conveying in his speech were in line with what we were talking about. It was just perfect."
To create a meaningful work, Sogunro wanted the dancers to connect with the music. She broke down the script for them and had them read the words and discuss their connections to them. According to Sogunro, she could see that the dancers initially connected to the music, but after deep diving into the words they created a stronger relationship with the text. This allowed Baldwin's words to inspire their movement.
"Now there's a connection to what he's saying and they can relate to it. It might not even be exactly what he's saying, but it's the way that you relate to it," Sogunro said. "That's what art is. Once you leave it out there, it's up to the perception of everybody who sees it and takes it in. The students' perception of Baldwin's speech was up to them. I didn't want to structure any of that. I was like, 'read it, and then tell me what you felt from it and how it moved you.'"
The audience
When asked about what she hoped the audience would take away from her piece, Sogunro emphasized the importance of creating work and then allowing people to interpret it however they like. She simply hopes that people can connect to it in some way.
"Hopefully they're able to really hear what James Baldwin is saying because I don't think it's just for artists," Sogunro said. "Hopefully when they watch this, they see themselves as artists and are able to live life in that way, because everyone is creating no matter what they do."
Sogunro described how the dancers inspired her, and she hopes that audience members will see how talented they are. She explained that she put the process together the way she did to showcase the dancers as artists.
"It was very important for me to keep referring to them as artists. I wanted them in this piece to just show themselves as artists," Sogunro said.
Working at USC Kaufman
Sogunro joined USC Kaufman as an Artist in Residence last semester. According to Sogunro, this is her first time setting a theater piece on artists, and she is very excited for the show.
"It's beautiful being an Artist in Residence," Sogunro said. "I am able to have a more open schedule, so I can go out and do the work I need to do to be enriched in the culture. Then I can bring that into class, so the work I do with the students is rich."
According to Sogunro, there can be a disconnect between the people found in dance communities and university dance spaces. USC Kaufman is working to bridge that gap.
"I want to applaud USC Kaufman for keeping the authenticity. USC Kaufman is working to make it a regular thing for people that are actually a part of the dance community to show up in these university spaces," Sogunro said. "So students that are interested in this type of work or are interested in being involved in these communities know that they can go to this University and still be involved with that. We're in L.A. Students should go to the dance spaces where dance is happening in its rawest form, then go back to class at school, and have that balance."
Debut at The Wallis
BFA students will perform The Artist's Struggle for Integrity at the USC Kaufman Debut at The Wallis, April 21-23, 2022. In addition to Sogunro's work, repertory includes choreography by Tessandra Chavez, Achinta S. McDaniel, Ohad Naharin, Justin Peck and Doug Varone. Buy tickets today!
USC Kaufman Artists in Residence are supported in part through generous funding from The Choi Family Artists in Residence Fund. Additional production support provided by a generous gift from Katherine and James Lau. This performance of Minus 16 is supported in part by Renae Williams Niles and Gregory Niles.
---
By Hannah Doerr