USC Kaufman Establishes New Movement Residency Program
November 17, 2017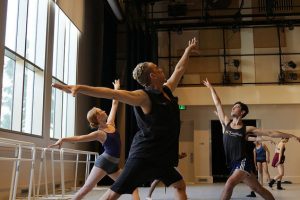 USC Glorya Kaufman School of Dance invites professional choreographers to apply for its inaugural New Movement Residency, a program striving to support LA-based and female choreographers by providing space for them to explore, create and prepare dance work for future touring and presentations. Up to three artists will be selected to participate in the three-week residency to be held beginning in May of 2018 in the newly built, 54,000-square-foot Glorya Kaufman International Dance Center.
This new program aims to support LA-based dance-makers as well as female choreographers. Artists with recent regional and national touring history and/or the strong potential to tour the work to be created, will be more competitive. USC Kaufman will also provide mentoring, work assessment and critique from its esteemed faculty throughout the residency and beyond. Select students from USC Kaufman's BFA program will also participate in various ways.
A place to make moves
"Finding the proper space to create dance work that will tour to various theaters and venues is an ongoing challenge for dance-makers," said USC Kaufman Vice Dean Jodie Gates. "The New Movement Residency is an opportunity for USC Kaufman to lead in the field with a unique residency approach that focuses on process — not only by providing space, but also a two-tiered mentorship involving professional artists, faculty and students."
USC Kaufman will match selected residency artists with a member of its esteemed faculty to serve as a mentor during the residency and beyond, potentially serving as a dramaturg, frequently a critical need but overlooked by dance-makers at any stage in their career.
In addition, selected artists will be asked to include USC Kaufman BFA students in their creative process, either to observe and document the work at various stages, shadow and interview dance-makers, or serve as apprentices.
How to apply
USC Kaufman expects a highly competitive applicant pool. Applications will be reviewed based on the following criteria:
Applicants must consider choreography as their primary outlet.
They must be at least three years out of college and working as professional choreographer.
Applicants must exhibit some regional and/or national touring history for at least the most recent two years.
They must demonstrate tourability of work to be created through funds raised specifically for work as well as confirmed presenter/venue interest or co-commissions.
Applications will be due January 2, 2018. Selected artists will receive notification in February 2018.
To apply, visit kaufman.usc.edu/residency.
Timeline:
November 16, 2017 |  Call for proposals
January 2, 2018 | Deadline to submit application and all attachments
January 2018 | Review and selection of applications
February 2018 | Announce selected artists/projects (up to three to be chosen)
May 16 – June 9, 2018 | Residency period (minimum of 125 hours available)
June 9, 2018 |  Culminating works in progress showings in USC Kaufman's Performance Studio
For more information about USC Kaufman's New Movement Residency, please contact Renae Williams Niles, Chief Operating Officer at 213-821-6981 or uscdance@usc.edu.