USC Kaufman hosts satellite ceremony for Class of 2022
May 20, 2022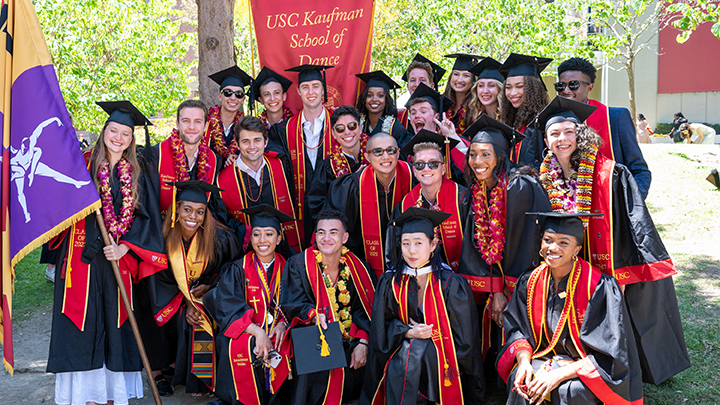 On Friday, May 13, the USC Glorya Kaufman School of Dance hosted a satellite commencement ceremony at Founders Park to celebrate the Class of 2022. In addition to opening remarks from Dean Robert Cutietta, USC President Carol L. Folt and visionary founder Glorya Kaufman shared a few words with the graduating class.
Student speaker
The Class of 2022 nominated one of their peers, Nina Gumbs, to serve as the commencement's student speaker. According to Gumbs, her speech was an open letter to the Class of 2022. In her remarks, she reminisced on their experience over the last four years and individually thanked her fellow classmates for their unique talents.
"We have made it here together, and I can't imagine it any other way. I want us to recognize the bond that we have is created through experiencing each other in big and small ways. And now we are leaving here with more growth because of it," she said. "I want to thank y'all for who you are, who you are becoming, and who you were."
Commencement speaker
Emmy Award-winning director and producer Nigel Lythgoe delivered the commencement address for the Class of 2022. Lythgoe is the co-creator and executive producer of "So You Think You Can Dance," which has won 11 Emmy Awards. He is also the executive producer of "American Idol," which has been nominated for nearly 70 Emmy Awards. Lythgoe is one of the original USC Kaufman Board of Councilors members and is the School's inaugural emeritus board member. In 2015, he established the Nigel Lythgoe Endowed Scholarship Fund, which provides critical scholarship to a USC Kaufman BFA student every year.
In his speech, Lythgoe acknowledged the hardships BFA students endured due to Covid-19. "There's no question that this class has had a tough couple of years," he said. "Covid has been historic in its devastation across the world. Sadly, on a smaller stage, Covid has managed to totally disrupt their University lives. However, I'm glad to say they have survived and here they are on the other side of it, at their graduation ceremony. A day, I trust, will always be one of the most memorable events in their lives."
Other activities
Graduates also attended the main commencement ceremony earlier that day. During the ceremony at Alumni Memorial Park, graduates heard from 2022 commencement speaker and USC alumna Allyson Felix. Felix is the most decorated Track and Field Olympian in history. She has won 25 global medals at the Olympics and World Championships. She has also hosted a wrap-up series for an Emmy Award-winning prime-time show on NBC.
After the main commencement ceremony, graduates enjoyed food and refreshments at a reception hosted by the USC Glorya Kaufman School of Dance at the Glorya Kaufman International Dance Center courtyard.
View more photos from the event and watch these videos celebrating the Class of 2022: