USC Kaufman joins Martha Graham Dance Company for "Acts of Light"
March 16, 2016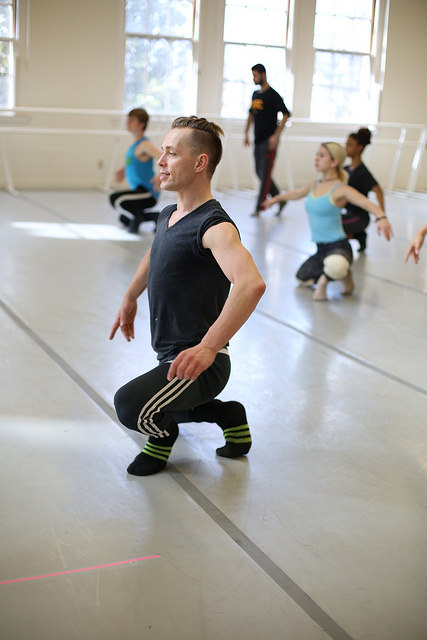 Modern dance pioneer Martha Graham revolutionized dance with her research in contraction and release, initiating sharp and dynamic movements from the torso. Her collaborations with renowned artists from a diverse spread of genres brought her critical acclaim through 181 works.
"Martha Graham invented modern dance as we know it today," said Patrick Corbin, Assistant Professor of Practice in Contemporary Dance. "The entire framework for what we know as postmodern and contemporary dance really comes straight from Martha Graham and her research."
Founded in 1926, the Martha Graham Dance Company remains the oldest American dance company, fostering the growth of dance leaders like Paul Taylor, Merce Cunningham, Eric Hawkins, Pearl Lang, and many more. Following Graham's death in 1991, the company continues to perform her works, yet remains relevant in the dance sphere by performing new pieces rooted in her technique.
The Graham Company will visit USC in April for a performance at USC's Bovard Auditorium, presented by USC Visions and Voices. USC Kaufman BFA freshmen will take part in this program by performing "Helios" a section of "Ritual to the Sun," the third section of "Acts of Light," which Graham choreographed in 1981.
"Helios" was built upon the foundations of Graham technique, including signature Graham floorwork and many striking, angular movements. Under the guidance of Tadej Brdnik, students are learning the aesthetic and sensation of Graham movement in order to apply it to the repertory.
"I personally like the way of moving in the Graham technique– it feels so nice to be able to be vulnerable with a group of people," said freshman Brianna Mims after a recent rehearsal for Helios. "I've always liked Graham, but it's nice to have it broken down the way Tadej does it. It makes the movement feel easier."
In class and in rehearsal with the dancers, Brdnik takes care to explain the complexities of the technique as it is embodied by dancers.
"I think [Martha Graham] provided us with a new way of thinking: how we can use our bodies, how we can use the space around us, and how we can relate to each other," Brdnik  said to students in rehearsal.
BFA students will perform "Helios" onstage in Bovard with the Graham Company, as well as presenting it as a part of the April Spring Dance Performance.
See USC Kaufman perform with the Graham Company at USC on April 27.
---
By Celine Kiner