USC Kaufman hosts virtual celebration and in-person commencement ceremony
May 21, 2021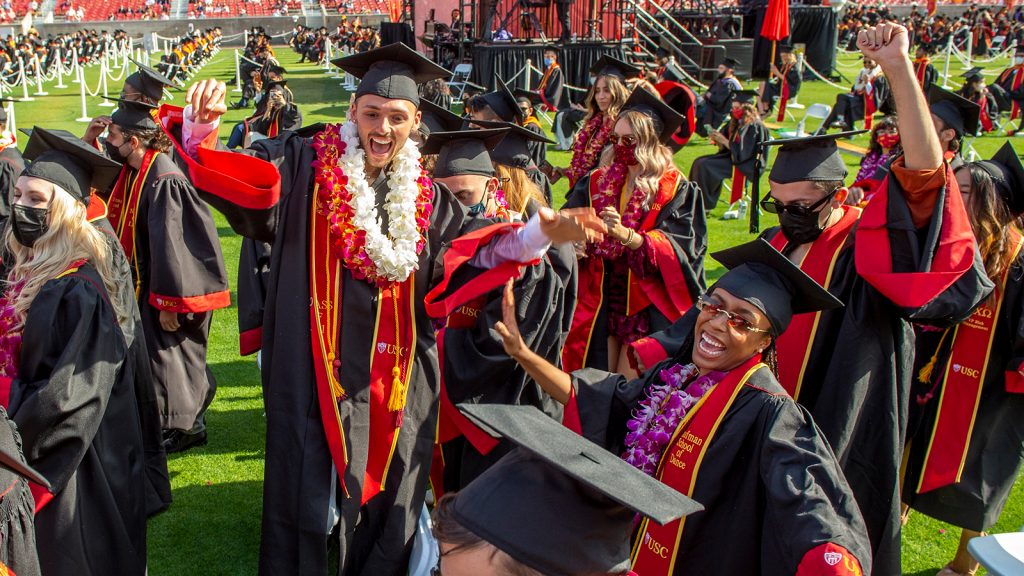 On Thursday, May 13, the USC Glorya Kaufman School of Dance hosted a virtual celebration to honor the Class of 2021. In addition to a video message from Dean Robert Cutietta, visionary founder Glorya Kaufman shared a few words with the graduating class. Attendees enjoyed photos and videos from USC Kaufman faculty and staff. Parents and families of the graduates shared messages along with photos of the students as young children. Viewers also took a look back at events and performances from the students' four years at USC Kaufman.
Student speakers
The Class of 2021 nominated two of their peers, Win McCain and Sidney Ramsey, to serve as the celebration's student speakers. In their remarks, they spoke about the strengths of their class and their hopes for the future. "The past year and half have presented immense challenges, yet in the face of it all, we have shown resilience," said McCain. "We have adapted and pivoted, even when our virtual learning couldn't, and as a result, we surpassed the confines of a year of digital education."
"Reflecting on these four years, I see how we normalized performance so that it grew to be beautifully familiar. The constant cipher of artists through the building and the resulting exchange of information as these daily 'auditions' continued within USC Kaufman allowed us to recenter performance in the process rather than the product," added Ramsey.
"And like how our months of workshopping a piece weren't overshadowed by one night of performing it, what we have gained in our past four years of school isn't summed up by a sheet of paper with the Dean's signature on it. I pray for all of us that from this point on – our learning and exploration continue, our curiosity grows, our relationships get richer, and our fight pushes onward."
In-person commencement ceremony
The University of Southern California also hosted an in-person commencement ceremony for both the Class of 2020 and 2021. The event took place at the Los Angeles Memorial Coliseum on Thursday, May 20. During the ceremony, graduates processed across the stage and received their diplomas, while projected on the screens at the stadium.
Dean Robert Cutietta shared remarks on behalf of USC Kaufman. Graduates also heard from President Carol L. Folt and 2021 Commencement Speaker, Bina Venkataraman. Venkataraman is an American journalist, author and policy expert. She is currently the editorial page editor at The Boston Globe. Since 2011, she has taught in the program on science, technology and society at MIT.
Watch the broadcast of USC Kaufman's in-person commencement ceremony, view more photos from the event, and watch USC Kaufman's virtual celebration below: