USC Kaufman welcomes students with virtual events
August 5, 2020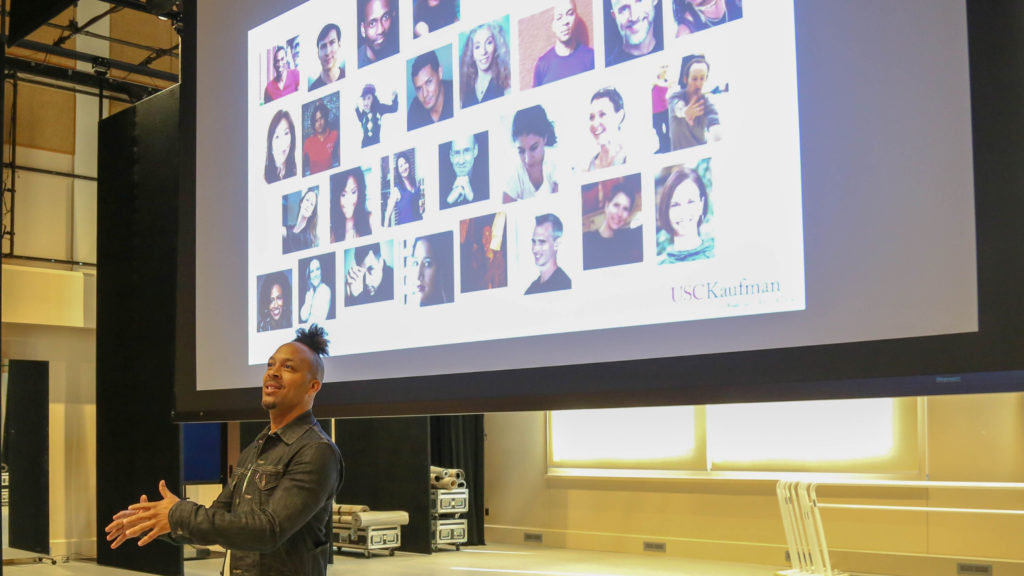 As part of University of Southern California's Welcome Experience, USC Kaufman will host a series of virtual events for students. The Welcome Experience is a six week schedule of programs intended to support students as they acclimate to the new year. The events will take place August 6 through September 26, and unlike previous Welcome Weeks, will be held exclusively online.
Virtual master classes
Within the Welcome Experience lineup, USC Kaufman will be offering free dance demos August 10-22. The demos will serve as introductory classes that are open to all USC students. The styles offered include African dance, ballet, ballroom, Bollywood, contemporary, Gaga, hip-hop, jazz and tap.
"These demos are an opportunity for any student at USC to take an online master class and see what it would be like to take a virtual class during the semester," said Anne Aubert-Santelli, Assistant Dean of Admission and Student Services at USC Kaufman. "We thought that would be a good way to introduce students to online learning specific to dance."
BFA retreat
USC Kaufman will also be hosting a BFA retreat. It is an opportunity for the USC Kaufman community to learn about updates to the curriculum and the school as a whole. For the Class of 2024, the retreat is a chance to meet each other and hear from USC Kaufman faculty and staff. Incoming students will also get a preview of what to expect during the fall semester. The retreat functions entirely online this year.
Equity, diversity and inclusion at USC Kaufman
In addition to hearing from various department heads about their roles in the school, incoming BFA students will participate in equity, diversity and inclusion workshops. These workshops are integral to creating an environment of belonging, an affirmation identified through USC Kaufman's recent strategic planning process. Global consultant and civil rights thought leader Tanya M. Odom will facilitate the workshops, which topics include:
The current state of the country and greater world
A definitions review of terms including diversity, inclusion, equity, White fragility, privilege, unconscious and implicit bias, microaggressions and microinequities
How to be a true ally to underrepresented groups
Responsibility to ongoing learning and reflection
Resources for continued self-led education
BFA wellness
The retreat will also provide a section on wellness, including a presentation from Dr. Kelly Greco, Assistant Director of Outreach and Prevention Services at Engemann Student Health Center.
With a background in dance, Dr. Greco, who is also a Clinical Associate Professor at the USC Keck School of Medicine, has a keen awareness of USC Kaufman undergraduate life. According to Bremond, she also has a deep understanding of the dance scholar experience, and how campus resources can be important for a dancer's mental and physical wellness.
Real talk
There is also a section of the retreat dedicated to "real talk" among the BFA students. This gives incoming freshmen the opportunity to speak with upperclassmen at USC Kaufman without faculty or staff in the room.
"It's an honest conversation between the incoming class and students who are already experiencing the curriculum and USC Kaufman life," Bremond said. "This way, there's not a lot of pressure to ask or answer certain questions that are specific to students."
Maintaining a positive outlook
Even though welcome festivities are different this year, the USC Kaufman team continues to be inspired by their students' flexibility in the face of COVID-19.
"Our team is taking note and inspiration from our students and how they adapt and display creativity in all the work that they do," Bremond said. "We're trying to move the same way forward."
---
By Brigid Murphy