Accessible Practice: a senior project by Alexandra Policaro
April 14, 2021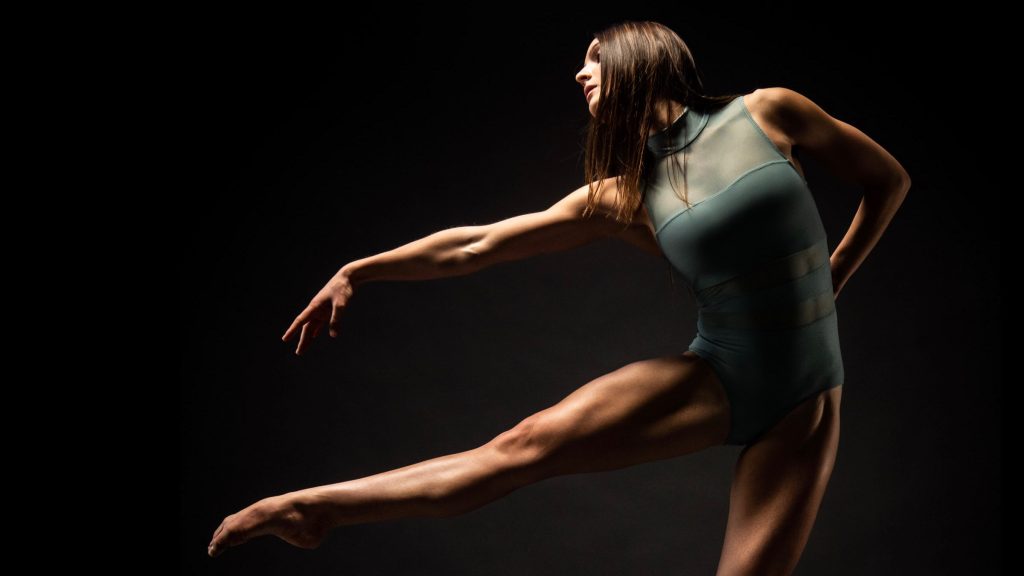 For her senior project, Alexandra Policaro (BFA '21) envisioned a topic that wouldn't simply satisfy the assignment but could offer a longer commitment to the work. She drew from a longstanding interest in health and fitness to create her own business, Accessible Practice. Through the business, Policaro shares her passion for the Gyrotonic Method as well as other wellness practices.
Defining the movement practice
While Gyrotonic enjoys a worldwide following, Policaro offers a definition of the exercise method that she hopes resonates with her future clients.
"The Gyrotonic Method uses the body to go beyond its limitations by utilizing the coordination of breath and movement," she said. "It's not just for dancers, but it's really about expanding your movements. It's very therapeutic as well because you're connecting to a lot of internal sensations through movement."
Introduction to the Gyrotonic Method
Policaro is working toward her certification as a Gyrotonic instructor. This requires 60 teaching hours and a final certification course. She originally discovered this exercise method in high school at the recommendation of her ballet teacher. During this time, fitness became an important part of her life when she faced the stark transition of moving to New York City at 16 years old.
"When I moved to New York City, I was not necessarily feeling my body the way I needed to. The stress of the move had a big impact on me," Policaro said. "In the city, I met dance photographer and personal trainer Kevin Richardson. He became my personal trainer, and he taught me all the ins-and-outs about health and fitness. He helped me achieve my personal fitness goals by the time I graduated."
Directed research at USC Kaufman
Policaro has been able to continue her Gyrotonic exploration at USC Kaufman through directed research with Jennifer Lott, an Assistant Professor of Practice at the School of Dance. Once Policaro found out that the USC Kaufman Fitness Zone had a Gyrotonic Pulley Tower – the machinery needed for the foundational level of the practice – she became more motivated to become certified. Through this research, Policaro has honed techniques that allow for Gyrontonic exercise without special equipment, due to the pandemic.
"Professor Lott has been helping me work around not having machines by using other equipment such as TheraBands or a pillow, broom or chair that you can use instead," Policaro said. "That's something that I've been learning about throughout my certification training."
Promoting accessibility
Policaro's business hinges on accessibility, which inspired the name Accessible Practice. She offers digital access to personal training, nutrition and mindfulness activities. Her website also offers video and blog content to help future clients better understand the Gyrotonic practice. With her final presentation, Policaro aims to increase visibility of the exercise method to continue growing her business after graduation.
"Through Accessible Practice, I hope people gain a better sense of what Gyrotonic is and how I've been able to use it to build upon my goals as a dancer," she said. "I will be able to use this as a part of my career goals throughout life. After I graduate, I want to continue to build and grow to individualize my practice and business."
Senior Project Presentations take place April 14 – 16, 2021 as part of the A/Part To/Gather: Spring 2021 online dance festival. Policaro will present her project April 14 at 5:00 p.m. PT. The Class of 2021 Senior Projects are supported in part by The Collaborative Projects Fund and the generosity of The Cheng Family Foundation.
---
By Brigid Murphy