Jennifer Lott
Associate Professor of Practice
Contemporary, Improvisation, Ballet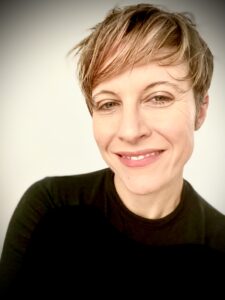 Jennifer McQuiston Lott joined the USC Glorya Kaufman School of Dance as an Assistant Professor in 2016. She is the co-founder and co-Artistic Director of the Traverse City Dance Project, a seasonal company based in Traverse City, Mich. In 2018, she became the eighth teacher in the United States of Countertechnique, a revolutionary contemporary practice developed by Dutch choreographer Anouk Van Dijk.
Lott has danced with Gibney Dance Company, Groundworks Dancetheater, Armitage Gone! Dance, Inlet Dance Theatre, Collective Body Dance Lab, Eglevsky Ballet and others. Her choreographic works and short dance films have been performed across the US and internationally. She has choreographed and directed work for numerous festivals and institutions, and for music artists Son Lux and My Brightest Diamond. She assisted choreographer Jodie Gates with the creation of new works for Tulsa Ballet and Kansas City Ballet, and has staged Gates' ballets at Sacramento Ballet and Princeton University.
As a choreographer, Lott's many musical collaborators include composer Ryan Lott, Andrew Norman, Jonny Rodgers, Darren Solomon and the chamber ensembles yMusic, Clocks in Motion and Tenth Intervention. She was a featured performer in the official Son Lux videos Undone (dir. David Terry Fine) and You Don't Know Me (dir. Nathan Johnson/The Made Shop). Her passion for collaboration has led her to devise and direct to two unique USC Visions and Voices events alongside colleagues from the USC Kaufman and USC Thornton Schools: Caught in the Chamber (Spring 2018) and Activated Chambers (Fall 2019). With the onset of the global pandemic in 2020, she developed and curated the Traverse City Dance Project's No-Distance Festival, a five-month series of virtual collaborations and online events involving and raising funds to support an international array of over 35 music, video and dance artists. She currently directs the Traverse City Dance Project's NewVo Fellowship, which supports the creation of new works by emerging professional choreographers and composers.
Lott earned her BFA in Ballet Performance from Indiana University, and her MFA in Dance from the University of California, Irvine, where she was awarded a Graduate Fellowship and numerous scholarships. She is certified in GYROTONIC® and GYROKINESIS® and is an ABT® Certified Teacher in Primary through Level 3 of the ABT® National Training Curriculum. She has served on the faculty of Interlochen Summer Arts Camp and taught master classes and workshops nationally and internationally.