Anja Tempel launches EDI directed research project
May 26, 2021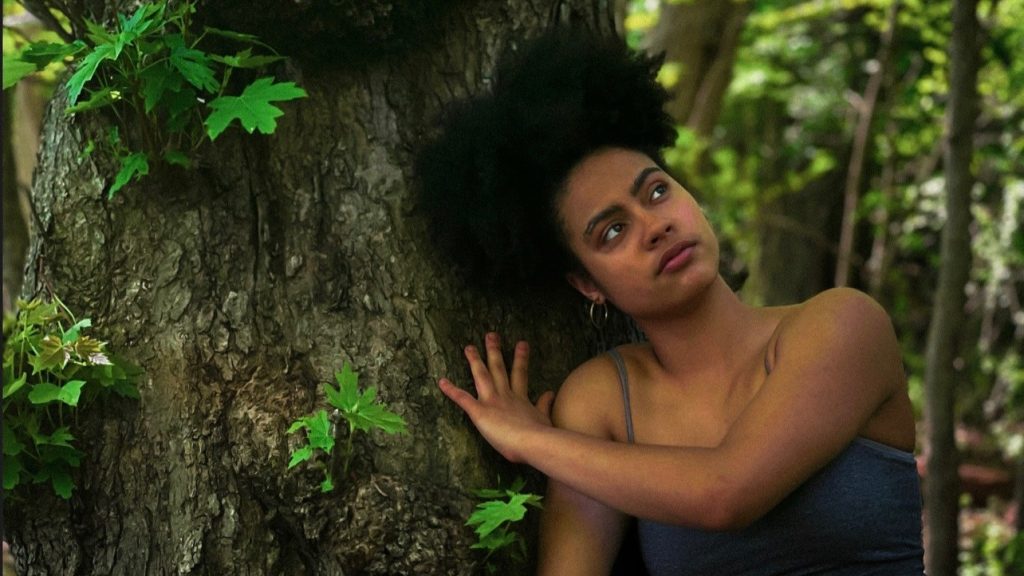 Anja Tempel (BFA '24) began her freshman year at the USC Glorya Kaufman School of Dance last fall. After a summer of global protests calling for racial justice, Tempel described how she grappled with her identity. She sought an outlet to learn more about herself as a dancer and Equity, Diversity and Inclusion (EDI) within dance.
In her first semester, she took the course DANC 107 World Perspective on Dance Performance with Lecturer Achinta S. McDaniel. Tempel explained that the course opened her eyes to the complexities of race, identity and dance. It also prompted her to begin a directed research project at USC Kaufman with McDaniel.
Inspiration behind her research
Tempel expressed that growing up she struggled with her biracial identity in a small, predominantly white town. Eventually, she moved to New York City for high school and faced a new world of diversity, which offered a stark contrast from her upbringing. This led to some confusion regarding her identity and the desire to explore it further as she approached college.
"My passion for this subject ignited as a result of the resurgence of the Black Lives Matter movement in 2020," Tempel said. "I really connected to it because the movement was a time to really examine my identity and my place in society. It revealed a lot of truth about my own history that I didn't know before."
ABIDE
The guiding principle of Tempel's research comes from an acronym McDaniel devised as the founder and artistic director of Blue13 Dance Company: ABIDE. The letters stand for access, belonging, inclusion, diversity and equity, according to Tempel. The acronym particularly resonated with her because of the addition of belonging and how instrumental that aspect can be in both dance and identity.
Through the research, the acronym has led Tempel's investigation into dancers' experiences with ABIDE. She has looked into how the absence of this acronym can inhibit dancers' abilities to absorb progressive ideas and how it affects their artistic and personal mindsets. Her research began with interviewing dancers both in and outside of USC Kaufman. Tempel wanted to highlight multiple perspectives, so she looked for dancers who varied in race, ethnicity, gender and sexuality as well as where they grew up, what types of dance they practice and how dance plays a role in their lives.
"I did about 10 interviews, and was able to find common themes between them all, even with their different backgrounds," she said. "I found again this seed of belonging and identity and how that played a role in their lives as dancers and as people. Through that, I began doing more readings on belonging and identity from academic sources."
Hosting group discussion
Tempel recently hosted a group discussion surrounding her research that allowed diverse voices to converge and analyze together. She organized an icebreaker at the beginning of the event to creatively engage with inequity. Tempel split the group into three breakout rooms to learn the same combination, except with varying barriers. The first group had to learn the combination with their cameras off. The second group learned the combination in Spanish. Finally, the third group had no learning barrier. Tempel viewed this exercise as a snippet of the barriers that can affect a dancer's opportunities in life. She then went on to lead a greater discussion on belonging and identity in dance.
Eileen Kim (BFA '23) participated in Tempel's discussion. She explained that she has been in conversation with Tempel this past semester and was excited to interact with fellow dancers on the subject of EDI. Kim appreciates Tempel's research because it offers the chance to unpack their own identities with a socially and politically relevant backdrop.
"The work Anja is doing is so impressive. She's a freshman who came into USC Kaufman during the pandemic, and it's so cool to watch my peers grow and become more passionate about their work," Kim said. "Something I love about USC Kaufman is that it provides a continual feeling of infinite possibilities with dance. I like being a witness to Anja's directed research, and I feed off of her energy and passion."
Future research
While Tempel's research has just begun, she sees it as a lifelong effort. Looking toward the future, she wants to incorporate the study of anthropology into her work to analyze the cultural impact of various dance styles.
"With this type of research, I see dance as a reflection of society," Tempel said. "I want to establish an understanding of dance in regards to cultures and explore the globalization within dance as well. I want to see how dancers and forms interact with one another and how that impacts dancers both psychologically and as human beings."
---
By Brigid Murphy