Aszure Barton reshapes BUSK at USC Kaufman with an emphasis on process
February 11, 2019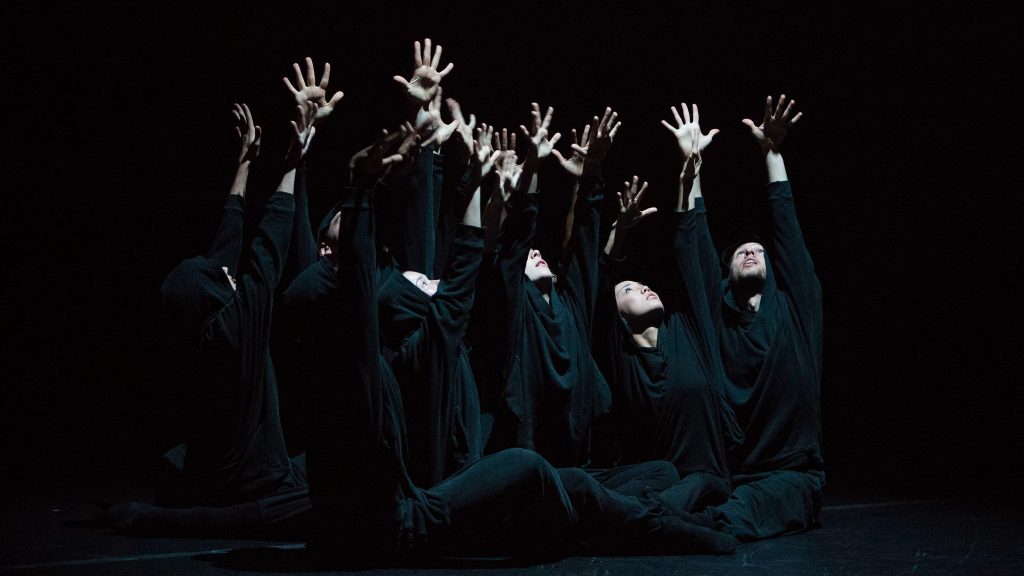 Aszure Barton's choreography is notorious for its complexity: count structures, canons, minute flicks of the fingers and toes. Walk into one of her rehearsals at USC Kaufman and you'll hear a dissonant symphony of students vocalizing their counts. Each dancer's set is slightly different. Barton makes small adjustments, so discreetly that the average audience member might not even recognize the difference. Their subconscious, however, will be more satisfied by the resulting aesthetics. But Barton works in both finite detail and broad strokes. During rehearsals, she often catches students' mistakes—departures from the original choreography, rather—and incorporates them into the piece. The result is a constantly changing work of art, rooted in process rather than final product.
How BUSK relocated to the streets of a university campus
Barton's first visit to USC Kaufman was quiet. She sat in on a few BFA technique classes, observing dancers.
"I was completely in awe of the space and the energy—I was intoxicated from the beginning, I think. There was this bubbling, effervescent excitement that I was drawn to," she said.
Ultimately, she expressed curiosity in the Class of 2019. She saw them fitting into a work she had left in the bottom drawer for a while. She thought BUSK would suit them well, and that it would challenge them just enough. The work requires quite a bit of multitasking, and she wanted to immerse the students in the process.
"Also, I was curious to bring the work back myself," she said. "I thought it was a good moment to pull it out, investigate with hungry and smart young dancers. A perfect opportunity."
The work, Barton explained, evolves in meaning as it is recycled into new iterations. She is hesitant to define any context for audience members, except noting that the piece observes human experience. But the main draw for Barton is that the piece changes each time she rehearses. Play is an integral part of her process.
Process part one: learning
Barton chose a veteran of her company Aszure Barton & Artists, Jonathan Alsberry, to set the work last fall. They have worked together for 15 years, and consequently she trusts his ability to store and revive the content of the complex piece.
"He calls the multitasking in BUSK 'layering the crazy,'" she laughed. "He has this ability to file away these incredibly complex systems and layers of numbers, counts, formats."
Memorizing counts doesn't quite mean mastery of Barton's work, however. Becoming the character and bringing a 'self' to the work is part of the performance–part of relaying her commentary on the human experience. Alsberry, she said, is not just a repetiteur but also a co-creator, a collaborator. He brings this self to the work and conveys it to the students well.
"He is clear and imaginative, and he makes his own choices, and gets excited about the work," she said. "And he always physicalizes it."
Alsberry taught the work with a very vocal system he embedded in the irregular count structure. He replaced every few numbers with words that cue the dancers on how to texture the movement. BUSK, Barton explains, is a world. Alsberry's words and phrases set the tone. Once the world had been built at USC Kaufman, there was room for play.
Process part two: layering
While Barton did frequent rehearsals during Alsberry's teaching period, she returned alone this fall to edit the work herself. This time, she focused on an element of constant flow that would bring new life to the world of BUSK. The piece will be performed as part of USC Kaufman's New York City debut at The Joyce Theater in February.
"It's such a relief, a breath of fresh air, to be in a space that's in constant motion," she said. "You don't get these attachments to insignificant words, names on callboards."
There are a few elements that remain constant throughout the piece. Barton trusts three or four dancers in featured solos. But she is not interested in creating a hierarchy.
"There are some anchors, dancers that pull the work forward. They're the bones of the skeleton. But nothing exists without everybody," she explained.
Each dancer is tasked with finding the individuality and play within this complex, ever-changing structure. They are then asked to place it inside the world of BUSK. Fog and layers of baggy black clothing will flood the stage once they've settled into this state of flow. Finally, they will recreate Barton's world with their own twist. Barton hands them the agency they will need once they matriculate to the professional world this spring. Her advice for their transition is simple, "Dancers: dance. Dance makers: make. And to all: work."
---
By Celine Kiner