Beyond the Studio: USC Kaufman students sign with talent agencies
March 13, 2018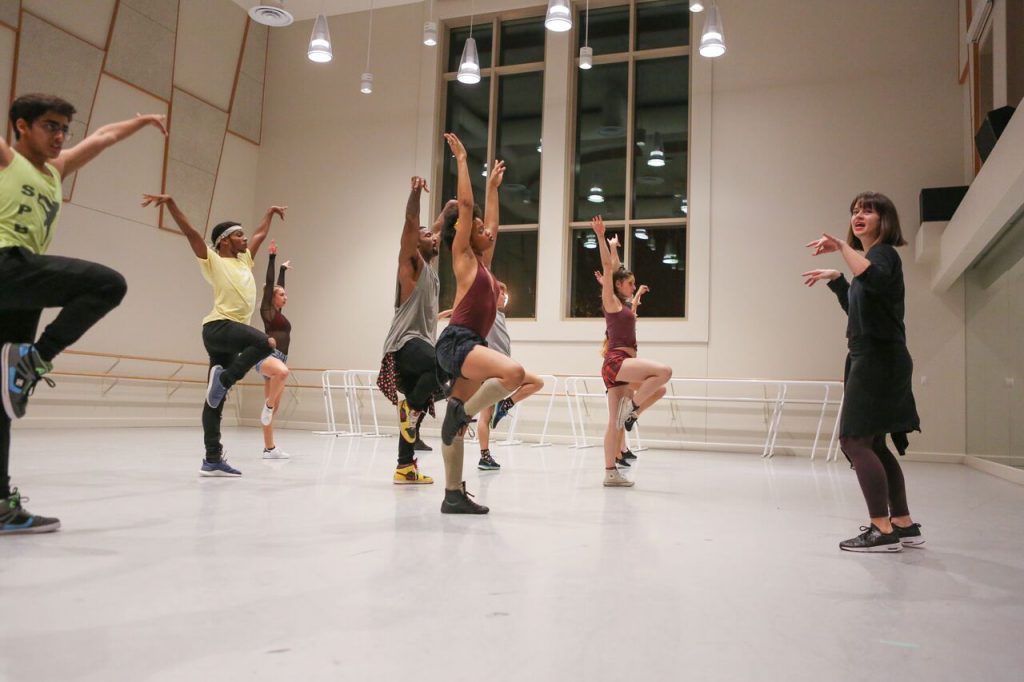 At the USC Glorya Kaufman School of Dance, students are working to get ahead of the game when it comes to ensuring their future professional success. Recently, several dance majors, such as junior Brandon Carpio and sophomore Rachel Harris, secured agents who will help them to book jobs in the entertainment industry— Carpio specifically for acting, Harris for dance.
Last semester, Carpio signed with an agency after making connections while working on a USC student film.
"On set I met an actor and he ended up introducing me to his manager, who then signed me a week later," Carpio said. "Since then, I have had the opportunity to audition for current hit TV shows such as 'Lucifer,' and for other opportunities, such as a recent AT&T commercial. In the future, I hope to continue to audition for more TV shows and movies. A dream of mine would be to book a really interesting and new hit-series on Netflix as a series regular."
Carpio also hopes to sign with an agent to represent him specifically for dance-related opportunities such as music tours, commercials featuring dancers, and dance roles in television and movies.
Although Carpio was able to spend time auditioning last semester, his main focus this spring has been taking advantage of the performances happening on USC's campus. His next role will be "Pepe," a member of the Puerto Rican gang called the Sharks in the school's upcoming production of "West Side Story." As "Pepe," Carpio will sing and dance, as well as speak a few lines and perform stage combat.
Harris, who is also a member of the "West Side Story" cast, is one of USC Kaufman's most recent students to sign with an agent—it only became official this February. Her offer came through USC Kaufman's DANC 499 course on the commercial dance industry, taught by lecturer Christian Vincent.
Vincent has performed with artists such as Ricky Martin, Britney Spears and Prince, even serving as dance captain for Madonna's Drowned World Tour. He also has professional experience as an actor, choreographer, dance coach and artistic director.
"The great thing about the commercial dance course at Kaufman is that the students get a good amount of theoretical information and practical skill," said Vincent. "An added benefit is that I have talent agents attend the class and the final exam. These practices resulted in some of the Kaufman students getting signed to dance agencies. I created this course to help facilitate students getting into the dance industry and eventually getting jobs, and it seems to be working."
This was exactly the case for Harris, who scheduled a meeting with one such visiting agent from Go 2 Talent Agency at the beginning of the spring semester.
"Lisa, who came in to watch our class, said 'Oh, I remember you from class! You really stood out to us! We would love to extend you a contract, but obviously you're still in school—you're a student, so I understand if that's not what you want right now,'" Harris said.
After talking over the logistics, Harris ultimately decided to sign with the agency. Through weekly emails, Go 2 has started to notify her of potential commercial dance opportunities, which would be possible to balance even while enrolled in USC Kaufman classes.
"It works with Kaufman's 'professional development' program, where you can sign off on what type of time-off you would need and who you'd be working with to make sure it's not a 'gig,' but rather actual professional development," Harris said.
She has colleagues within the USC Kaufman school who have done commercials or music videos, which counted as "professional development." It is a program she intends on using in the future, but hasn't had the chance to yet, since she signed with her agency so recently.
Students at work in Vincent's Commercial Dance course with guest teacher Megan Lawson | Photos by Carolyn DiLoreto
When Harris does go out on casting calls, she will be sure to use some of the tips and tricks Professor Vincent taught her and her fellow classmates.
For example, Vincent, on the first day of class, determined that with Harris' overall look, adding a flower to her hair would suit her personal commercial "brand" well.
"It's so specific, but at an audition you'll be known as the girl with a flower in her hair and they'll really know who you are. So, honestly that's how I showed up to "West Side Story"—I showed up to the audition with the flower in my hair," Harris said.
As a lecturer and active professional in the entertainment industry, Vincent is aware that his advice can only lead his students to a certain point.
Having completed the difficult task of securing representation, these USC Kaufman students will be able to focus on building a strong artistic skill set and vast professional network, while remaining connected to the commercial realm both while studying at USC and post-graduation.
---
By Sara Silberman