Building Walkthrough: The Studio Tour
April 20, 2015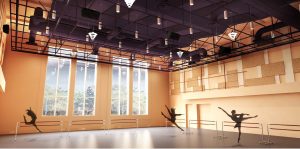 Today, we'll delve deeper inside the new Glorya Kaufman International Dance Center to explore its dance studios.
After you've entered the center, perhaps on your way to your first dance class,
you'll take a turn past the reception desk, around the sweeping grand staircase and through a pair of glass doors into hallway flanked by four dance studios.
As inspired by our namesake, each studio is identified by its own signature accent color: Topaz, Amethyst, Ruby, and Sapphire.
The hallway is a natural gathering spot between dance classes and will feature posting boards to highlight the School's seasonal events, as well as postings for Glorya Kaufman Presents Dance at the Music Center. While connecting with colleagues and waiting for your studio to open up, feel inspired to start stretching using the ledges built into the curving walls of the passage.
As you enter the Topaz, Amethyst, and Ruby Studios, you'll step on to a clean, marley-surfaced dance floor, while the Sapphire Studio will feature a floor of maple wood. All of the studios will rest on a state-of-the-art basket-weave sprung floor system designed by the Harlequin Company.
And the studios will feature advanced, adaptable AV systems, dimmable lighting, plenty of height, and glorious amounts of cubic volume! At approximately 40 by 60 feet and 25 feet high, our studios will offer abundant space for classes, rehearsals and choreographic innovation.
---