Walking Tour: The Second Floor
September 10, 2015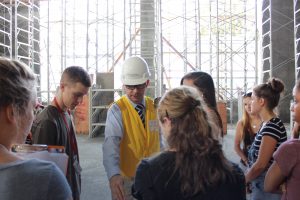 The second floor of the Glorya Kaufman International Dance Center houses a mixture of important environments for the new school. Staff will occupy the north end of the second floor in a space that will include offices, open work areas, and a kitchenette. A room, located adjacent to the administrative suite, will serve as both a traditional conference room and space for small discussion-based classes. At a nearby Help Desk window, students, faculty and staff will be able to check out equipment and get answers to questions related to production, technology and facilities concerns.
Just steps away will be a collaborative work space designed exclusively for dance majors. In addition to providing a comfortable hideaway with views of the plaza below, the space will feature tech-friendly touchdown space, collaboration-oriented furniture, an audio visual wall and a reference library.
Down the hallway, the faculty will have their very own suite with lockers, showers, offices, a meeting room and additional work space. The faculty suite sits across for the sixth dance studio of the building, the 2,000-square-foot "Turquoise" studio.
Finally, at the end of the hallway, four classrooms welcome students and a variety of classes.