Catching up with Brianna Mims
April 2, 2021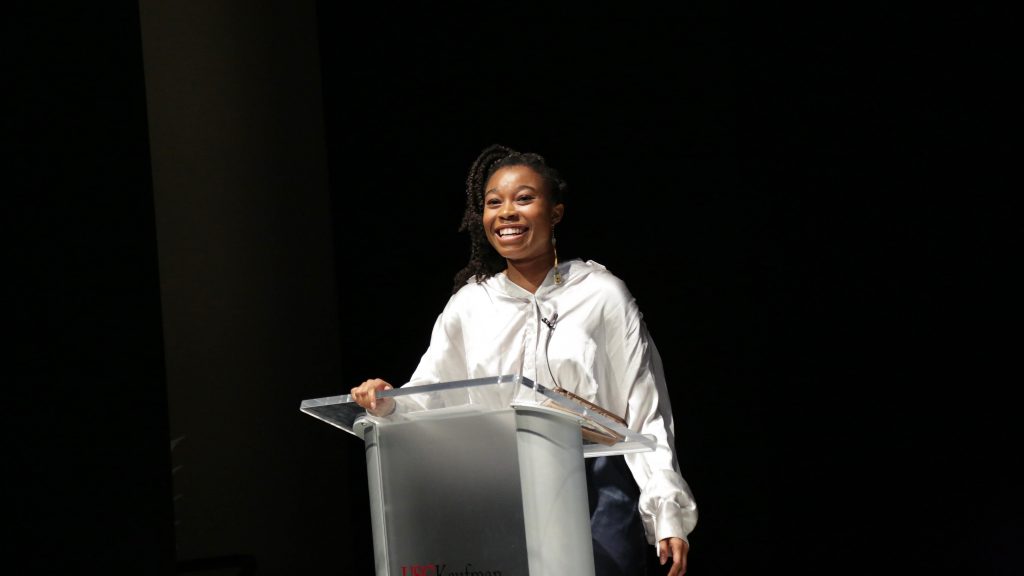 COVID-19 may have halted the live, theatrical experience of the dance industry, but many minds are still hard at work creating adaptive and artistic projects in the field. Brianna Mims, a Class of 2019 alum, has been quite active since graduation with many collaborative projects. Read on to discover more about her work since her time at USC Kaufman.
Deconstructing the suit
Mims described that one of her current works-in-progress revolves around dress suits. She aims to unpack the suit's symbolism to analyze deconstructs their role in power and productivity, rather than demean them. Mims explained that a defining moment in this research surfaced at USC Kaufman's 2019 Celebratory Reception.
"The project started because of an end-of-the-year celebration event I attended during my senior year at USC Kaufman. I was looking for something to wear, and I couldn't find anything," Mims said. "I had this old vintage in my closet that I was obsessing over. It was too big, but I still bought it. I thought about wearing it, but I didn't know how to. I flipped the suit jacket backwards, and I wore it to that event."
From there, her imagination began to expand on the idea of the suit in our culture. E. Moncell Durden, an Assistant Professor of Practice at USC Kaufman, provided Mims with a collection of his old suits to experiment with. She described that this exploration felt powerful and rebellious in turning the idea of a suit on its head as to why it holds such stature in our modern professional world.
"I'm grappling with this idea of belonging as it relates to suits. They feel like this sort of social and economic hierarchy. We're either forced to participate in that or we long to participate in it," Mims said. "There's other elements too, like that of historical movements and Black culture in the South, and the ways in which people have freaked the suit by using different colors, patterns and all the culturally brilliant things that have been done with the suit."
Collaborating with The HAVEN
After coming to this understanding, Mims is now working with The HAVEN Global Sanctuary for Dance to bring her project to life. HAVEN works to promote leadership and innovation for the dancers of tomorrow in response to the global pandemic. She was first connected with the organization by Austyn Rich, a fellow Class of 2019 graduate. He hosted a virtual mentorship session with HAVEN that included moderated discussions with Mims and other choreographers.
This opportunity led Mims to Lillian Barbeito, founder and CEO of HAVEN. Mims had originally thought of compiling her research into a book. Barbeito helped solidify this idea into that of a coffee table book. The work will feature imagery of Mims' deconstructed suits, her original writings and interviews with professionals from different sectors about their individual relationships to suits. Finally, this artistic collaboration will culminate in a book launch with a live performance, choreographed by Mims, in which dancers sport a variety of deconstructed suits from the project.
More creative works
Letters from the Etui
In addition to her suit project, Mims is the curator and director at Letters from the Etui. She helped execute the project while in residency at the Women's Center for Creative Work in Los Angeles. The project includes multiple bodies of work, including digital letters and a video animation series by Dr. Kamran Afary's Communications Studies classes at California State University, Los Angeles and Lancaster State Prison. Due to COVID-19, the project could not be presented live in person. Afary then gave the works to Mims, along with team members and USC students Georgina Grkikian and Minh-Han Vu, to present. They created the Letters from the Etui website to display everything.
The word Etui – from the Old French "estui," meaning prison – is a small ornamental case that holds needles, cosmetics and other sacred possessions like personal letters. The project itself melds these definitions and offers the etui as a metaphor to hold the sacredness and value of the people and ideas impacted by imprisonment. The letters posted to the website strive to connect students to learn more about the prison system and connect resistance struggles around the world toward abolition.
TriKe
Mims recently completed a short film titled TriKe. She explained that the piece did not originally have a concrete storyline or purpose. But, the creation has become something more along the way. The creative aspects of the film build off of Mims' previous works, she said. Her aimed to showcase a range of emotions and explore her instinct to include certain elements.
In the film, Mims can be seen dancing as well as covered in clay, riding a tiny tricycle and provoking the audience. She saw these different acts as a way to show her full personality without compartmentalizing any specific parts.
"Showing my fullness on screen communicated that our power lies in our complexity, and I wanted to celebrate that. I also wanted to show how absurdity creates space for infinite possibility," Mims said. "In my real life, I practice this because I go into some spaces where I know you're supposed to behave a certain way, and I do something that's completely opposite. I feel deeply satisfied by it. I think that creates space for possibility because it feels like it's no longer absurd."
Abolition presentation
Finally, Mims is currently working on a new project with National Sawdust, a Brooklyn-based performance venue and arts incubator, in collaboration with The Center for Ballet and the Arts at NYU, supported by the Toulmin Foundation. As a Fall 2020 Toulmin Fellow, Mims will be exploring the lineage and development of her creative iterations of the #jailbeddrop experience, a performance and interactive installation rooted in challenging our inherent understandings of harm and punishment. Mims' work contextualizes and facilitates a space to explore interpersonal accountability and reflect those values back on the American "criminal justice system." The original #jailbeddrop art series was created by Patrisse Cullors and Cecilia Sweet-Coll through Justice LA.
This presentation will be followed by a panel on Mims' forthcoming work: an abolitionist game, designed to be played both in analog and digital form, that functions as a tool to practice, self-reflect, educate, navigate conflict and develop new possibilities for the ways in which we relate to each other and the Earth. This conversation with Mims, moderated by the interdisciplinary choreographer and educator, d. Sabela grimes, will also include members of the project's creative team. The presentation premieres April 8 at 3:00 p.m. PT and will be available in the coming months for free, on-demand viewing.
To keep up with Mims and her body work, check out her website bjmims.com.
---
By Brigid Murphy