Caught in the Chamber
April 4, 2018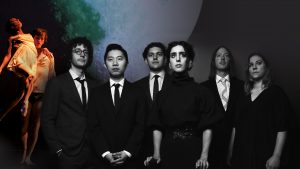 Hailed by NPR as "one of the groups that has really helped to shape the future of classical music," yMusic is an ensemble of six innovative New York City instrumentalists who are equally at home performing with popular musicians like Björk and commissioning scores from rising orchestral composers. In two very special Visions and Voices performances, yMusic, award-winning composer and USC Thornton professor Andrew Norman, dancer/choreographer and USC Kaufman professor Jennifer McQuiston Lott, and avant-pop music-video director Nathan Johnson will create a hybrid "chamber music video." Share in their creative journey at this unique event, which will also feature new works by students from the USC Thornton School of Music and USC Kaufman School of Dance.
Wednesday, April 4, 2018 | 5:00 p.m., 8:30 p.m.
Board Auditorium
Learn more at visionsandvoices.usc.edu.
View all events