CONTRA-TIEMPO premieres joyUS justUS at USC Visions & Voices
September 18, 2018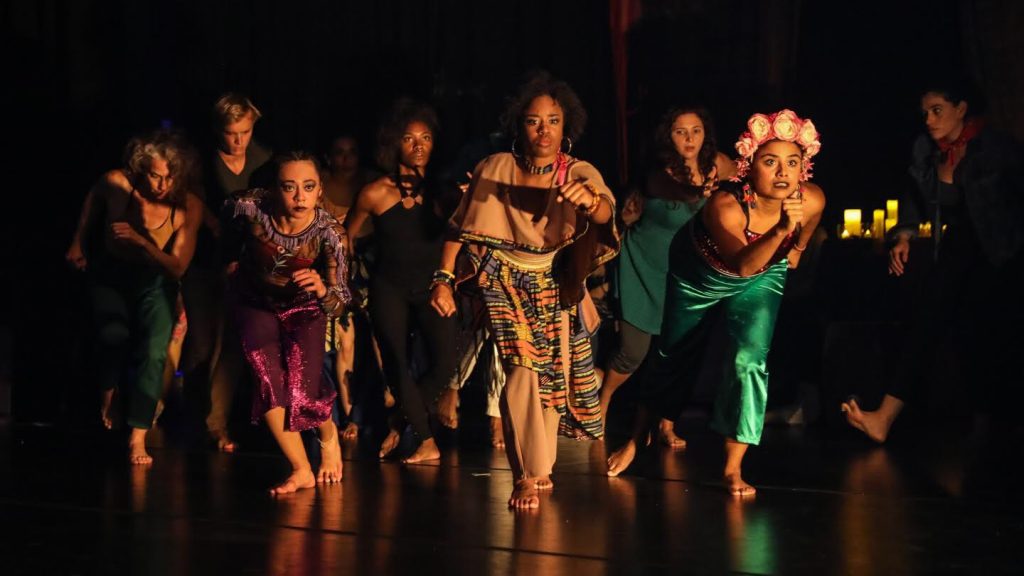 Last Thursday, urban Latin dance theater company CONTRA-TIEMPO premiered evening-length work joyUS justUS at Bovard Auditorium as part of USC's Visions & Voices program. The piece has been a long time coming: company's artistic director and choreographer, Ana Maria Alvarez, participated in USC Kaufman's New Movement Residency this summer. She and the company rehearsed and workshopped the piece at the Glorya Kaufman International Dance Center for three weeks in preparation for the September premiere, but this was nowhere near the beginning of the piece's conception.
Creation by community
Alvarez told us in an interview this summer that the idea for joyUS justUS came to her in a dream the night the company premiered their last evening-length work, Agua Furiosa. She faced harsh realities of racial conflict while creating Agua Furiosa; several months of work on this dark call to action left Alvarez in want of a joyous defiance. Soon after, she and the company began assembling this new piece, marked by collaboration. Company members and community members brought their own stories; local band Las Cafeteras brought music, which USC Kaufman faculty member d. Sabela grimes integrated into the piece's soundscape; Charlese Antoinette designed individual and vibrant costumes; and Tuce Yusak provided light and other technical elements for the stage.
An immediate call to action
Meant to "reclaim the dominant deficit-based narrative of people of color" in America and repossess it by "by embodying stories of joy collected from communities of color in South Los Angeles," (CONTRA-TIEMPO website) joyUS justUS featured celebration and individuality, and encouraged the audience to participate in the performers' joy. The company welcomed a full house at Bovard—even allowing some audience members onto the stage—and challenged the crowd, "are you willing to rise?" The evening was comprised of social dance forms personal to the communities of reference, appropriate to the South Los Angeles location and very much fueled by vocal participation. Each company member contributed their own unique skill set; some spoke, some sang, some played instruments and all danced. USC Kaufman BFA senior Ardyn Flynt, who joined the company for rehearsals during the New Movement Residency, participated in the performance as part of the community cast, along with dance minor Sean Buckley.
The performance culminated in an invitation from the company: the audience was asked to join them onstage to celebrate until the night's conclusion.
---
By Celine Kiner