Student Blog: Collaboration in a Parisian context
June 21, 2019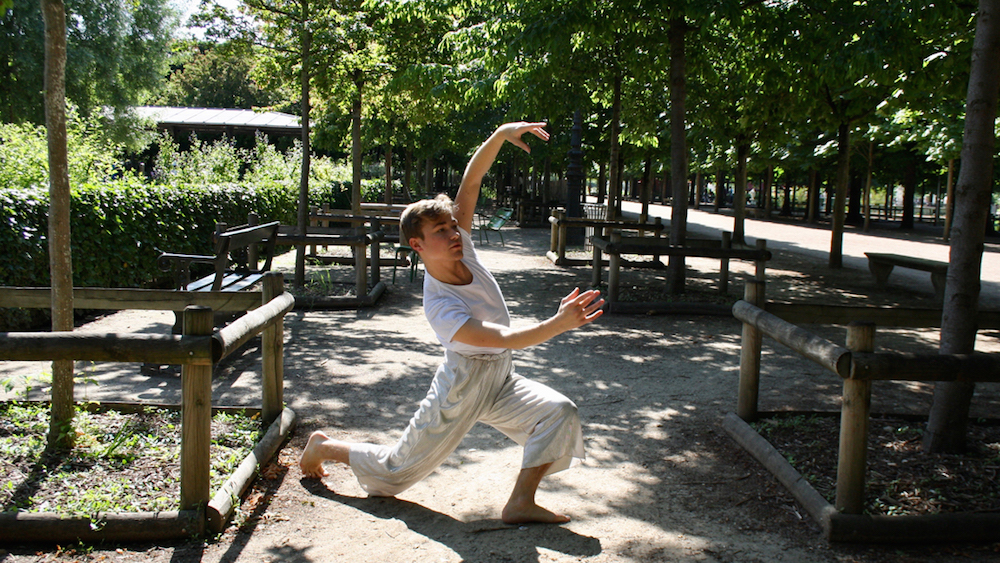 Towards the end of the Paris Maymester, USC Thornton and USC Kaufman students worked in collaboration on original creations. We spent a few hours of studio time improvising with one another, and the following day we broke into small groups to create pieces that reflected on our Parisian experiences. The next morning, we all gathered to share our work with a small audience of faculty and family. I asked Vocal Arts major Luke McCarthy, Music Composition and Organ Performance double-major Ethan Haman and dance majors Sasha Zitofsky (BFA '21) and Evan Sagadencky (BFA '21) about their experiences with collaboration in the Paris Maymester.
Can you describe what the improv jam and final presentations were like?
Ethan Haman: I was fortunate to work with three amazing dancers: Lillie Pincus, Rachel Harris and Olivia Gieringer. We discussed different ideas and tried them out. I enjoyed that this was a collaborative effort in which musical ideas influenced the choreography and vice versa. I was originally thinking of composing a piece that would showcase early French Baroque style all the way through modern times, in a linear way. After seeing and discussing the choreography-in-progress, we decided it would be better to only use one 20th century song. We put it in the center of the piece, then arranged it into French baroque style for the beginning and end of the piece. This choice helped to accentuate and represent the dichotomy between old and new, which we have seen in Parisian culture during these few weeks.
Evan Sagadencky: The improv jam was really special. Taking a step away from our habitual intense training patterns allowed us to take in more inspiration and information throughout Paris. For that reason, I felt that the improv session was distinctly exciting; all of us had taken some sort of pause from our regular studies to go out of our comfort zones and experience something new.
Sasha Zitofsky: We really shared our talents with one another at the improvisation jam. It was so fun to celebrate our peers' talents and just jam out to their music. At the final presentation, we showed a cultivated response to our travels and findings. I really enjoyed this collaboration, because we got to workshop ideas for future use. Everyone creatively incorporated Parisian culture into their piece, in their own way.
What was your favorite part about collaborating with Thornton/Kaufman students for our final project?
Ethan Haman: Collaboration makes us come up with things that we would not have thought of without each other. In this case, collaboration with dancers showed me how choreography truly represents music. Dance brings tiny musical details to the forefront, which is truly inspiring. For example, in the middle section of the French overture is a fugue, a musical form in which the same small musical fragment is gradually passed around to different voices and journeys through many different musical keys. The dancers highlighted this musical feature by staying still, then coming in one at a time along with each statement of the fugue subject.
Evan Sagadencky: My favorite part about this collaboration was the willingness to try. Regardless of product, we were invested in research. We experienced new moments in Paris, and we wanted to convey the same in our piece. The musicians danced and the dancers played instruments (including myself). As terrifying as it was, this milestone helped me realize that our crafts really aren't that different and we are all closer than we might think.
Luke McCarthy: My favorite part was just witnessing a creative process in a dance context. It was so interesting to see their ideas come out so fluidly, in a way I still don't really comprehend.
What's your biggest takeaway from your artistic practice in Paris?
Evan Sagadencky: I think my biggest takeaway would simply be that breaks are necessary, but artistic process and path are never-ending.
Luke McCarthy: I really noticed the difference between artistic reflection in Europe and America. In Europe, there's a lot more experimentation and appreciation for it. I felt like I could go in whatever direction I wanted, rather than marketing myself in a very specific way.
Sasha Zitofsky: I find myself incredibly inspired for future projects. The art and history in Paris sparked many ideas in my mind, for either dance films or stage works. So many moments were artistically fueling. I have already worked out pieces in my head. Paris has so much art history. I can still feel that energy as I leave, and I am hoping to bring that back to school.
Has this experience inspired any future projects?
Ethan Haman: This experience has inspired me to try collaborating with others, and hopefully with USC alumni. I realized that art cannot be created in a bubble. It needs other fields to inform it and inspire it, and some of the best art has been created through a dialogue between diverse forms of art. Collaboration is the most effective way that we will find our answers for new artistic work in the 21st century.
Luke McCarthy: I just want to work with dancers more now!
Sasha Zitofsky: I do have some projects in mind that I talked about with some of the USC Thornton students. I've actually taken up songwriting as a hobby. One of the music majors offered some help and we have a collaboration or two planned, in both songwriting and choreographic works. This Maymester has offered some lifelong friendships. I can't wait for the amazing art that we will generate!
---
Edited by Lillie Pincus