Dance as Radical Self-Care
October 10, 2021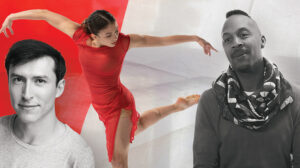 October 10, 2021 | 1:00 p.m. 
USC Village Great Lawn
3301 S Hoover St 
Los Angeles, CA
Join us for an inspiring afternoon of dance intended to create connection, build community, foster well-being, and prompt reflective discussion on the intersection of dance, health, and thriving.
Presented during Trojan Family Weekend, the event will include two guided movement workshops led by renowned USC Kaufman faculty d. Sabela grimes and Bret Easterling and a performance by USC students and alumni.
d. Sabela grimes will lead a hip hop session using Funkamental MediKinetics, a technique he created that focuses on the methodical dance training and community-building elements evident in Black vernacular dance practices, engaging the physical and metaphysical body through a series of movement meditations.
In the second workshop, Bret Easterling will lead an exploration of Gaga, an Israeli movement language that trains individuals to listen to their bodies, increase their energy, and cultivate attunement to one another as a group.
A performance by USC students and alumni will feature dancers Bella Allen, Alexis Augustine, Timmy Blankenship, Eugene Bois, Emily Carr, Valerie Chen, Nina Gumbs, Anne Kim, William Okajima, and Jordan Powell; musicians Hazel Thunes, Austen Mendoza, Dario Bizio, and Carter Boyle; and spoken word artist Mykael Cammorto.
Presented by USC Visions and Voices: the Arts and Humanities Initiative. Organized by the USC Glorya Kaufman School of Dance, the Chan Division of Occupational Science and Occupational Therapy, the Dance Medicine Team, and Change the Stigma.
View all events