Student Blog: Day in the life of a second year at USC Kaufman
October 20, 2021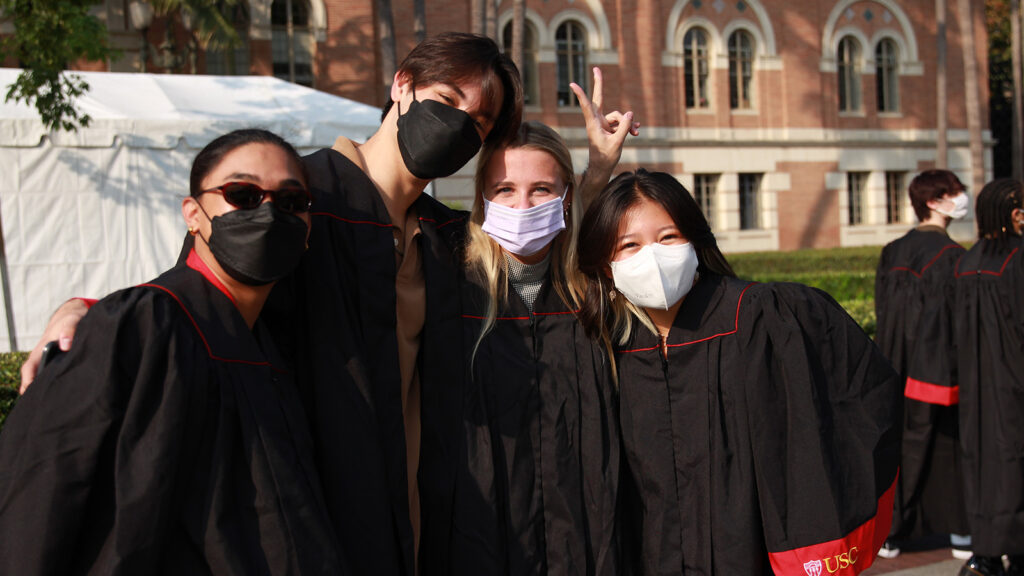 As a BFA student at the USC Glorya Kaufman School of Dance, our daily lives are filled with excitement, opportunities and new experiences. With a variety of academics, dance classes, extracurricular activities, social life, events and more, we get to be part of the USC Kaufman family and have an amazing college experience unlike any other in the country. My name is Diego Lopez. I am from Chihuahua, Mexico, and I am a current second-year student majoring in dance. Coming to the U.S. after a year of doing online school was intimidating and nerve-wracking, but with the support from my peers and faculty, I'm grateful and honored to be here. With that being said, I will walk you through what my life here at USC Kaufman is like as a second-year student.
Housing
This year, I was fortunate enough to get an apartment in University Gateway Apartments, one of the residential housing options that USC offers. It is located a few blocks away from the Glorya Kaufman International Dance Center, and it usually takes me about five to 10 minutes to get to school. In the area, there are a lot of food options and general shops that you can walk to such as CVS, California Hot Chicken, Panda Express and Blaze Pizza. My apartment complex has its own gym, study rooms, a laundry room, a space to hang out on the rooftop and many more amenities. I also live with another USC Kaufman student in a two-bedroom apartment. It comes with a full kitchen and a small living room. Each bedroom also has its own bathroom. I think our apartment is quite spacious and perfect to live in as a student.
Weekly Schedule
Our schedules are pretty busy for the first two years of school. Second years take Dance Technique, which is every day, Monday to Friday, from 9:00 a.m. to 11:50 a.m. Here we take technique classes like Ballet, Countertechnique, African & Drumming, and House. We also take Improvisation & Composition on Tuesdays and Thursdays with Professor Bret Easterling. In Repertory & Performance, we learn choreography by guest artists and faculty and rehearse for performances. We take this class Mondays, Wednesdays and Fridays. Sometimes, we also have rehearsal on Saturday mornings.
We also take some lecture-based classes such as African American Dance, Colloquium, and Music for Dancers. Lastly, we are required to take some GE courses as part of our curriculum here at USC. This semester, I am taking a really interesting class in Sociology called Changing Family Forms. In this course, I'm learning about the family and how it has evolved through history. The class also discusses how society works and the basics of sociology.
Outside Activities and Interests
I am currently thinking of pursuing a minor. USC offers minors in every area of study that you can imagine. One minor I am thinking about adding is Entertainment Industry, offered by the USC School of Cinematic Arts. It's a very interesting minor that helps students learn about the background of the entertainment industry. It also helps students get the tools they need to succeed in the industry.
This semester, I auditioned to join a student led hip-hop performance team on campus called Chaotic3. I was fortunate enough to get in and have been having the best time of my life. I have been able to meet so many inspiring students from so many different majors across campus. It is an amazing way to connect, learn, and dance more outside of USC Kaufman.
I am also part of the Latino Alumni Association, which is a department under the Alumni Association at USC. It has helped me so much with tools and resources for USC's Latinx students. I have also become closer to the community. Some of the events they have hosted are galas, virtual classes with alumni and experts in multiple fields, study sessions, community building events, and more. I'm truly grateful to be a part of this community at USC.
Future Plans
Even though the future is uncertain, I know that both USC and USC Kaufman will be great supporters in my life and my career. I'm excited to learn and connect with other students both at USC Kaufman and outside of it. I'm eager to create opportunities and new experiences during my college journey. Dance On!
---
By Diego Lopez (BFA '24)