Day in the Life: Senior Year
June 8, 2020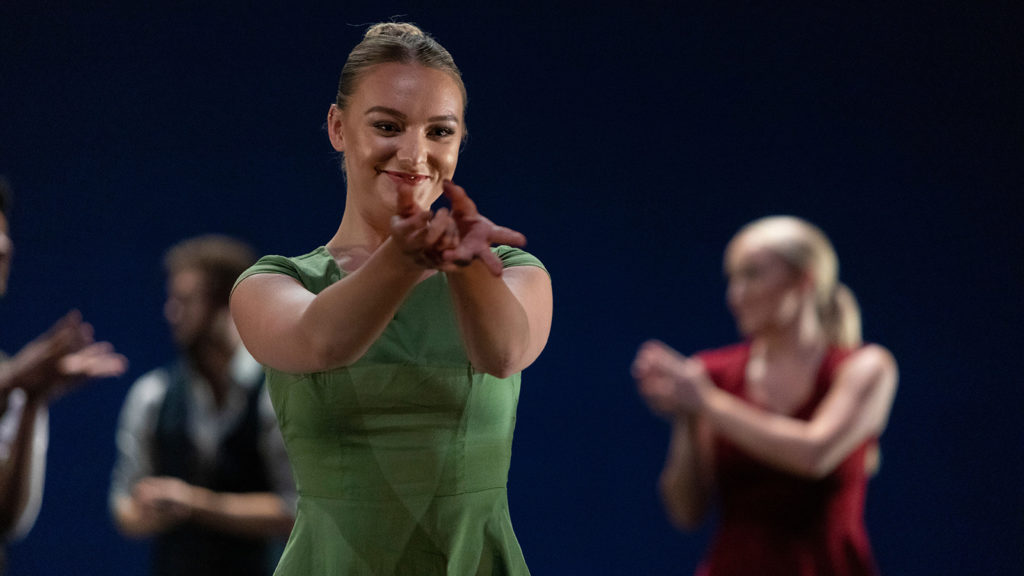 Senior year was a whirlwind. Between traveling for auditions, finishing up GE courses, and starting a minor, there was never a dull moment. This is a day in my life as a senior at USC Kaufman!
Student life
I decided to live alone in an off-campus apartment. It was a short distance away from campus so I had a very peaceful walk every morning, which I came to really enjoy. During my last year, I wanted to spend as much time with friends as I could before we graduated. Every spare minute we had, we tried to get together whether that be going to the beach, dinner or out on the town in Santa Monica. Some of my favorite memories though are the nights where we cooked dinner or watched movies in the apartment.
General Education
A huge reason for choosing to attend USC Kaufman was my ability to take outside classes that were interesting to me. As a USC student, you are required to take a minimum of eight outside General Education and Writing courses in order to fulfill university credits. Some of my favorite classes were from those required GE courses. They included Diversity and the Classical Western Traditions, The African Diaspora and Introduction to Psychology. GE courses are an incredible way to dip your toes into different areas of study around campus.
Pursuing a minor
Upon my acceptance into the program, I knew I wanted to minor in a specialty from another school. As a dance major with a concentration on Dance Performance, I thought that there wasn't much room for me to take extra classes while also fulfilling my GE courses and studying abroad. I ended up being wrong!
As a senior, I began and finished my minor in Sports Media Studies, through the Annenberg School of Communication and Journalism. Yes, I finished my whole minor in one year! The minor included courses on the role of media in today's society, how to define sport and how it has changed through the decades, detected issues in contemporary sport and how we go about fixing them, and how technology enhances sport. In my last semester, we even had the opportunity to pitch our own start-up companies or products to the FOX Sports team. I also used my minor as a way to enhance my studies for my senior project which I entitled Preventing Football Injuries Using Ballet.
Working at USC Kaufman
When I wasn't in class, I was usually working for USC Kaufman in various ways. Over the years, I had the pleasure of working for different departments including Student Services and Dance Operations. I also worked front desk reception, and was the assistant to the Repertory and Performance faculty. Working for USC Kaufman gave me the ability to connect with new and current students, faculty and staff. It also prepared me for other possible career options in the future.
Daily schedule
Tuesdays
8:30 a.m. – 10:30 a.m. Work for either Student Affairs or front desk reception
10:30 a.m. – 1:20 p.m. DANC 410: Dance Technique (Ballet and Artist in Residence)
BREAK for homework and lunch!
3:30 p.m. – 4:50 p.m. COMM 383: Sports, Communication and Culture
BREAK for dinner and some coffee!
6:30 p.m. – 9:20 p.m. COMM 310: Media and Society
Wednesdays
7:30 a.m. – 9:00 a.m. Shift Supervisor Meeting for Dance Operations
9:00 a.m. – 10:20 a.m. DANC 362: Pilates Mat Training
10:30 a.m.- 1:20 p.m. DANC 410: Dance Technique (Ballet and Hip-Hop)
BREAK for lunch, dinner, homework and coffee!
2:00 p.m. – 4:50 p.m. DANC 420: Repertory and Performance
5:00 p.m.- 6:20 p.m. DANC 480: Senior Seminar
6:30 p.m. – 9:50 p.m. JOUR 380: Sports, Business and Media in Today's Society
Above was my typical Tuesday and Wednesday schedules for Fall 2019, which happened to be my heaviest academic days. Not all of my days looked like this, but in order to finish my minor on time and be able to study abroad, I took 21 units in my last semester with the help of the Academic Achievement Award. As busy as my schedule was, it was super rewarding to finish my degree with my minor. Although the days were quite tiring and long, it was a great opportunity to take classes that interested me and meet new people outside of USC Kaufman.
Diverse Academics
My schedules changed quite a bit throughout my time at USC Kaufman. My freshman and sophomore year, I took a lot of electives like Commercial Dance and Classical Partnering. I also opted to take one General Education (GE) class per semester. As I moved into my junior and senior year, I began taking two or three GE courses or minor courses per semester and focused more on specific classes that interested me. One of my favorite things about USC Kaufman is the flexibility in your schedule. There are so many possibilities from minoring, to double majoring and progressive degrees, as well as taking different classes from around the university.
As you can see, I like to challenge myself and try to do it all. I took Repertory and Performance every semester and took extra electives. Further, I studied abroad in Paris, finished my minor and worked five jobs throughout my four years at USC Kaufman. I really wanted to make these the best years of my life, and I definitely did!
---
By Whitney Hester