Doug Varone and Dancers partners with USC Visions and Voices
February 4, 2022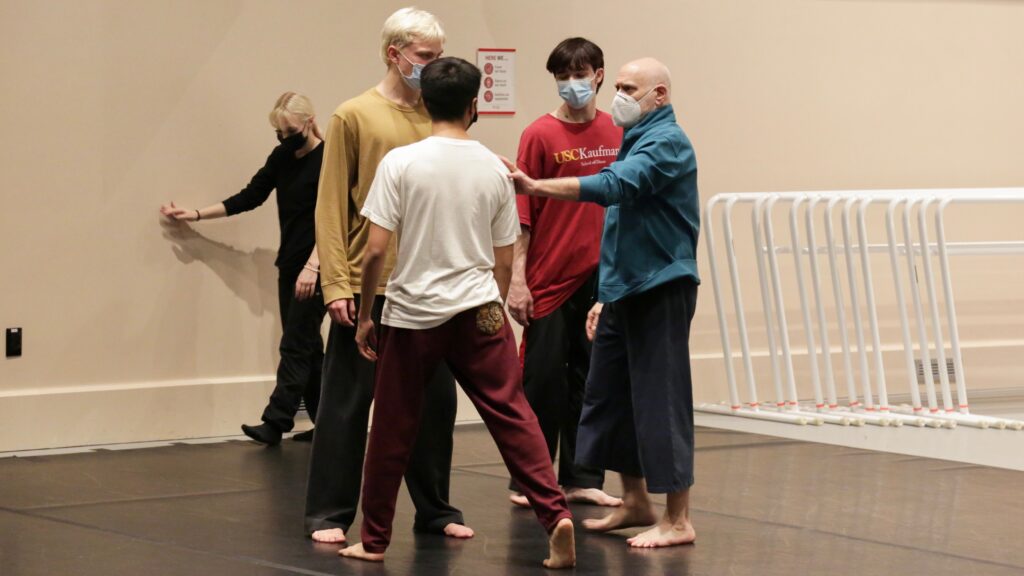 On Friday, Feb. 11 and Saturday, Feb. 12, the USC Glorya Kaufman School of Dance is partnering with USC Visions and Voices to present Doug Varone and Dancers. This event will showcase pieces from the Doug Varone and Dancers company repertory. It will also feature an original work set on BFA dancers by Varone, an Artist in Residence at USC Kaufman. The performances will take place via livestream presented by video and sound production specialists RYBG, who are USC Kaufman alumni. After the performance, Varone will speak on his expertise with the choreographic process and technique.
Collaborating both online and in-person
Varone began choreographing with the Class of 2024 last month to a score by New York based composer David Lang. While the Spring 2022 semester began online, USC eventually shifted to in-person learning. Collaboration has continued to blossom in the Glorya Kaufman International Dance Center studios.
"I'm really impressed with the creativity of this group and the amount of trust they have in the creative process," Varone said. "For artists of this age, they are very much along for the ride – in some ways even ahead of me. I give them great liberalism for interpreting the material that we're building together to see what else is possible that I might not see on the surface. They have given weight to the piece that we're creating in ways that push this new work forward."
Varone described his creative process with the Class of 2024 as very organic. He explained that the inspiration for the piece comes from the dancers themselves and the music available to him. Varone seeks to collect and hone material in a way that mirrors a stew of ingredients, he said.
"I'll pull out material from our work and put a different score behind it to see if what we're creating aligns with any inspiration that I've been having," Varone said. "I'm greatly inspired by the dancers who are in the room. It was important for me to understand who they were and what they were going to bring to the table before I actually understood what I wanted to make."
Digital work with RYBG
For the livestream, Varone is working with the production company RYBG. USC Kaufman alumni Adam Agostino and Justin Epstein (BFA '19) founded the company in 2020 and have filmed past performances at the School of Dance. Varone worked with RYBG last academic year to create a dance film for USC Kaufman's A/Part To/Gather festival. He looks forward to working with the visionary team again.
"I've worked with a lot of videographers over the course of my career, and RYBG has a unique and accessible way of working," Varone said. "I build my work architecturally, and that's important in terms of the storytelling. Right now, we're having conversations on what that all means in terms of the works that I'm bringing to the stage that already exist. I'm excited about envisioning them in a different way and allowing RYBG to work their magic on them."
Fitting into USC Visions and Voices
While Varone has not performed with USC Visions and Voices in the past, he feels that his work naturally falls under its arts and humanities umbrella. He is excited to participate in its initiative to debut the new work with the BFA students along with some of the company repertory. In addition to the new work, his company dancers will be performing two pieces on the livestream. The first piece is called Boats Leaving with a score by Arvo Pärt, and the second piece is called Lux with a score by Philip Glass. Varone noted that he and his company created both pieces about 10 years ago.
"The work that I create is always about the human condition in some way. I'm always putting imagery into my work that feels like it's recognizable, whether that's about ourselves, society, relationships or anything else. In that regard, being a part of Visions and Voices feels like it aligns with the mission of the work."
Performance takeaways
While Varone hopes audience members form their own unique responses to the dances, he wants to convey a sense of universal physicality through the art.
"There's a beauty to the optimism of some of the work that I'm presenting. There is also tenderness and introspection in other works. With everything we've been through, I'd like to leave the audience with the idea that we're going to be okay. Everything that we're continuing to put ourselves through right now is important because we want to move past this. And with that, the world is going to reopen again and it will be a beautiful thing."
Doug Varone and Dancers will be livestreamed Feb. 11 and Feb. 12. Presented by USC Visions and Voices: The Arts and Humanities Initiative. Organized by the USC Glorya Kaufman School of Dance. USC Kaufman Artists in Residence are supported in part through generous funding from The Choi Family Artists in Residence Fund.
---
By Brigid Murphy