Extracurricular Activities: Getting involved at USC as a BFA student
November 21, 2019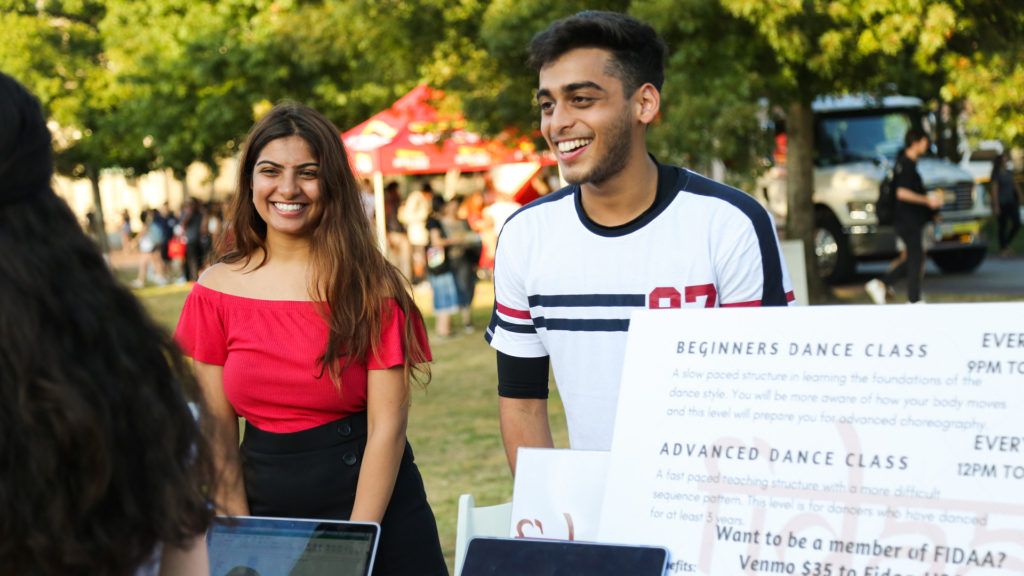 In addition to dance technique classes, rehearsals and academic coursework, USC Kaufman's BFA students are involved in a wide range of extracurricular activities. With over 1,000 student organizations to choose from, there is no shortage of opportunities to pursue one's interests, take on leadership roles and make an impact at USC.
We spoke with several BFA students to see how extracurricular involvement has played an important role in their overall undergraduate experience.
Going Greek
 At USC, fraternities and sororities have been a part of student life since 1889. Through its 10 Panhellenic Conference chapters and 18 fraternities in the Interfraternity Council, the Greek community currently includes more than 4,500 members of the USC student body. Makayla Bailey (BFA '21) became a member of the Panhellenic community during her sophomore year, when she joined USC's Alpha Chi Omega (AXO) chapter.
"I wanted to join a sorority to broaden my USC experience outside of the arts, along with becoming more involved on campus," she said. "I have especially enjoyed participating in and planning philanthropy events and fundraisers with AXO."
Bailey, who was recently elected to be the Risk Manager for her chapter, also finds joining the Greek community to be a comforting experience.
"The community supports women in their intellectual and career development, along with building a great network of driven and supportive women. As a member of a sorority, I have met such a diverse group of women, who have become my sisters, best friends and community in which I can turn to," she said. "In this way, being a part of the Panhellenic community has made a really big school like USC feel more like home."
Religious life at USC
Sidney Ramsey (BFA '21) has found a similar network of support and friendship during her time at USC through her involvement in the religious community. This year, she became co-leader of the Studio of Worship and Prayer (SOWP), a religious organization founded by two members of USC Kaufman's Class of 2019. During their weekly meetings—which are open to anyone, regardless of their relationship to faith—Ramsey helps lead students in worship. The sessions include live music, and occasionally, dance.
"With the busyness of our BFA schedules, I look forward to this time every week to just take a second for myself and the people around me and be thankful for where we are," said Ramsey. "As a group, we have been open in sharing our perspectives about how dance and faith intertwine in our lives. We have formed a community that can support each other in times of stress or doubt, sending prayers or offering help when someone needs it."
SOWP is just one of over 90 different student religious organizations on campus, representing almost every major world faith. Per USC's Office of Religious and Spiritual Life, that is more than any other university in the United States. With events in collaboration with USC's Interfaith Council, alternative spring break programs, yoga classes and more, the Office of Religious and Spiritual Life helps students like Ramsey find their place at USC.
 Taking dance beyond the classroom
 Through student dance organizations, Jainil Mehta (BFA '21), was also able to find a sense of belonging at USC, and even became closer to his culture—despite being 8,000 miles away from home.
"Last year, I was the choreographer for USC's premier competitive Bollywood dance team, Zeher, which connected me back to where I come from," said Mehta, who is from Mumbai, Maharashtra. "The joy I had in teaching what I have grown up learning was surreal. I remember telling my team that this is the time I just release all my stress to produce something I love."
This year, Mehta started his own dance organization, FIDAA, which means, "To be crazy in love with something; Here, dance." Mehta's purpose with this organization is to reach out to students, staff and faculty who want to dance, and dance for fun. To achieve this goal, Mehta and the members of FIDAA planned and executed USC's first ever weekend-long dance convention this past October. The convention featured classes led by USC Kaufman faculty and students, along with prominent members of the dance community, who represented a variety of dance styles.
"Diverting from the competition scene, I realize there is so much more service I can do to promote my love for dance," said Mehta. "USC gives us students the opportunity to create student-led organizations—such as FIDAA—which we can run, fund and promote all by ourselves. Imagine, being an entrepreneur when you're in college."
Whether students are looking to be entrepreneurs, or just hoping to meet some new friends, it is clear that USC's extracurricular offerings can help them achieve those goals.
For more information about USC's clubs and organizations, please visit campusactivities.usc.edu.
---