Faculty Q&A with Hope Boykin
August 20, 2019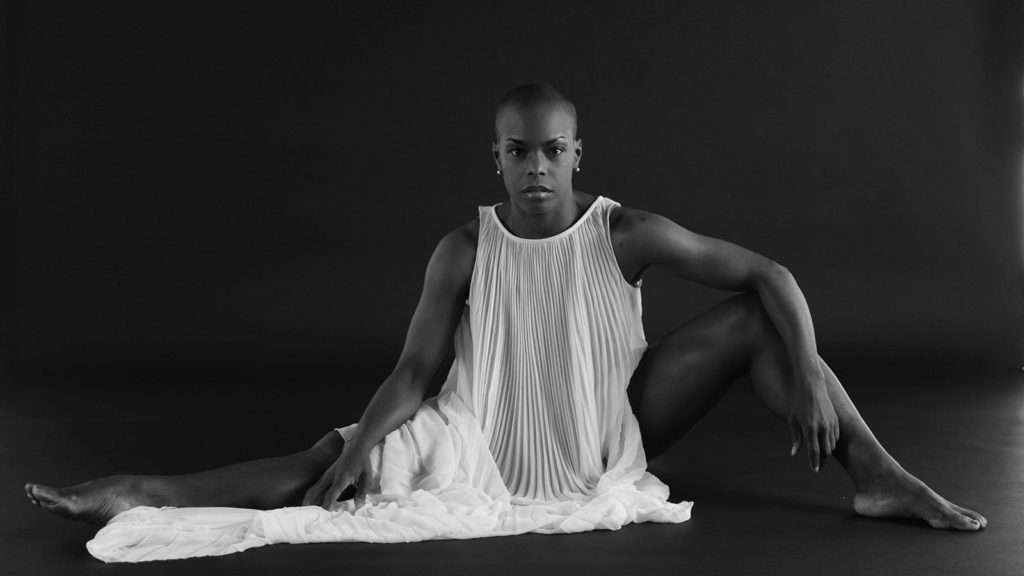 This year, the USC Glorya Kaufman School of Dance welcomes Artist in Residence Hope Boykin. Boykin is a choreographer, educator and current member of Alvin Ailey American Dance Theater. Performing professionally for over two decades, she has traveled the world and learned many lessons, which she never hesitates to use as food and fuel for her performances. We asked her to share a bit about herself:
How did you know you wanted to pursue dance as a career?
HB: It was really pretty late, I think. I was an original member of Complexions, which is now Complexions Contemporary Ballet. I had done a summer program, a performance where Matthew Rushing had choreographed a solo for me. After that performance, Dwight Rhoden tapped me on the shoulder and asked if I wanted to be in a showcase he was putting on with Desmond Richardson. Of course, I said yes.
I was pleased to be there, I was in all of the rehearsals, I was every place I was supposed to be. And at the end of that performance he handed me an envelope and it had a check in it. Now, I knew dancers were paid to do what they did well, but I don't think it hit me until then that dancers were actually paid to do what they loved. So, I had auditioned for other companies before, but that was really the tell-tale sign.
Did you always plan on pursuing choreography? How would you describe your choreographic process?
HB: I don't think I had a plan to pursue choreography, per se. I just often felt like when I was watching someone else or I was in their process that my ideas would surface: "Oh, I would have done this," or "I might have done it differently," or "I would've chosen this music. I would have used this dancer." And really, those are just signs that maybe it's something you're interested in doing. And that's when I knew.
As far as my choreographic process is concerned, I love to start with rhythms. It doesn't have to be musical rhythms. It could be sounds, things that I'm thinking of in my head. A simple cadence of a phrase of poetry, and then that cadence informs my movement.
I tend to work with gestures, but gestures that turn into larger pieces of movement. And then I always feel that those things, those phrases of movement can stand on their own. I believe that movement is abstract, and once it has context and character and color, costumes and lighting, then the ballet, the story, the purpose of the work takes form.
What do you hope our students will take away from working with you?
What's really important to me about being in any process with any group of people, and young people and young artists that are striving for professional careers, is to show that kindness and consideration and compassion can exist in the studio, while straining and pulling and pressing to get as much as you want.
I do not believe in "by any means necessary" dance, but I do believe in "by any means necessary" encouragement, "by any means necessary" kindness that I show to dancers. I'm honest, caring and considerate with their feelings and how their bodies move. I don't believe that any one person is or should feel that they need to look like the person standing next to them.
But what I do know, what I do appreciate and want to express within a dance studio, is that everyone is an individual, everyone is beautifully and wonderfully made, and we are going to work to be our best selves in the environment.
What interests you about working at USC Kaufman?
Knowing and admiring and having so much respect for Jodie Gates for so long. She has been such a key player in building this program from zero, from the ground up. Watching this powerful woman come in and work and create a program for students. And then being able to come in and teach a masterclass for the very first class at USC Kaufman has made me feel like I have a home here. Another home, a place I can come and express and share. I didn't often see dancers that looked like me, that thought like me, when I was growing up and when I was at their age.
And so it's my duty to show my best self, the best representation of myself, and share that with these young artists, because I believe in them. I believe that I have something to share, perhaps something to offer, and that's my goal and purpose. My purpose is to educate, to move and to motivate.
---
By Sara Silberman