Dawn Stoppiello
Associate Professor of Practice
Dance and New Media, Composition, Repertory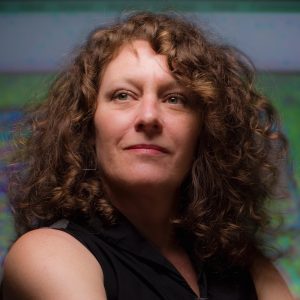 Dawn Stoppiello, MFA, is a conceptual artist whose primary material is the human body in action. As co-founder of the media-performance ensemble Troika Ranch, she is most recognized for her 25+ years of choreography for bodies interfaced to computers through sensory systems and dancing in synchrony with projected images.
Troika Ranch's international reputation has brought honors such as a Bessie Award and a prize from Prix Ars Electronica. The company has received major support from The Doris Duke Charitable Foundation, The National Endowment for the Arts, The MAP Fund, The Arts Council England and The Jerome Foundation, among many others.
Stoppiello has performed, taught and lectured extensively throughout Europe, Australia, Canada and the U.S. Her writings have been published by many journals and books focused on media and art practices. She began her career at the Jefferson High School for the Performing Arts (Portland, OR) and received a BFA in Dance from California Institute of the Arts and an MFA in Dance from George Washington University. She has received multiple honors from the Princess Grace Foundation-USA, including a 2004 Statue Award for continued excellence in her field. She performed with Jazz Tap Ensemble as a teenager and was a member of the Bella Lewitzky Dance Company in the early 1990s.