Spring Concert Inside Look: Eight student voices come together in "Waistcoat"
April 17, 2018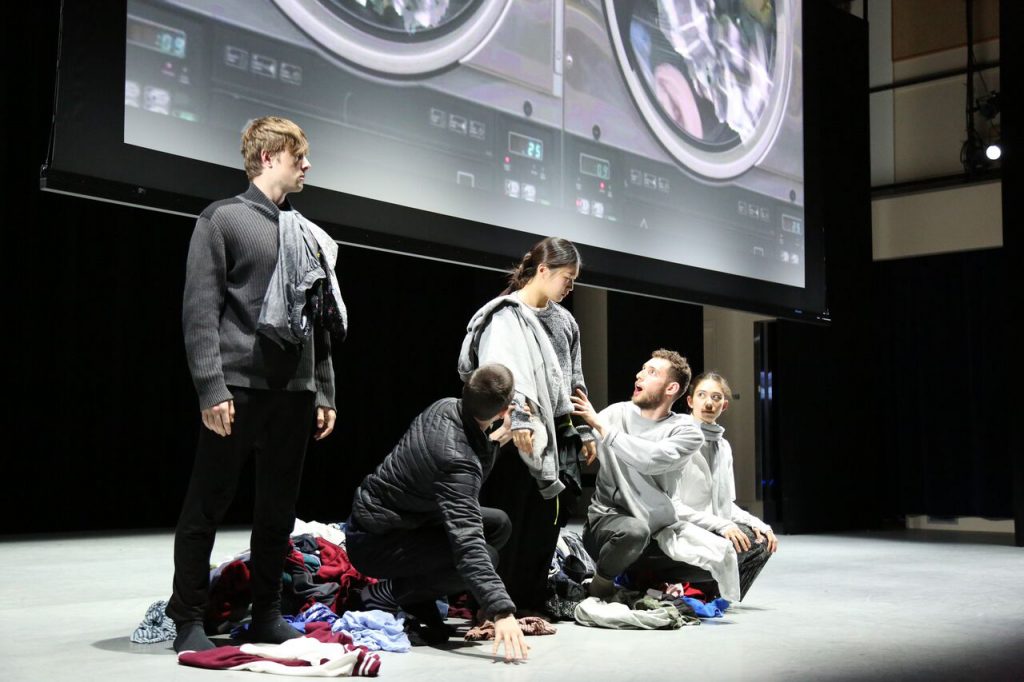 All semester long, eight of USC Kaufman's BFA student choreographers collaborated on a piece entitled "Waistcoat" for presentation alongside works of Living Legends at USC Kaufman's Spring Dance Performance, co-hosted by USC Visions & Voices.
The new work is a choreographic experiment led by junior-year dance majors in USC Kaufman's choreography concentration — a program designed to guide students who are interested in the field of dance for the stage, motion pictures, television, digital media and animation. The jointly choreographed  final product will unite eight distinct artistic visions in a single dance piece, the first USC Kaufman student work to be presented on the Bing Theatre stage.
A collaborative experiment
"I felt drawn to this project because of the sheer challenge of it. Just the idea of collaborating with seven other dancers is terrifying, and I wanted to see how much I could grow from this process," said student choreographer Stephanie Dai. "I also jumped at the chance to be a part of one of the [USC Kaufman] program's many 'firsts' with some of my closest friends, where all of us can have a hand in cultivating what it means to be a student choreographer here at Kaufman."
Her peer, Mary Mallaney, spoke to the logistical challenges of tackling this "first."
"It's tricky because sometimes we have to go to our other rehearsals during this time, so there can be eight of us in the room, and sometimes there's six, and sometimes there's one of us. But we still have to keep developing [our piece]," she said.
The students also grappled with melding eight separate artistic voices.
"It's been a bit difficult understanding when to fight for or relinquish a personal vision that we had for the piece," said Dai. "However, through the process we learned how to trust each other and how to find that sweet-spot that allowed us to consider one another's suggestions without being afraid to voice our own."
"Waistcoat," thus-far, has been a blend of two distinct dance styles: contemporary and hip-hop– the intrinsic movement styles of the dancers in the room.
Co-creating with USC Kaufman faculty
Faculty members Dawn Stoppiello and d. Sabela Grimes provided guidance to the student choreographers throughout the process. Stoppiello, specifically, led them through the process of incorporating media into dance.
With her help, the students developed a meaningful way to feature conceptual videos of clothing in their piece.
"In the last few rehearsals or meetings since spring break I've seen a lightbulb going off," Stoppiello said.
She noticed that after the students' works-in-progress showing, they started to explore the idea of clothing waste in the fast-fashion industry, which is now reflected in their video presentation.
Prof. Grimes provided both choreographic and auditory support for the piece. With his help, the students' sonic intention for "Waistcoat" has also evolved. The piece, originally performed in silence, is now set to an original score by Grimes.
"It's been incredibly refreshing to work with our professors in this way– as co-creators and collaborators," said Dai. "And, while they have had to help us get back on track a couple of times, they made sure that we were in the driver's seat for a majority of the process– something we really appreciated…Overall they've been our mentors, facilitators, collaborators, and biggest cheerleaders."
For Stoppiello and Grimes, reaching an ideal balance between mentor and collaborator wasn't instantaneous.
"While the students were learning to collaborate, we were also learning how to direct a class like this. It's not a piece I'm making on them. I'm trying to make a space for them to make a piece on each other," Stoppiello said.
From this experimentation, both the students and professors have reached a new understanding of USC Kaufman's mission.
"['Waistcoat'] is interesting and it's smart and it's curious and it doesn't look like other things. So, what does that mean? I think it just means it's a New Movement,"said Stoppiello.
The completed "Waistcoat" will be performed at "Living Legends: USC Kaufman's Spring Dance Performance" April 25-27. Tickets are available now.
---
By Sara Silberman