Caught in the Chamber collaboration brings yMusic to the stage
April 13, 2018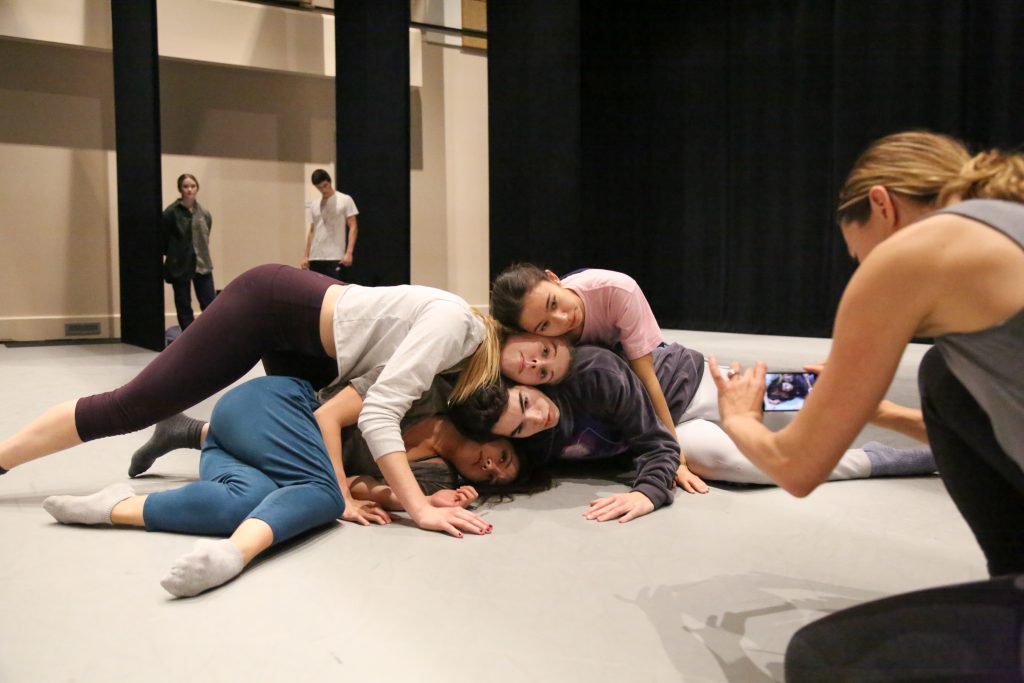 The live sounds of chamber music ensemble yMusic accompanied six works this Wednesday in the Glorya Kaufman International Dance Center for an evening titled Caught in the Chamber. The pieces, each a collaboration between students and faculty in the USC Kaufman School of Dance and USC Thornton School of Music, were a combination of live and recorded works with a dance and composition element.
Dancing onscreen: the process
Spearheaded by USC Kaufman assistant professor of practice Jennifer McQuiston Lott and USC Thornton assistant professor of composition Andrew Norman, the recorded work—what the creators called a "chamber music video"—took over a year of planning. This particular part of the evening was choreographed by Lott, scored by Norman, and directed by Nathan Johnson, art director at The Made Shop.
Originally, the piece was intended for an office space, but Johnson, Lott, and producer Ashim Ahuja had trouble locating their ideal set within their budget. Fortunately, they did not have to look much further than their own office spaces for a new location.
"We shifted our plan to use the beautiful resource that was right in front of us, the Large Performance Studio, the piece really started to come together. We'd wanted a film where the dance evolves and grows from something very simple, ordinary and small," Lott said. "The LPS was a perfect place, because it's a transformative space, where the seeds of ideas from 'ordinary' people grow into dances –  these extraordinary moments in time and space. And then 'poof,' it's over, and we're back where we started."
The video featured USC Kaufman BFA dance students, who helped Lott workshop and choreograph the film. After several months of rehearsal, the final rehearsal took 17 takes, 14 of which were complete.
In coping with the challenges of a video frame rather than a live stage point of view, rehearsals required that dancers work with a camera—Lott and Johnson even choreographed the cinematography to a point, in order to best feature the work for the screen.
"I gave them a mandate to stay out of frame—but in the space—when they were not on camera, so we had lots of problem-solving to do, and they came up with many of the solutions that we actually used during the shoot," Lott explained.
Student creations and collaborations
Madison Vomastek, another BFA dancer, was featured in the film, but also choreographed her own piece for the live stage in Bovard. Junior BFA students, dancers Sophia Oddi and Rebecca Troyak, performed the work live, in addition to a guest appearance by professor Thomas McManus.
Vomastek's piece was scored by Tyler Eschendal, master's student in composition at USC Thornton. The process, Eschendal explains, was entirely collaborative—from conception to production, the two worked side by side to create a performance that served composer, choreographer, and audience.
"Tyler and I gave each other room for individual expression and we frequently met to share what we had been discovering and grappling with," Vomastek said.
Once the pair was assigned, Eschendal worked in tandem with Vomastek. The two met initially to discuss ideas before deciding on a minimalist structure, focusing on phasing and simplicity. They sent samples back and forth until an idea was finalized, and once Eschendal had finished the score, he attended rehearsals periodically to observe the dancers in process.
"In the end, our ideas coincided with one another, which made the piece more multidimensional—rhythmically and emotionally," Vomastek explained.
Eschendal tackled a live element of his own for the performance; each composer was allotted a short time to rehearse with yMusic to ensure that the piece was played as intended. The ensemble includes Hideaki Aomori (sax, clarinet, flute), Gabriel Cabezas (cello), C.J. Camerieri (trumpet, French horn, and keyboard), Rob Moose (violin/guitar), Alex Sopp (flute), and Nadia Sirota (viola) and boasts an impressive repertoire.
"We just made sure that everything was running smoothly; page turns, and that everything was feeling good in their fingers, and then we just went for it," Eschendal said. "Whenever there's live music involved, it tends to get very interesting very fast. There are a lot of variables, so we had to take advantage of that rehearsal time."
Five other BFA students displayed pieces as well—Aidan Carberry, Stephanie Dai, Trevor Daw, Alvaro Montelongo and Sophia Oddi each set pieces on their colleagues for live performance, scored by USC Thornton students Eric Pham, JP Merz, Timmy Peterson, Sasha Bartol, and Guang Yang, respectively.
In addition to the film, Lott coordinated each of the choreographers' works for the final performance. Her film concluded the evening, with Norman's score played live in the theater.
"I gained a beautiful film; it's not really what I intended, but also see it as almost autobiographical for us, USC Kaufman," she explained. "It is an artifact of this time and place, and these people, at the beginning of their dance careers. I think we will look back on it as a reminder of how special and unique this moment in time really is."
---
By Celine Kiner