Saleemah E. Knight
Assistant Professor of Practice
Jazz, Dance Studies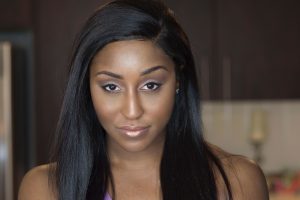 Saleemah E. Knight is an internationally recognized interdisciplinary artist in the concert and commercial dance realms, TV-personality, choreographer, television host, lifestyle influencer and professional dancer. She is currently a professor of dance and founding faculty at the highly-acclaimed University of Southern California, Glorya Kaufman School of Dance. Knight graduated Magna Cum Laude, with a Bachelor of Fine Arts Degree from the University of Arizona, School of Dance. As a selected fellowship recipient, she holds a Master of Fine Arts Degree from the University of California, Irvine. Knight was a featured dancer in Disney's world-renowned Broadway Musical, The Lion King and is a concert and commercial dance choreographer and performer whose background includes training in Ballet, Jazz, Contemporary, Tap, Modern and Hip-Hop Dance from outstanding private schools/dance masters throughout the United States. They include yet are not limited to: Dayton Contemporary Dance Company, River North Chicago, Gus Giordano Jazz Dance Chicago, The Edge Performing Arts Center, Millennium Dance Complex, Debbie Reynolds Dance Studio and Broadway Dance Center.
Knight's choreographic expertise has grabbed the attention of entertainers worldwide. She has been the selected choreographer for various performers, ranging from MTV Asia, to The Bay to the A Tour, featuring well-known recording artists Bosko Kante, E-40, Rick Ross, Lil' Jon and Busta Rhymes and has done artist development for Akon's singing sensation, Tami Chynn. Knight's Contemporary Dance work entitled "The Drowning" was also performed at the American Cancer Society Benefit Concert located in Beverly Hills, Calif., benefiting cancer patients across the United States. Knight provided movement coaching and artistic direction for Latin rap artist Daddy Yankee's "Limbo" music video and was the choreographer for his "La Noche de Los Dos" music video, both directed by Jessy Terrero of Cinema Giants (formerly known as Terrero Films). Knight was also commissioned by Cinema Giants to choreograph the "Que Viva La Vida" music video for international Puerto Rican pop artist, Wisin (formerly of Wisin y Yandel) as well as the "La Malquerida" music video for Latin pop princess, Chiquis Rivera. She has provided movement coaching for recording artist Wiz Khalifa as well as created choreography for Jan and Dean's legendary hit "Surf City" on behalf of Cigna Healthcare.
As an instructor, Knight offers repertoire and technical development to students in the concert dance realm as well as movement coaching for recording artists. She provides discussion workshops regarding the pursuit of the arts in the concert, commercial and academic realms. During the academic season, she has provided undergraduate dance courses at the University of California, Irvine and Santa Ana College in Jazz, Modern and Hip-Hop Dance. She has also taught Modern and Jazz Dance technique as a guest instructor at the University of Nevada, Las Vegas and as a graduate associate at the University of California, Los Angeles. She has been an invited guest speaker and Jazz master class instructor at Loyola Marymount University, Complexions Contemporary Ballet, Tremaine Dance Conventions, CLI Studios, Laguna Dance Festival, Ballet Plus Miami, New Century Dance Project, Dance Teacher Magazine's Dance Teacher Summit and Break the Floor's Dancer-Palooza event, among many other nationally and internationally recognized dance workshops and festivals. Knight was an international guest master teacher and choreographer for St. Petersburg, Russia's DAR Jazz Festival and speaker and women's empowerment panelist for Rihanna's 2017 "Ladies Night" event sponsored by Fenty x Rihanna and Shiekh Shoes. Knight is a recurring guest instructor and choreographer at the prestigious Debbie Allen Dance Academy. In the spirit of providing arts accessibility for low-income communities, she also offers dance outreach classes to inner city youth.
Knight's performance credits include many well-known entertainers. As an adolescent, Knight performed with the formerly known company, Donald Byrd/ The Group of New York in the World Premiere of "The Harlem Nutcracker" at Gammage Auditorium. She has since performed alongside Beyoncé at the 2011 Billboard Music Awards and has also danced with The Pussycat Dolls, Tatu, and Matisyahu. She is featured on the Jillian Michaels Fitness DVD series entitled, "No More Trouble Zones" and "Banish the Fat, Boost Your Metabolism," currently sold in stores. Knight also danced lead with Chris Brown in Ludacris' music video, "I Know What Them Girls Like" and made a guest appearance in Jamie Foxx's "Blame It On the Alcohol" music video. She was featured on Gatorade's Mission G Episode 3 of "Leave It On the Floor" featuring well-known artist, Will.I.Am. She also choreographed Christian Audigier's Spring 2009 Ed Hardy Fashion Show featuring America's Next Top Model winner, Whitney Thompson and danced on tour with actor and recording artist Tyrese in 2007 and again in 2009. Knight has danced in work choreographed by UCLA faculty Victoria Marks, entitled "Not About Iraq." She has also appeared on Country Music Television as a featured dance instructor for the TV series, "Made." In 2013, Knight also performed in world-renowned Contemporary Ballet choreographer Jodie Gates' work, honoring the Rite of Spring, entitled the "Sacre Project."
Her performance abilities have deemed her recipient of The University of Arizona's Medici Fine Arts Scholarship, the Brian Friedman Millennium Dance Scholarship, the Gus Giordano Scholarship, Coca-Cola's Leadership Scholarship, and fellowships and awards at the University of California, Irvine Claire Trevor School of the Arts. In addition, she is a past selected company member for Dayton Contemporary Dance Company II and Gus Giordano Jazz Dance Chicago II.
Knight currently teaches Jazz Dance technique as well as theory courses in the areas of world studies, Jazz Dance history and popular culture on faculty at the USC Glorya Kaufman School of Dance, choreographs live productions, and teaches master classes worldwide. She is also the artistic inspiration behind Shop Saleemah, a shop-able Instagram based store featuring ready-to-wear fashion and dancewear. Knight is known for her outstanding instruction and choreography in Jazz and Contemporary Jazz. She was recently featured in Dance Teacher Magazine as a leading university professor in the field of Jazz Dance. Knight is currently featured as a contributing dance historian and narrator on UPROOTED: The Journey of Jazz Dance, an award-winning feature film and Jazz Dance documentary, alongside dance legends such as Debbie Allen and Chita Rivera, notable choreographers such as Mandy Moore and Josh Bergasse, and renowned scholars such as Thomas F. DeFrantz. She continues to bring her academic expertise, professional and vibrant attitude to recording artists, dance programs, performing companies and academic universities worldwide.