Minor Program Spotlight: Choreography for Stage and Screen
February 12, 2020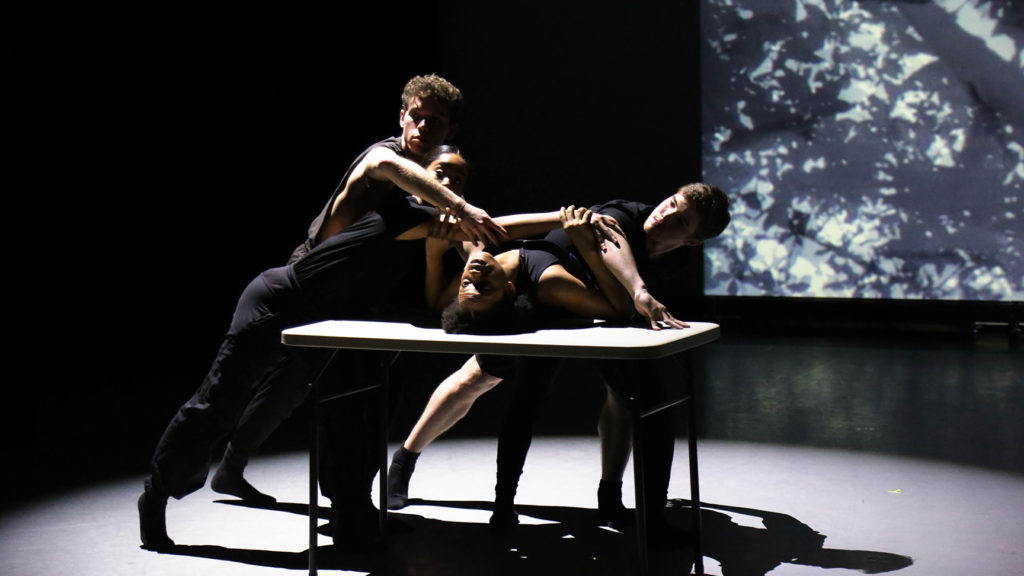 The Choreography for Stage and Screen Minor is one of four minor programs offered at the USC Glorya Kaufman School of Dance. This program specifically explores the different techniques used to create dances for the stage and screen, including new media. Students in this minor research classic and contemporary film and stage musicals, as well as existing choreographic works. They also learn methods used to generate movement vocabulary and gain practical experience in choreographing for multiple mediums.
"It is paramount that dance artists making work in the 21st century have at least a base-level understanding of the many platforms used to present and promote dance," said USC Kaufman faculty member Dawn Stoppiello. "The 'stage' is now a word describing physical spaces as well as online space."
Stoppiello teaches the minor program's required upper division course: DANC 363g Dancing on the Screen.
"Dancing on the Screen exposes students to historical and current practitioners working in choreography for stage and screen," she said. "Even more importantly, they learn about the different strategies used to make dance for a stage versus dance for a screen, making short studies with their phone cameras in class to ground their understanding."
Why Choreography for Stage and Screen?
The diverse set of students in the Choreography for Stage and Screen minor have chosen to join this program for a plethora of reasons.
"The possibility of continuing my choreographic work at USC Kaufman was a major factor in my decision to attend USC," said Sydney Gamble. "With a minor such as Choreography for Stage and Screen, which is so focused, yet so adaptable to my personal interests, I can be confident that I am supplementing my Narrative Studies major— a study of stories—with a minor that celebrates the importance of non-verbal, dance-related stories as well."
For Samantha Ruzon— a double major in Theater and Political Science—this minor has been an opportunity to work towards her career goals.
"I would love to become a choreographer for theater, particularly musicals," she said. "However, the classes I've taken at USC Kaufman so far have expanded my interests into doing any sort of choreography, as long as I have a vision I would like to fulfill."
Building a creative life in dance
Faculty member Saleemah E. Knight, who teaches DANC 175 Choreography for the Screen, spoke to the professional skills classes in this minor can provide.
"The goal of Choreography for the Screen is to aid the students in building 'a creative life in dance' that creates longevity in a dancer's career, and/or any student outside of the BFA that has an interest in dance and choreography," she said. "With the right tools and education, students embarking on this minor will be able to work as creative directors with the ability to build visual narratives through art design, creative writing, storyboarding and movement creation for television, film, dance film, virtual reality entertainment and beyond."
Knight also hopes her course helps students see themselves as creatives-for-hire for well-known brands and corporations– both inside and outside of the dance and entertainment sphere. Per Knight, these organizations could include E! Entertainment, Marvel, Disney, Sony, General Electric (GE) and more.
"There is a vast canvas of viable brands that need creative thinkers," she said. "USC Kaufman's new model for dance education asks our students to think broadly by potentially creating jobs that may have never existed for dance-minded professionals. This notion is at the crux of what I considered when designing the course, Choreography for the Screen."
Working with inspiring faculty
For both Gamble and Ruzon, working with faculty such as Knight and Stoppiello has been a highlight from their time in the program.
"One thing that strikes me about the USC Kaufman culture is the professors' relentless efforts to legitimize their students and their work," said Gamble. "In USC Kaufman classes, students are referred to and respected as dancers and choreographers. That kind of validation has driven me to work harder, continue applying my creativity and produce work worthy of a place that views its artists so highly."
The Choreography for Stage and Screen 18-unit minor is open to all undergraduate students in good academic standing. No previous dance experience or audition is required. Complete information about courses of instruction is available through the USC Course Catalogue.
---