USC Kaufman students and faculty prepare for the USC Arts Showcase
September 11, 2019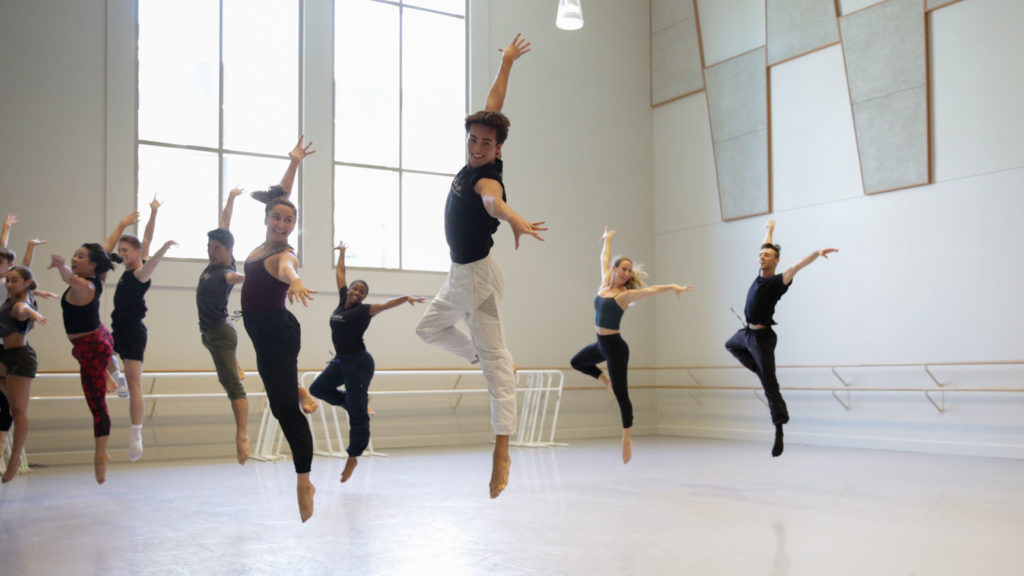 Members of the USC Glorya Kaufman School of Dance's Class of 2021 and Class of 2022 are preparing to hit the Bovard Auditorium stage for the USC Arts Showcase. On September 18, 2019, the students will perform repertory works, as well as a medley set to 70s hits such as "Staying Alive" and "Last Dance," during an evening of performances and exhibitions by each of USC's arts schools.
This event comes as part of the special programming surrounding the inauguration of USC's 12th president, Carol L. Folt.
Iconic repertory and new work
USC Kaufman's repertory exhibition will include George Balanchine's "Embraceable You" and Dwight Rhoden's "Gone." Their 25-minute disco medley is an original piece choreographed by USC Kaufman faculty members E. Moncell Durden, Saleemah E. Knight and Vice Dean and Artistic Director Jodie Gates. It will be presented in collaboration with the USC Thornton School of Music.
"I have really enjoyed being in the process of creation with the professors," said Nina Gumbs (BFA '22). "To be specific, Professor Durden, Professor Knight and Vice Dean Gates all bring different views and ideas for choreography. So, getting to be in the studio with them is really interesting."
An accelerated rehearsal process
For the USC Kaufman faculty and students, assembly of this large-scale production began during the second week of classes.
"The most challenging part for me has been the quick rehearsal process," said Zackery Torres (BFA '21). "We only have three weeks to put an entire showcase together, but USC Kaufman is more than capable. The show will be amazing. It feels like we are being shot out of a canon."
While challenging, these rehearsals pose a unique opportunity for the students involved.
"I do feel this process has been particularly special. We—the Class of 2021— are able to share the rehearsal space and the stage with the sophomore class, which helps bring the school even closer together," said Shayna Weintraub (BFA '21). "There's nothing better than practicing what you love to the best hits of the 70s, with people who support you and share your passion."
Disco fever
Given the medley's 70s theme—a request from President Folt herself—both Professor Knight and her students found themselves stepping into a new genre of dance.
"I wasn't born in the 70s, so my goal is to be authentic to the professional concert and commercial dance training that I have had, and authentic to the work that I do as a contemporary jazz dance performing artist and choreographer." Knight said. "As a young professor, I believe that I bring the vibrant energy that inherently comes with youth to the larger whole of this collaboration. The students are able to easily translate this to their own innate youthfulness and dynamic 'attack', which we call 'ephebism' in dance scholarship, enhancing the piece to reflect the style of where jazz is today."
Consequently, Knight's section of choreography for the medley reflects a more commercial style of jazz.
"Since we are in a university setting, my jazz technique classes include a focus on helping the students to grow intellectually as dance artists. My classes are centered in the socio-cultural aspects of jazz dance, which includes giving the students historical information on where its lineage started; how they can place it in the world, in terms of its beginnings in African Diaspora Dances and West Indian/ Afro-Cuban influences; how it matriculated within the United States as social/vernacular dance and then branched off into concert dance repertoires and entertained commercial audiences simultaneously," she said. "For this particular show, I decided to shift the focus solely to the commercial aspects of jazz dance. Not often do the students have the opportunity to do a lot of commercial dance here at USC Kaufman. So, I thought this would be the perfect opportunity to allow space for them to explore."
Unsurprisingly to Knight, her students are taking well to this new style.
"We have been pushed out of our comfort zones," said Gumbs. "We are merging our multiple disciplines and presenting disco through the USC Kaufman lens. There is such diverse repertory at USC Kaufman, and to have disco under our belts is an amazing experience."
Looking towards the future
Additionally, the USC Kaufman faculty views the USC Arts Showcase as an opportunity to demonstrate the importance of dance in higher education to a new audience.
"What's unique to USC Kaufman is that we are always teaching history inside of our technique training and rehearsal processes. Once dance moves to the general public, we as artists are always teaching the rest of world (that perhaps does or doesn't dance) what the art form is capable of," Knight said. "One of the things that I focus on in my GE theory courses here at USC, which serve the entire student population at the university, not only the BFA dance majors, is how dance functions in society. In this performance, we are teaching the USC community that dance functions as a form of entertainment and celebration, which in return elicits participation from those who haven't yet come to the USC Glorya Kaufman School of Dance and seen what our dance majors, who are also future professionals in the field, are capable of doing and creating."
Vice Dean Gates echoed Knight's sentiments.
"We are honored to be included in the celebrations surrounding President Folt's historic inauguration," she said. "It is exciting to contribute a diverse set of programming, which reflects our multi-faceted approach to dance education. This showcase is a marker for the dynamic future of the arts community at USC and we look forward to evolving as a school under President Folt's leadership."
---