Fall Class Highlight: African-American Dance with Moncell Durden
June 8, 2016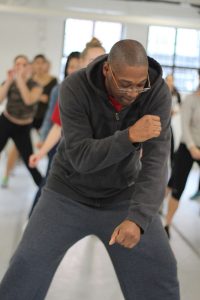 Assistant Professor of Practice E. Moncell Durden's DANC 312g class, African-American Dance, is accessible to all university students, and offers an interactive syllabus that features African-American dance, culture, and much more.
Who is this class for? What types of people/audiences would enjoy learning this material?
This class is for anyone interested in hip-hop dance and culture, music, cultural studies, anthropology, communication, American history, and fashion.
What is the most important thing that a student in this class would learn?
As a student in this class, you'll learn to communicate, appreciate, collaborate and celebrate cultural dynamics of race and diversity.
What's the most fun and/or cool part of this class?
You'll be able to learn dances, play the game show quiz, and view dance films. There's always music playing throughout class to create a relaxed, stress-free learning environment.
When is this class? Is it open to majors, minors, or all university students?
Class meets Mondays and Wednesdays from 2:00 p.m. to 3:40 p.m. and is open to all university students.
Read more about this class and other USC Kaufman classes through the university's schedule of classes.