Open Floor Fall 2018
August 21, 2018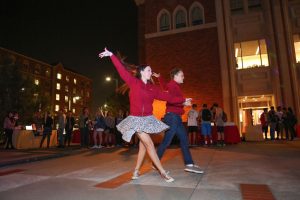 Join us for OPEN FLOOR, the ultimate dance party and dance club fair, on Tuesday, August 21 from 6pm to 8pm in McCarthy Quad! OPEN FLOOR, co-hosted by the USC Glorya Kaufman School of Dance and USC dance clubs, is an opportunity to learn about how you can get involved with dance at USC.
Whether you've never danced before or have many years of experience, there's something for you. There will be a LIVE DJ and FREE IN-N-OUT. See you there!
Open to all USC students.
McCarthy Quad
Tuesday, Aug. 21, 2018 | 6:00 p.m. – 8:00 p.m.
View all events