Featuring new open courses for Fall 2022
April 22, 2022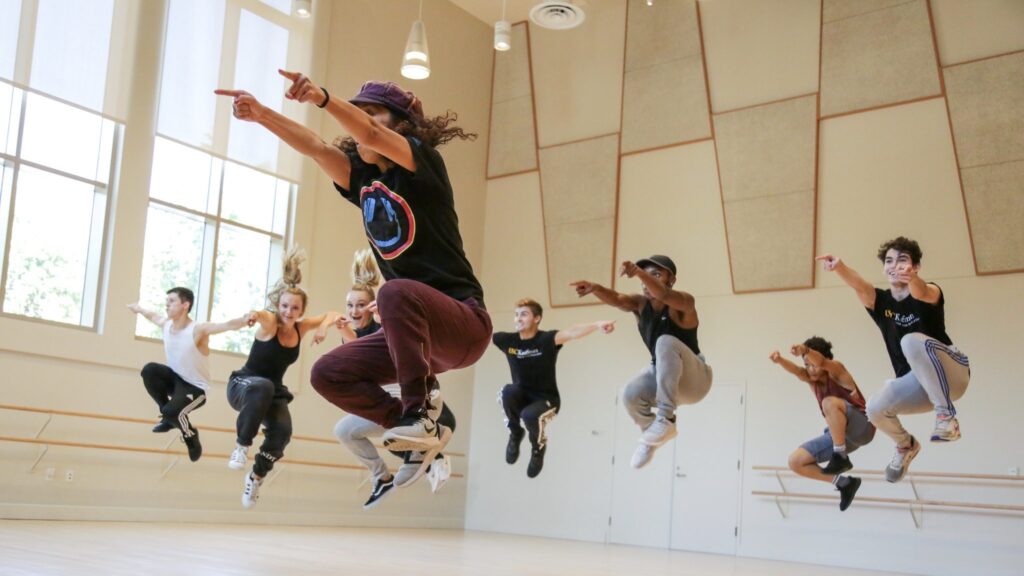 USC Glorya Kaufman School of Dance offers various courses that are open not only to BFA students, but to all USC students. This fall, USC Kaufman will offer many new exciting open courses.
DANC 181a Contemporary Dance on Dunham Technique (2 units)
Dunham technique was developed by dancer Katherine Dunham and is a combination of dance forms. These include ballet, modern and movement from Haiti, Brazil, Cuba and several African countries. In this class, students will dance at the barre and in the center of the studio, learning Dunham Progressions and choreographed work. USC Kaufman faculty member Sarah Anindo Marshall, certified Dunham instructor who studied with Katherine Dunham herself, will teach this course.
DANC 499 Special Topics: Intro to Hip-Hop, Spirituality and Social Change (1 unit)
Interested in how hip-hop dance acts as an agent of freedom and social change? In this new course, students will explore the connections between hip-hop and Black vernacular dance with spirituality. The course will take the format of a cypher, with open communication and participation. International hip-hop artist, social activist and cultural enthusiast Tiffany Bong will teach this course, which is open to all USC students.
DANC 355 Performance Lab: Classical Ballet Variations (1 unit)
Do you have extensive experience in ballet and pointe? Want to learn choreography from your favorite ballets? In this course, students will learn advanced solo choreography and excerpts from multiple ballets. All genders are welcome, and the class is open to non-major elective students at an advanced level in ballet. USC Kaufman faculty member Ebony Haswell Frazier, who danced with Dance Theatre of Harlem,  Complexions Contemporary Ballet and Alvin Ailey Dance Theater, will teach this course.
For a list of all USC Kaufman elective courses open to USC students, go to classes.usc.edu.