For Ava Noble, '& Juliet' is a heart on her sleeve
November 16, 2023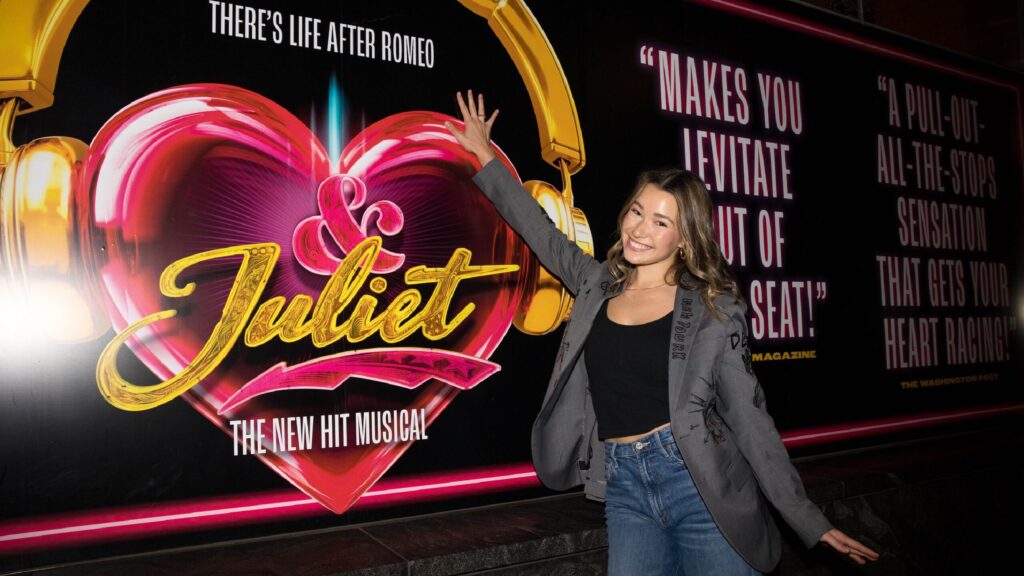 Catching up with USC Glorya Kaufman School of Dance alumna — and of course, Broadway star — Ava Noble as she recounts her experiences with & Juliet so far.
A successful dancer, singer and actress, Ava Noble is a triple threat in every right. In May 2023, she graduated from USC Kaufman with a BFA in dance and a minor in musical theatre, leaving behind a legacy of leadership, dedication and passion. With extensive experience performing in film, television and commercial productions, she is a whirlwind of talent through and through. To take it one step further, she has even choreographed a full length musical — namely The Addams Family — that had its USC premiere in 2021. Join us as we catch up with her and delve into her life as of late.
Auditioning for Broadway
It all began when she heard that & Juliet, a new Broadway show, was in the process of casting a swing dancer; what was even better was that they were hosting auditions in Los Angeles. Almost instantly, Noble knew she had to be there. The audition process began with a dance combination and was followed by singing a pop song. Assessing how quickly the auditioning dancers could adjust to new choreography, callbacks consisted of learning more combinations, scene work and an interview with the director. Then, alas, came the inevitable waiting period, a familiar nerving and excitable experience for dancers worldwide. However, it was all worth it when the phone rang one fine day.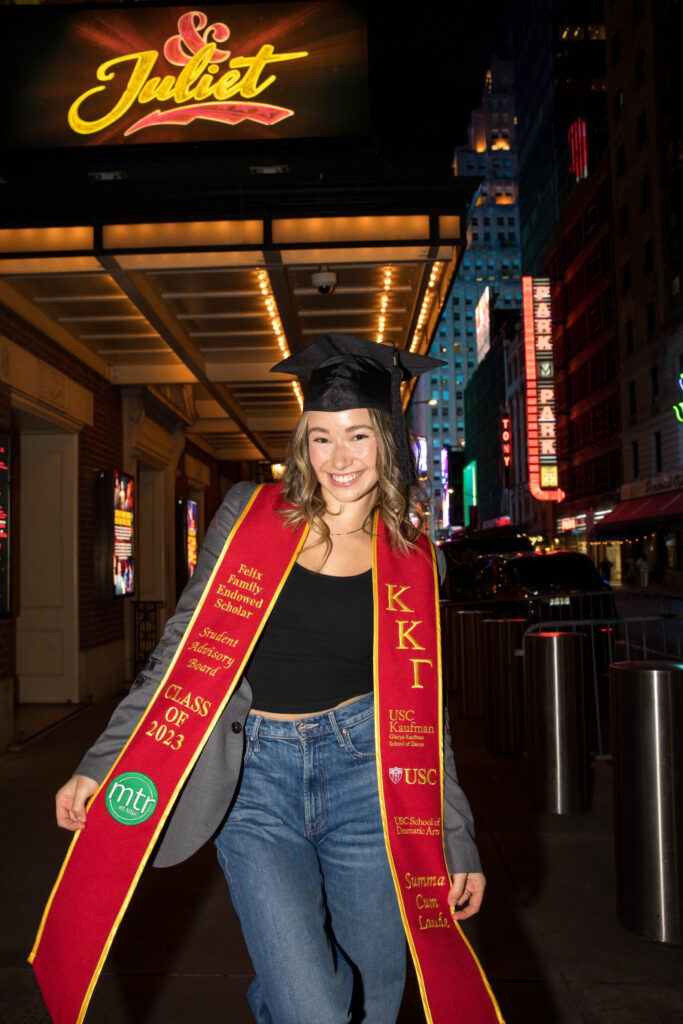 "I was in ballet class — just standing at the barre — when I got a call that changed my life," said Noble. Then, in what felt like the blink of an eye, it was already graduation time. However, Noble was already in rehearsals for & Juliet well before her USC Commencement ceremony.
Noble describes the show as a spin off of Shakespeare's Romeo and Juliet. Only, it has a slight twist of fate: Juliet never dies. The musical is feel-good and family-friendly, a show for everyone. Noble explains that the writers seamlessly strung together elements of comedy and high-energy songs, featuring music by artists including Max Martin, Ariana Grande and the Backstreet Boys.
"It is very refreshing to see such a lively show on Broadway, especially after the pandemic. I love that I can look out into the audience while performing and see everyone laughing and crying for two and a half hours straight. That is what makes & Juliet so special and keeps it so close to my heart."
The Role of Swing
As a swing, you are required to learn multiple tracks. You may even be notified that you have to perform with as little notice as 30 minutes prior to showtime. Sometimes, you may even be asked to perform two different tracks in one day. Being prepared for anything, Noble explains her strategies for staying organized.
"I have a very detailed, color-coded system to keep track of my swing notes. For each track, I keep a 6-10 page file documenting the details of that specific track. This includes costume changes, the prop movements, staging information and more. As a swing, you are bound to make a few mistakes at first. Only after you have had the opportunity to perform a track three times over, it starts to feel more comfortable and familiar. Although it can be a lot to remember, I love that every time I step on stage I get to see the show from a different angle. This helps keep the show fresh and exciting."
Since her swing debut with & Juliet, Noble has participated in over 75 shows and has performed five different character tracks. She emphasizes the love she has for each of the tracks; however, the Rosaline track has definitely been a favorite so far. Whoever plays this track has the honor of opening with the very first line of the show and performing a featured solo. For Noble, this moment — singing and dancing alone in the spotlight — is the definition of a dream come true.
"I still pinch myself when I remember that I get to perform a solo on a Broadway stage."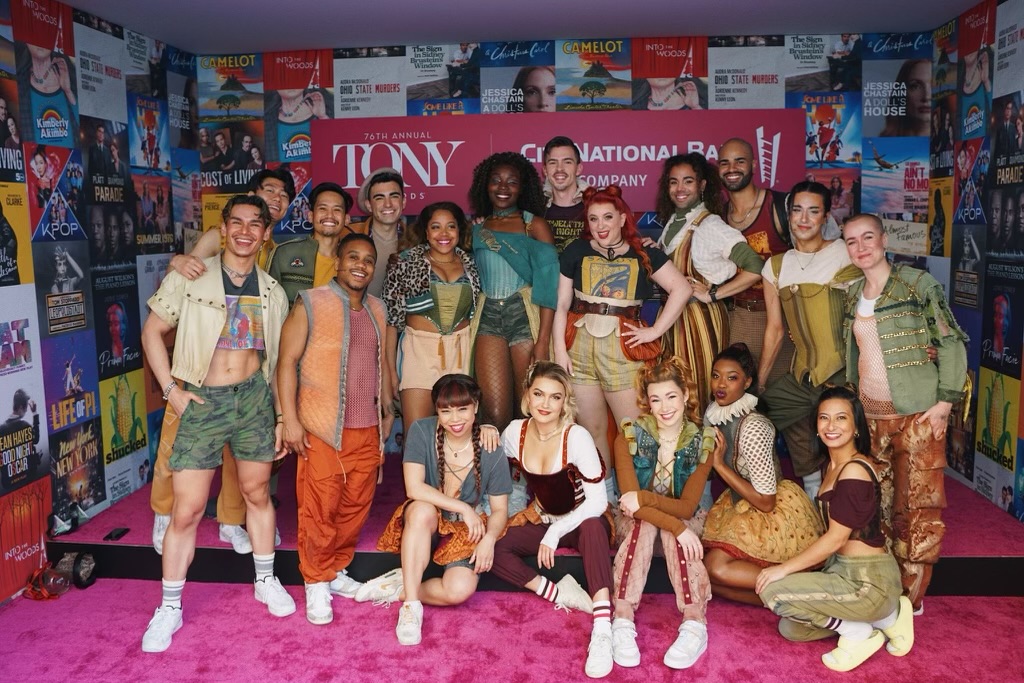 A Broadway Day in the Life
"Each day differs slightly. Thursdays and Fridays are always rehearsal days. Wednesdays and Saturdays are usually my busiest days since there is a matinee as well as an evening performance. Sometimes I perform in both shows, but other times I am only needed for one. Regardless, I make sure to always be prepared for performance.
"The whole cast is responsible for their own hair, makeup and wig preparation, so I usually start getting ready when I arrive at the theatre. When we are performance prepped, we start warming up on our own in the wings. However, on Fridays, we are led through a group warm-up. This is followed by a gathering of the cast to briefly connect and receive notes from the casting team. On double show days, you can usually find us resting in the dressing rooms in between shows. We also use this downtime to get food or attend physical therapy.
"At the end of each show, the audience always stands up, dancing and clapping. The entire theatre is having fun in these moments, both on and off stage! This incredible audience engagement makes me look forward to leaving the theatre to find the crowd eagerly waiting outside. Signing my name on an audience member's playbill will never get old. I was in their shoes not too long ago!"
Memorable Moments
It is no secret that since graduating Noble has had some incredible experiences. Although there are many special moments to recount, she shares two recent opportunities that have been particularly memorable.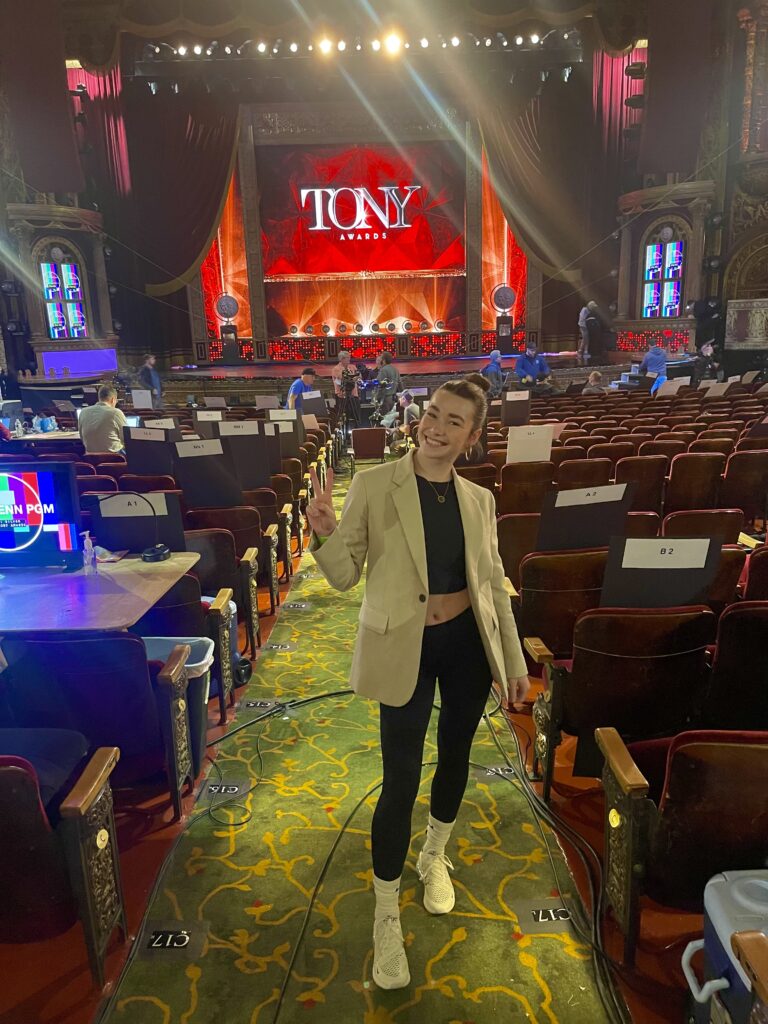 This past June, she had the opportunity to perform at The 76th Annual Tony Awards alongside the cast of & Juliet. Remarkably, she made both her Broadway and Tony debuts within the same 24 hours. "Performing at the Tony Awards has been a dream of mine for as long as I can remember. Being on a Broadway stage is one thing, but dancing beside people you have looked up to your entire life is a crazy, incredible experience," Noble says.
More recently, Noble also had the opportunity to perform at 54 Below, Broadway's Supper Club. This world-class club is an award-winning entertainment venue known for elegant dining and for hosting nightly performances by Broadway's best. "Performing at 54 Below was the first time I have ever sung a solo publicly outside of a classroom or audition setting. This, in combination with the atmosphere of the underground cabaret space, was unforgettable."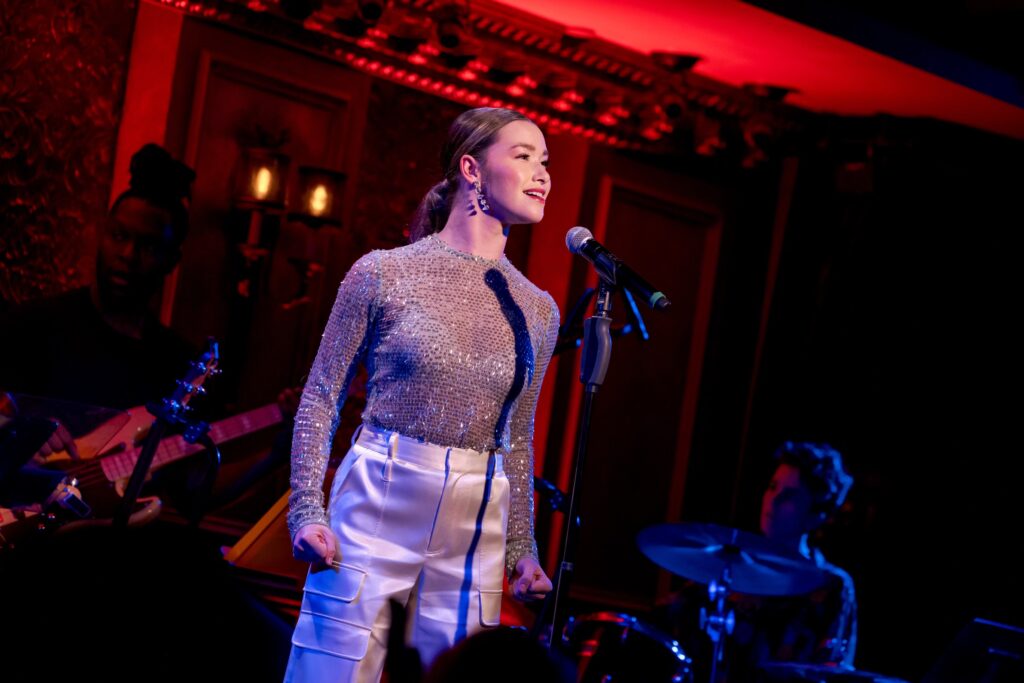 Expressing Gratitude
Noble expresses her gratitude to USC Kaufman for providing her with the training and resources necessary to achieve her dream job. "Kaufman did such a beautiful job preparing me to jump into Broadway auditions with confidence," she says. Noble is eternally grateful to all of the professors at USC Kaufman for shaping her into the versatile — and thus, hireable — dancer that she is today. "At the time I auditioned for & Juliet, I was enrolled in Professor Tiffany Bong's locking class at school. The audition choreography involved locking vocabulary in addition to other street styles. It was so nice to have first-hand experience for the audition from the tools that Tiffany had given us." USC Kaufman has supported Noble since day one and will always be in her corner, cheering her on.
---
By Rhaine Marquardt (BFA '26)