Admissions Frequently Asked: Dance Electives
October 12, 2018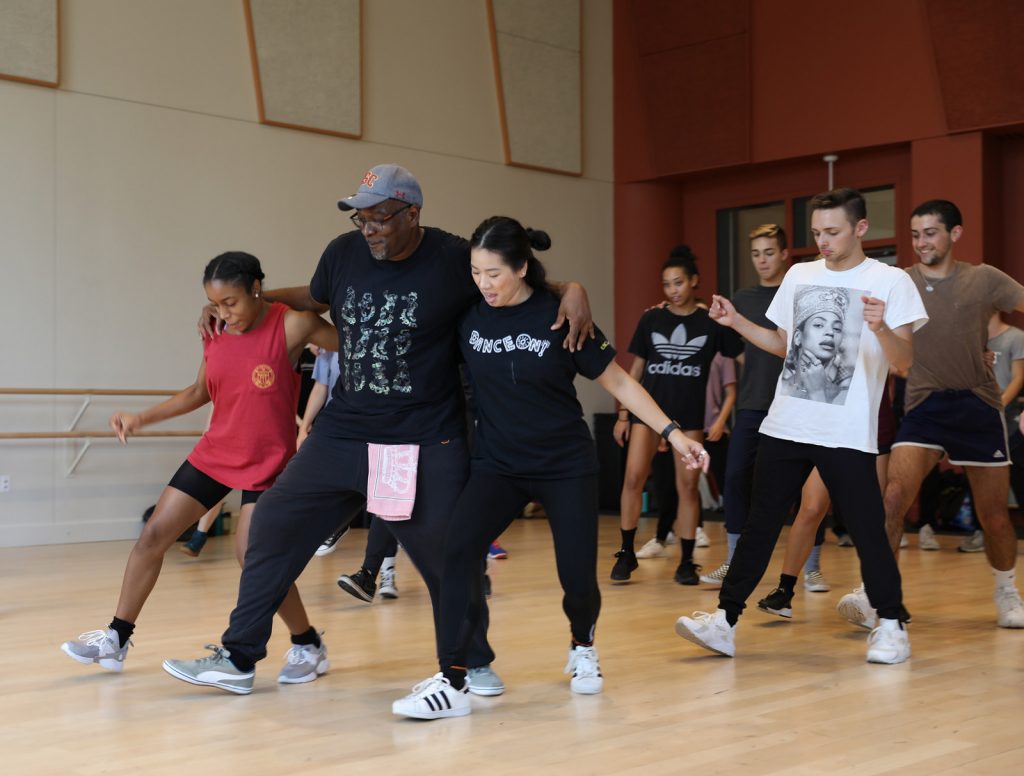 You'll find my write-ups about the BFA Core, Repertory & Performances, and Concentrations online. Let's now talk about the 23 units of dance electives you choose as a part of your concentration. You'll have lots of different options both within and outside of USC Kaufman. Plus, keep in mind that our list of offerings will continue to expand to ensure that you are prepared for the professional dance world.
Regardless of concentration, you'll be able to take up to eight of your 23 concentration elective units within the School of Cinematic Arts, Thornton School of Music, and School of Dramatic Arts. From The Spring Musical to Introduction to Animation, such courses allow you to build additional skills and shape your artistic path.
If you're a student pursuing the Design Your Own concentration, you get to swap out about half of your concentration electives. Consequently, you can take a thoughtful combination of courses from across the entire university. This includes courses in the Marshall School of Business, Dornsife College of Letters Arts and Sciences, Roski School of Art and Design, and Annenberg School for Communication and Journalism, just to name a few. There are over 20 schools within USC. And these units are completely separate from your free electives, which allow you to minor outside of dance.
Additionally, within USC Kaufman, there are more…
Study Abroad Offerings
We currently offer a three-week study abroad program focused on Salon Culture in Paris. Students come back transformed from the experience of (literally) walking the same streets as great artists of the past and present. These don't just include dancers: they also include musicians, painters, writers, choreographers and dancers. We also look forward to building additional opportunities in other major dance capitals each year.
Studio Courses
Examples of additional studio courses include:
Tap Dance
Afro-Cuban Dance
Bollywood Dance
International Style Ballroom Dance
Performance Labs, which change from semester to semester. Previous performance labs have included Hip-Hop Explorations, Classical Variations and Duets, and additional Forsythe Repertory.
Special Topics courses. In the past, we've offered: Commercial Dance, Gaga, Dance in Los Angeles, and Neuroscience and Dance for Games and Health, a collaboration with students in Cinematic Arts taking a VR course. Many of our Special Topics courses are now stand-alone courses offered on a regular basis.
History Courses
Examples of additional history courses include:
Hip-Hop Don't Stop: Exploring Black Vernacular Dance
Origins of Jazz Dance
Dancing on the Screen
African-American Dance
Other Courses
Examples of other courses include:
Elements of Dance Production
Artist Collaborative
Pilates Mat Training (though we also offer individual Pilates reformer and Gyro appointments with our faculty just for BFA students)
Dancing with Words
Directed Research
Dance Internship
In short, between USC Kaufman, our fellow art schools, and the university as a whole, you are immersed within an artistic and intellectual playground.
For course descriptions of USC Kaufman courses, please visit the USC Catalogue.
---
By Anne Aubert-Santelli