Glorya Kaufman International Dance Center By the Numbers
March 18, 2016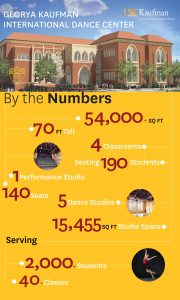 The Glorya Kaufman International Dance Center on the University of Southern California campus is the new red brick home for the USC Glorya Kaufman School of Dance. Located on the corner of Watt Way and Jefferson Boulevard, the sizable structure is positioned to be a gateway to the art schools on campus and a tremendous asset to students, faculty and staff.
"The size and scale of this center is significant. It's one of the largest dance-dedicated buildings on an American research university campus, and it is purposefully so to accommodate the number of students who will take advantage of the space," said Jeffrey de Caen, Associate Dean for Operations.
USC Kaufman classes will be held in the state-of-the-art facility beginning in the fall of 2016.
---
By Maria Rodriguez