International students of the Class of 2024
January 26, 2021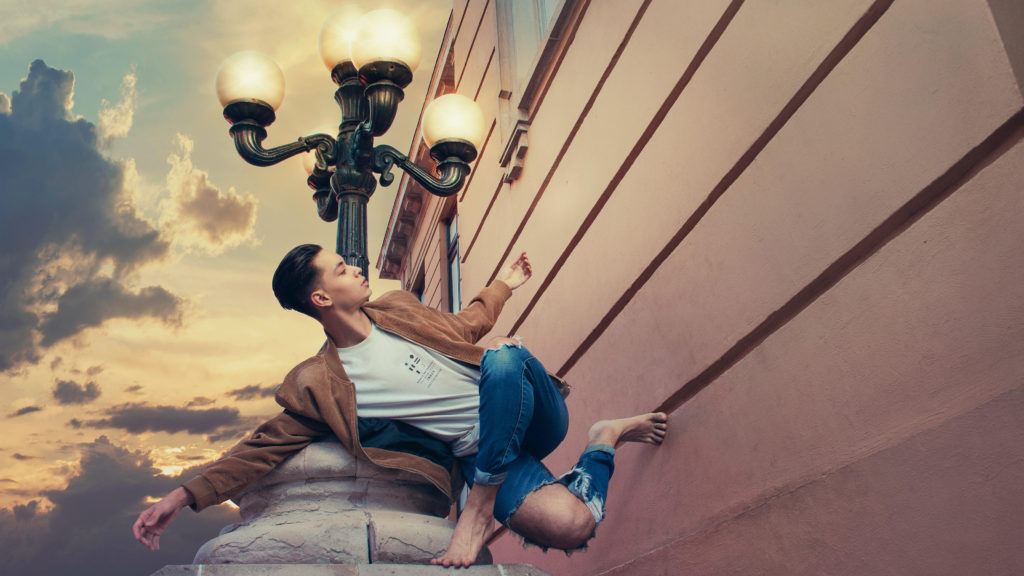 The USC Glorya Kaufman School of Dance welcomes dancers from around the globe and this academic year was no exception. Last fall, Diego Lopez, Hayden Rivas and Hope Patterson, all members of the Class of 2024, began their USC Kaufman journeys as international students. Read on to learn more about their experiences thus far.
Diego Lopez
Lopez joins USC Kaufman from Chihuahua, Mexico. He grew up as a studio dancer, and mainly competed in hip-hop over the years. Lopez took a gap year between high school and college. During that time, he participated in the Joffrey Ballet Trainee Program just outside of Dallas, Texas. The program allowed him to explore styles of dance he previously disregarded.
"Training in Dallas helped me realize how college can actually extend dance more," Lopez said. "I always knew about USC, but never knew about the dance school. In doing some research, I looked at some of the current students. I was really inspired and motivated, and that's when I decided to apply."
In the fall semester, Lopez took classes from home. Although the pandemic physically separated him from his classmates, his connection with his peers remained strong during that time.
"It was hard to get motivated sometimes, but what pushed me through it was my peers," Lopez said. "I was able to connect with a lot of them, especially the international students. I got really close with Hayden and Hope. From the beginning, we connected because of our international status."
Lopez noted that a career in the arts is rare in Mexico, especially when it comes to dance training. He advises international students to look into collegiate opportunities in the United States if they strive to go into the arts.
"USC is so inclusive, welcoming and they're willing to help international students who want to come here," Lopez said. "When I applied I knew there were a lot of international students. That's something that's really important especially coming from Mexico because Mexican dancers don't always have the availability to go to the US to study. So, USC opening the doors for everyone was just a great thing to see."
Hayden Rivas
Rivas hails from South Surrey, British Columbia, Canada. Like Lopez, Rivas grew up as a studio dancer doing competitions. He credits his background in the studio with introducing him to the concept of hybridity that USC Kaufman champions.
"I see myself as a contemporary dancer," Rivas said. "But, as USC Kaufman came onto my horizon I wanted to focus on the sense of hybridity. Studio dancers lend themselves to that, and I trained in ballet, contemporary, jazz, hip-hop and all the regular studio styles."
Rivas also took classes from home this semester. He explained that the virtual environment helped him become more responsible and self-sufficient, but appreciated the support from professors and peers as well. As one of three international students in the Class of 2024, Rivas noted that his unique Canadian perspective helped him transition into the USC Kaufman curriculum. Similar to Lopez, Rivas explained that Canadian universities do not offer many collegiate dance programs, so attending school in the states offers him a coveted experience.
For international students looking to apply to USC Kaufman, Rivas advises them not to be afraid of the unknown.
"I know it is a daunting task to apply to school in another country, but there's so much you can bring to USC Kaufman," he said. "This school is looking for a multitude of talents and they're known to see the drive that a student has in this art form. Really try to showcase yourself; that's the best that you can do."
Hope Patterson
Patterson calls Hong Kong home. Despite the 16-hour time difference from Los Angeles, she was still able to engage with USC Kaufman faculty and peers online this semester. Patterson explained that her decision to attend the School of Dance revolved around both its artistic status and proximity to rigorous academics.
"For me, the decision to apply to USC Kaufman was simple, like any other aspiring pre-professional dancer," she said. "However, my decision to eventually attend USC Kaufman was rooted in the fact that as a conservatory embedded in the heart of a greater university, there would be a large international community I could interact with."
Before attending USC Kaufman, Patterson trained mainly in ballet, jazz and musical theatre. Like Lopez and Rivas, she logged into class from home last fall. The differing time zones presented a challenge, Patterson said. But, this did not stop her from attending class with her peers or seeking guidance from faculty.
"With a 16-hour time difference between Hong Kong and Los Angeles, navigating dancing works by Dwight Rhoden at 4:00 a.m., a class on dance anatomy at 7:00 a.m. and back in the studio at midnight for workshopping choreography with Bill Forsythe was challenging but an unforgettable experience to say the least," Patterson said. "Despite juggling life in two time zones, my status as an international student allowed me to foster closer relationships with my faculty mentor and my professors."
As Patterson continues her BFA training from across the Pacific Ocean, her biggest piece of advice for prospective international students is to trust in their individuality.
"USC Kaufman attracts an array of distinctive artists who come together to shape the New Movement," Patterson said. "As international students, we hold unique backgrounds and identities which are inherently shaped by each of our cultures. These differences set you apart from the rest."
---
By Brigid Murphy