Mumbai to McClintock: Jainil Mehta, USC Kaufman 2021
October 19, 2017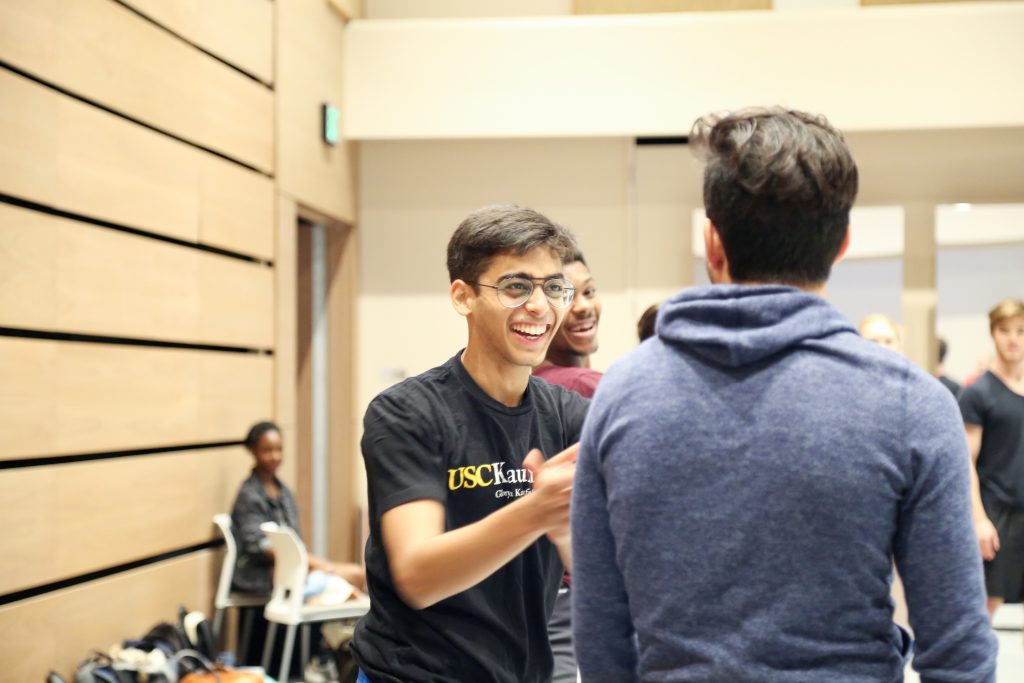 Transitioning from high school to college often requires a period of adjustment. Now, imagine experiencing all of those challenges, with the added pressure of moving across the planet to pursue your passion. This is the story of Jainil Mehta, a freshman BFA student from Mumbai, Maharashtra.
We sat down with Jainil, in a rare free moment between his classes, to find out a little bit more about his story and experience so far in America and at USC Kaufman.
Where did your dance journey begin?
I have been dancing for twelve years now. In my early schooling (what you would call kindergarten here) I had a performance of sorts and I really performed, and loved it, so my mother put me in classes. I used to put on performances in the living for my grandfather, who was one of my strongest supporters, and I would dance for a full hour by myself. I trained at Shiamak Davar International, beginning with Indian folk and Bollywood, and then I quickly transitioned toward western styles like contemporary and hip-hop.
I've always known that dance is my thing, and that I needed to move forward with it. It's like a healing process for me.
What was the college application process like for you?
I knew I wanted to come to North America, so I applied to NYU and to USC, as well as York University in Canada. Schools in North America tend to be more flexible; you can change your major or add a minor. I want to minor in business, take psychology courses, learn about costumes and lighting and stage design. Initially, my counselor was not supportive of my decision to pursue dance, but she then changed her mind when she realized how passionate I was.
Why Kaufman?
Kaufman was a new school, which meant new ideas. I knew the school would be consistently experimenting, which I loved. The new building is mesmerizing, and the teachers are so helpful. I didn't have a lot of ballet training, and even though I was insecure in that portion of the audition, they made sure I was comfortable.
I didn't see that kind of support in a program with a large student body. I feel as though starting new, with this new program, is a way to start fresh and absorb so much information. What really gave Kaufman the upper hand was its identity as a dance school, not a dance department, and that hip-hop was embedded in the curriculum.
Did you expect to be accepted?
I did not think I would get in. My audition videos were good, but I didn't know what Kaufman was looking for. I gave them an Indian classical piece, which I've never done before, and a conceptual contemporary piece. When I got accepted to the live audition, I was both excited and incredibly nervous—especially for ballet. I grew more comfortable as the day went on, however, and Vice Dean Jodie Gates even told me, "you're the New Movement for our school."
What do you want to bring to the New Movement?
I was completely unfamiliar with the rep and performance that we have here, and I love it, but I want it to be more than just contemporary ballet and jazz. We're talking about the new, so why not?
I'm running for the student advisory board, and Kaufman has this idea of the New Movement that I want to contribute to and make grow. I want girls to be able to take men's class, for men to take class on pointe. I also think the hybrid artist should be learning about elements of dance production in the curriculum.
How was your first week?
When I came here, I was pretty insecure, because I couldn't get adjusted to everything. It was a difficult transition, I was upset, and I didn't know how to approach the faculty members. Everything completely changed the next week, though—Kaufman was so welcoming. The professors are unlike any others, and so completely invested in us. Professor Corbin has been so supportive and has been there for me every time I've had trouble. Since then, I've been growing each and every day.
What were your impressions on L.A.?
I've come to LA, only for Kaufman. I always wanted to live in a very "happening" place like New York. I've dreamt of walking to class in a big city, having on a coat with a coffee in hand. Turns out, I am fulfilling that dream here, just without the jacket. So far, I've seen a little bit of Santa Monica and visited the Grove, and I'm sure much more is to come.
What are you working on this semester?
I am currently working on Dwight Rhoden's Hissy Fits, and I am so inspired by the way he can turn each movement into a story. This was my first time doing contemporary ballet. At first, I wasn't confident, but I am now, after a few weeks of rehearsal.
We are also learning excerpts from Paul Taylor's Company B. I've done contemporary, but this piece has so many jumps and turns—my legs get tired. But I've learned I just need to keep trying and trying and trying, and my classmates have been so helpful with preparing for auditions and getting me on track. It's all about growth.
What does a typical day look like for you?
My days are packed with classes and rehearsals from 9am to 9pm, except for Sundays. I take technique class in the mornings, and go to my general education classes at lunch twice a week. I'm taking "Mind, Belief, and Behavior: Learning about Learning," which has really helped me manage my time and stress and eliminate procrastination. Then I head to repertory or improv class in the afternoons, and rehearse in the evenings.
What do you do in your free time?
I like going to my favorite Indian restaurant, Himalayan House, and ordering vegetarian Thali. or to Blaze for pizza. Most of my nights I sit near Parkside, my dorm, in this little green patch in a semicircle of trees. It's my personal spot; I love to relax there.
What type of music do you always have on repeat?
Hindi Contemporary music, always.
What do you miss the most from home?
What I miss most is the recognition I received for my dancing. It was very difficult for me to come here and start a new life. It was a complete change because no one knew me out here.
I miss my family, as well. They couldn't visit for Trojan Family Weekend, because Mumbai is so far. On Sunday, I was rehearsing my partner work and my mom called me, so I got to show her Hissy Fits through FaceTime. She cried. She hasn't missed a single performance of mine…this will be the first one.
What are your goals post-graduation?
I feel like people overlook dance, even in the arts. Everyone has music, and why not dance? Dance has always taken a backseat to other forms, and I want to help change that. My final goal is to set up a performing arts management institute. I want to be a dance educator, and promote the arts as a whole. I want to study psychology and serve as an academic guidance counselor to guide students on the right path.
Anything you'd like to add?
I have so much love for Kaufman, the faculty, and the opportunities I've been given. Today in our colloquium class, William Forsythe was saying something about the clapping culture here in the states, and thanking the teacher after class. In India, we pray and thank God before and after class. I still pray when I remember, but I also am learning to change and adapt.
---
by Belia Mercado and Celine Kiner