Jermaine Spivey talks self, story and setting Crystal Pite repertory
September 24, 2018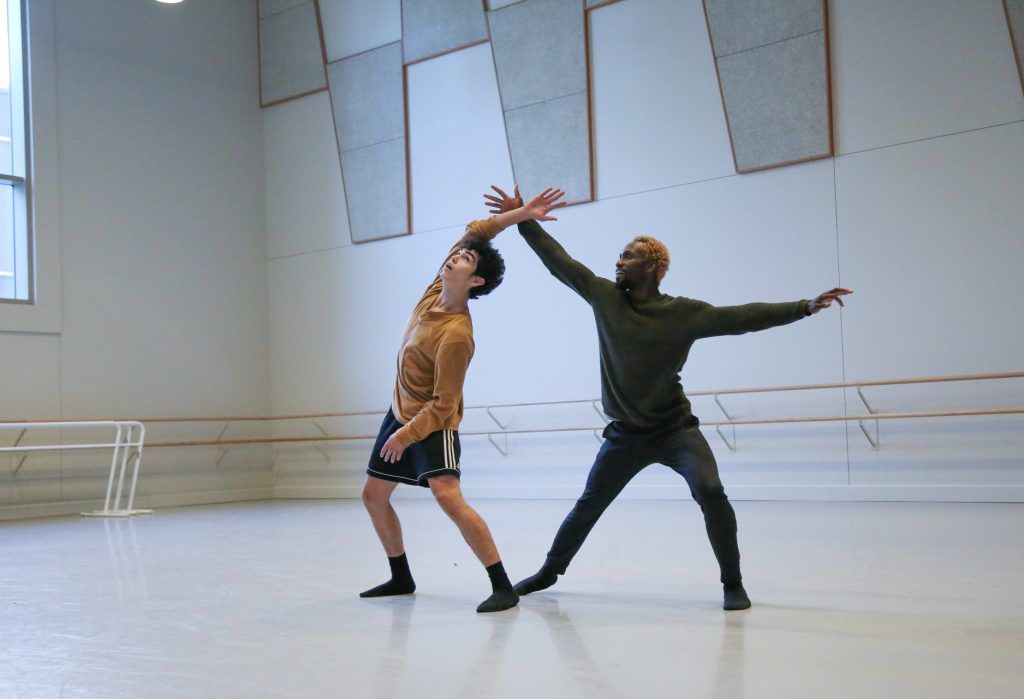 BFA dance majors at USC Kaufman spared no time once they returned to school this fall—new Artist in Residence Jermaine Spivey had already arrived to set excerpts of Crystal Pite's "Ten Duets on a Theme of Rescue." Spivey, a Princess Grace recipient and seasoned collaborator of Pite and her company Kidd Pivot, worked with students for almost two months, teaching technique and choreography before setting the piece on three casts of five dancers each.
A history of trust
The piece's title is fairly self-explanatory, but Spivey has a little more insight and context after working with Pite for a decade—even though "Ten Duets" was created for Cedar Lake Contemporary Ballet in 2007, just before they met. The two were introduced while Spivey was performing with Cullberg Ballet in Stockholm, Sweden; Pite was commissioned to choreograph a new work for the company and Spivey felt a connection, both with the work and with Pite herself.
"From day one of her process I knew I had to continue working with her. There has always been a huge sense of trust between us," he said. "The more she gave, the harder I worked, the more I grew as an artist and the more I wanted to give back to her."
Now, after about 10 years of performing with Kidd Pivot, Spivey has been tasked with teaching Pite's work at various companies. He noted that the initial trust he felt at Cullberg has grown since, especially considering Pite's collaborative style.
"I feel very empowered to be myself in her work and to explore what self can mean in the context of each piece," he said. "To be trusted not only within the work but also to share it with other people is not a given and something I'm very grateful for."
Transposing the work for self and students
This year, as an Artist in Residence at USC Kaufman, Spivey focuses on transferring the integrity of Pite's choreography to the students. Even in auditions, he makes sure to give individual feedback and use imagery to communicate Pite's intention.
"In Crystal's work, the kind of rigor it takes to push the physical body to its limits and then even further is exactly fitting for students striving for innovation. The physical lessons learned can be translated and transferred to other studies and academic classes and then transferred back again," he said.
Spivey set "Ten Duets" on a full cast of BFA juniors and seniors, many of whom have completed all or most of their general education classes and are now focusing on BFA dance concentrations, double majors, minors and research. In the latter half of their studies, the students have their eyes set on the professional world—Spivey offers experience and patience to young dancers in the wake of transition.
"Don't know who you are but be who you are and let your being remain active. How boring is it to know who you are for the rest of your life?" he asked. "Make doubt your ally and not your enemy."
Lessons in storytelling
He noted also that Pite offers a lens to her audiences through which to see themselves and their everyday stories. "Ten Duets," he explained, explores states of mind and being that humans experience, as both the rescued and the rescuer.
"These are human stories. This is part of the human condition," he said.
This everyday work is part of Spivey's time at USC Kaufman: in the students, he sees "desire, fear, curiosity, passion, doubt, virtuosity, humility, pride, determination, failure and success every day. Every day. The work toward growth and development is happening."
Allowing time for technique and process
This work happens both in Spivey's contemporary technique classes, which offer time for exploration, as well as in a three-hour repertory period, three days a week. Spivey's time at USC Kaufman is supported by the Choi Family Artist in Residence Fund, which goes toward residencies at USC Kaufman—this year, it will support both "Ten Duets" and a piece choreographed by Matthew Neenan, allowing the guest artists to spend more time at USC Kaufman. The students, consequently, are given access to the work in fuller depth.
"I cannot thank the Choi Family Artist in Residence Fund and USC Kaufman enough for the opportunity," Spivey said. "These young people need time to make mistakes in a safe space with people that have already made a lot of mistakes and are still succeeding… to dig in so closely with working artists and to understand that it's not about perfection but substance."
According to Spivey, the extra time allotted for the creative process can equip students with lifelong artistic relationships and creative breakthroughs, and simply allows more development.
"This time has not only been a growth opportunity for the students but for me as well, and I think that is true of every Artist in Residence," he said. "I believe this kind of work produces not only exceptional artists but also a more complete/exceptional human being. I am honored to take part in that kind of development."
---
By Celine Kiner