Jon Boogz on Dance and Social Change – USC Visions and Voices presents "Making Movements"
November 2, 2017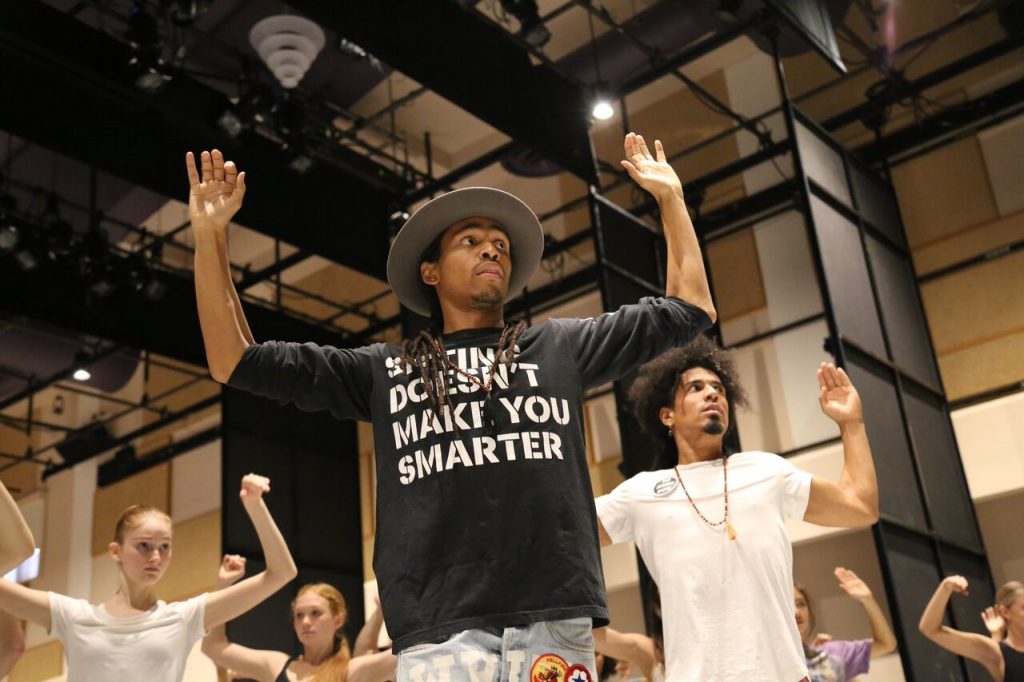 On October 18, USC Kaufman and Visions and Voices hosted "Making Movements: Dance and Social Change", an interactive performance and lecture featuring movement artist and choreographer Jon Boogz.
Boogz—described as an "artivist"—is known for his work with Lil Buck, being featured on "So You Think You Can Dance" and creatively directing the one and only Mikhail Baryshnikov.
Kaufman students were treated to a masterclass with the artist before the Visions and Voices event and their choreographic explorations were incorporated into that night's performance.
"Making Movements" opened with a poignant short dance film by Boogz and his collaborators on the topic of mass incarceration, which was followed by Boogz's solo performance, the Kaufman students' demonstration and a Q&A hosted by Kaufman faculty member d. Sabela grimes.
The Q&A session allowed the audience to delve more deeply into the topic of dance and social change and how the intersection of those pursuits have shaped Boogz's career.
Of his goals as an artist, Boogz said, "I always wanted to use dance to tell more powerful narratives." He attributes this to an admiration of Michael Jackson's work—how Jackson didn't just do music videos, but short films, and used his platform to write songs like "Man in the Mirror" and "They Don't Care About Us", with impactful messages that spoke to the times.
Boogz is following in Jackson's footsteps, as seen in the screening of his short film "Am I a Man?", which was made in collaboration with Bryan Stevenson of the documentary "13th." Boogz reveres Stevenson as a "modern-day Martin Luther King Jr."
Through choreography, spoken word and cinematography this film conveys a powerful narrative about the problems with America's prison system. Boogz believes it's truly the dancing that gets audiences tied to the core of the issues he presents through such works. He said, "We all speak the same language, but you let [the audience] feel the movement, the music, the expression and then—boom—it'll hit [them]."
And while dance opportunities, like performing with Cirque Du Soleil, have opened many economic doors for Boogz, and collaborating with greats like Baryshnikov have opened choreographic ones, it's all just a means for him to better disseminate his message of political activism and inciting social change.
"You can't be an artist and not reflect the times," Boogz said quoting Nina Simone. "It's my duty."
---
By Sara Silberman