USC Kaufman to perform Ohad Naharin's "Minus 16" at The Wallis
April 11, 2022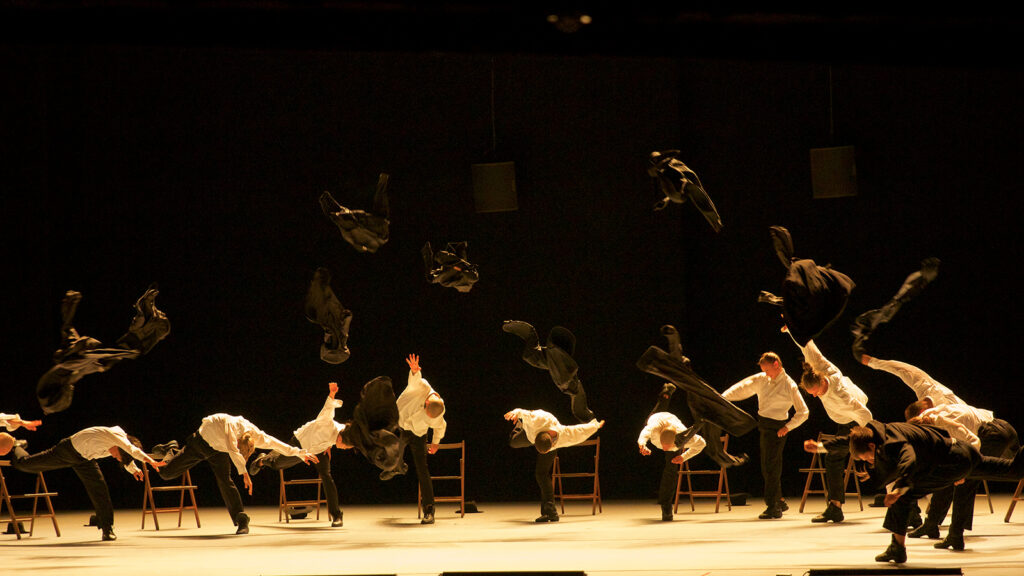 Bret Easterling, USC Glorya Kaufman School of Dance lecturer, joined Batsheva Dance Company in Tel Aviv, Israel after graduating from college. He danced with them for seven years under the art direction of Ohad Naharin. Once he left, Easterling began working as a stager of Naharin's work for collegiate dance programs and companies. For the upcoming USC Kaufman debut at the Wallis Annenberg Center for the Performing Arts, he is staging Naharin's Minus 16 with BFA juniors and seniors. Easterling was staging this piece for the USC Kaufman debut at The Broad Stage in April of 2020, but this performance was canceled due to COVID-19.
An audience favorite
Naharin originally created Minus 16 for Nederlands Dans Theater. It is based on excerpts from other pieces in Naharin's repertory, including Mabul (1992), Anaphaza (1993) and Zachacha (1998). Easterling described the 35-minute work as a fun and entertaining piece. It evokes different dance forms, and utilizes varied movement vocabulary and music.
"The piece comes from Naharin's background in both classical ballet and classical modern. He then developed Gaga, which offers almost a somatic practice," he said. "It's about discovering an approach to movement where you listen to the body before asking it to do something. Ultimately, the research of Gaga is about building new patterns and habits in the body that prioritize awareness and listening to the scope of sensations that the body can have while moving."
Lessons from the choreography
According to Easterling, performing Minus 16 offers many opportunities for learning. First, he hopes the BFA students learn to listen to an ensemble as the piece displays an environment of unison on stage. Second, he wants dancers to think about their individual approaches to learning movement information.
"Minus 16 teaches students how to build something communally. It also creates a framework for the dancers to unlock a lot of freedom," Easterling said. "There are sections that are quiet and delicate, wild and rambunctious, and also silly. There's so much range inside the choreography that I think it becomes a bit of a playground for the dancers to be themselves inside the work."
In addition, Easterling noted that teaching the choreography in the university setting is important to shake up conventional ideas of dance training. He aims to prioritize the pleasure of the movement rather than the obsession of being rigidly correct.
"Inside of the Gaga movement language, we do away with mirrors," Easterling said. "I haven't used any mirrors in any rehearsals so that it doesn't become a space where you judge yourself from the outside and see all the things that are wrong. Instead, you prioritize how you feel on the inside. And then with that priority, you attempt to do the choreography."
Further, Easterling hopes that learning Minus 16 helps shape new habits for dancers at the outset of their careers.
"The piece is hopefully empowering for the students to unlock some stability inside of themselves," he said. "When they go off into professional spaces, they will be able to hold onto some of the tools we've been working on. I hope it gives them a more sustainable career and more pleasure in the act of dancing so their careers can be as long and enjoyable as they want them to be."
Collaborating with the BFA students
Overall, Easterling said that working with the BFA students in staging Minus 16 has been a gift. He admires the students' talents and their commitment to the piece through the exploration of Gaga.
"It's been awesome to see the students plug into this work and for them to notice these little openings and unlockings that have been happening," Easterling said. "They all bring so much experience, so it's been fun to get to add more ingredients to their existing recipes."
Minus 16 will be performed at the USC Kaufman Debut at The Wallis, April 21-23, 2022. In addition to Naharin's work, repertory includes choreography by Tessandra Chavez, Achinta S. McDaniel, Justin Peck, Toyin Sogunro and Doug Varone. Buy tickets today!
USC Kaufman Artists in Residence are supported in part through generous funding from The Choi Family Artists in Residence Fund. Additional production support provided by a generous gift from Katherine and James Lau. This performance of Minus 16 is supported in part by Renae Williams Niles and Gregory Niles.
---
By Brigid Murphy